The new Postbox program, recently released as a public beta, starts with the Thunderbird program code and adds a bevy of features primarily designed to improve searching and organizing our often out-of-control inboxes. It also ties into popular online services for things like adding a Picasa Web Album picture to an e-mail message. If you've used Thunderbird in the past, Postbox's look will feel familiar. You'll see a similar toolbar of icons up top with a folder and account list on the left. The right-side sports the message list and preview pane.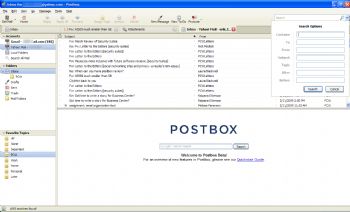 But you'll also quickly notice where Postbox differs. Postbox's creators, including Scott MacGregor, who worked on Thunderbird for a decade, know much of our frustration with e-mail stems from not being able to quickly find what we want. So Postbox offers things like being able to click an Attachments button to immediately view a list of all your attachments, or an Images button to see a thumbnail presentation of all your e-mailed images.
Postbox uses tabs to display those views, as well as individual messages and topic views, which are Postbox's version of Thunderbird tags. While the new app can still use traditional folders to sort messages, it emphasizes assigning these topic keywords instead. You can assign a topic to a message, and then view all items with that topic by clicking on a virtual folder on the lower-left. Topics will likely prove most useful to those willing to go whole-hog and forgo folders in favor of the versatile tags.
While composing a message, which still happens in a separate window, you'll find some of the ways that Postbox integrates with online services. For example, you can click a Find Images icon that allows you to search for a picture in a Picasa Web album (as well as your e-mails), and then drag-and-drop that picture into your e-mail. There are other tie-ins that allow for uploading an attachment to Google Docs, for instance, or sending a link to your Del.icio.us account without leaving Postbox.
Postbox can quickly pull in messages from a Gmail, Yahoo Mail Plus! or other POP3 or IMAP-accessible account. One nice touch: It defaults to leaving the messages on the server for POP3 access, so that you won't accidentally leave yourself able to read your e-mail only in Postbox. It will also prompt you to import your e-mail, settings and contacts from Outlook, Outlook Express, Thunderbird or Eudora if it finds one or more of those programs on your computer.
Postbox offers plenty of useful features that might entice you to give it a whirl, but it's important to note that unlike the open-source Thunderbird, Postbox is made by a for-profit company. Though it hasn't yet decided on a business model, it may decide to charge for the program when it releases a final version, which may come around springtime.