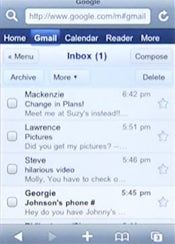 Google's VP of engineering, Vic Gundotra, demonstrated on Wednesday a mobile version of Gmail designed for both the iPhone and Google Android phones. The Web-based application lets users access their email offline and also brings support for Gmail's labels feature. What is really unique about this application is that it is browser based and requires no mobile software application downloads.
Gundotra showed the audience at the Mobile World Congress in Barcelona, Spain a "technical concept" application of Gmail, which stores on the device it is used on not only a user's data, but also the software itself. The most notable use of this technology is allowing offline access to e-mails in Gmail.
Google's Gmail application is based on a new Web language (HTML5), supported by both iPhone's Web browser and Android devices. Gundotra showed how the application would run on both Apple's and Google's mobile platforms, without the need to have a certain application installed on the phone.
Besides offline email access, the upcoming Gmail webapp features a floating toolbar that tracks users' email browsing (e.g. when selecting two or more emails the toolbar shows up giving you the option of deleting, forwarding, etc.) and also support for message labeling. Google's Gundotra demonstrated the application on an iPhone 3G and on a HTC Magic (T-Mobile G2), stressing how fast the webapp ran.
Google 'forgot' to mention when the new version of the Gmail webapp will get released. However, with offline Gmail access already available, this mobile implementation of the feature shouldn't be too far away.
The guys over at iPhoneBuzz have a video (below, for your viewing pleasure) of Vic Gundotra demoing Gmail offline access on both iPhone and HTC Magic.