All too often, product follow-ups are just minor upgrades, designed to keep up with the evolution of specs. Not so with Western Digital's My Book World Edition network hard drive. This storage box marks a complete and thorough reworking of the World Edition device–and does so with positive results.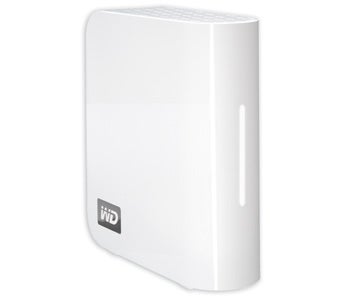 For starters, the unit is notably slimmer–nearly half the thickness of its predecessor, the My Book World Edition II. It still comes in a glossy white finish, to distinguish it from the black desktop My Book drives. Inside the relatively slim WD chassis is a 1TB or 2TB Western Digital GreenPower 3.5-inch hard drive. On their own, those drives have posted solid numbers in our performance tests for internal drives.
The performance of the new My Book World Edition is dramatically faster than its predecessor, across a wide spectrum of tasks. In the PC World Test Center's evaluation, the time required to complete our tasks was often halved–and in some cases, the differential was even more.
For example, on our virus scan test, the World Edition II required 426 seconds to complete a scan; and the new World Edition required 252 seconds. Copying files from the NAS to our host PC showed an even greater boost: The World Edition II needed 532 seconds to copy 3.07GB of folders and files from the drive to the PC, while the new World Edition NAS did so in 235 seconds. For copying large files from the PC to the NAS, the World Edition II took 674 seconds, while the new World Edition did so in 332 seconds. Copying large files to and from the NAS showed dramatic improvements from old to new, too: 455 seconds vs. 128 seconds for copying the NAS to the PC, and in the reverse 652 seconds vs. 263 seconds.
The World Edition has redesigned software, too, so now you don't need to install a pesky and slow client in order to access the device remotely. Simply set up a Web account and associate your device with your log-in, and you can access the World Edition NAS remotely via any Web browser.
This NAS also supports continuous automatic backup for multiple computers on the network; supports DLNA 1.5 and UPnP for streaming photos, music, and video to your entertainment center; and, it acts as an iTunes server. It also works with Windows and Mac systems.