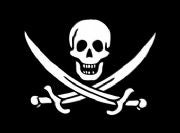 If nothing else, the copyright infringement trial of The Pirate Bay Four in Sweden is turning into an entertaining spectacle. For courtroom drama, it's got it all: Irreverent defendants joking with prosecutors; rabid anti-copyright proponents with megaphones; a hacked recording industry Website; and even a cool pirate bus parked outside the court.
As an Ars Technica report indicates, The Pirate Bay defendants are either indifferent to the ways of business, including eye-glazing details like contracts and copyright law, or they're really good at faking it. Defendant Fredrik Neij, who owns The Pirate Bay's domain, told prosecutors that he never read a contract he signed that stated he would oversee the site's operations.
Prosecutors also tried to show that the Pirate Bay team knew all along that the site linked to copyrighted material. They asked Neij about a speech he made in 2006, where he said the site had received numerous threats from copyright owners. Neij replied that he hadn't written the speech, apparently implying that he wasn't clear on its contents.
Whatever they may lack in business acumen, the defendants definitely have a sense of humor. Wired reports that The Pirate Bay crew ran into prosecutors at an Italian restaurant on Wednesday, where the defendants jokingly tried to get the Suits to pick up the check. (They failed.)
Meanwhile, hackers defaced the Swedish website of the International Federation of the Phonographic Industry. But defendant Peter Sunde urged Pirate Bay supporters to give it a rest, adding that website defacing would only "reflect on us badly."
The Pirate Bay trial really comes down to this: It's the Kids vs. the Parents. The Kids, who admittedly are funnier and hipper (and probably smarter) than the Parents, wants to download copyright-protected stuff for free. The Parents want them to pay for it.
Who will win?