Apple has irked more than a few iPhone app developers by rejecting their creations for inclusion in the App Store, sometimes for reasons that seem to have little sense. The company won't reveal much about its mysterious and often seemingly-arbitrary process (representatives didn't respond to multiple requests to comment on this story), but we had no problem tracking down developers whose apps had been snubbed.
So cue the 2 Live Crew, smart-phone fanatics: We're delving into 10 iPhone apps banned in the U.S.A. and beyond.
1. Obama Trampoline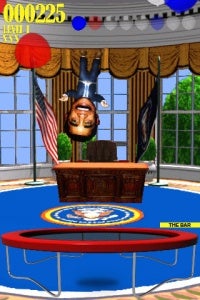 Swamiware's Obama Trampoline game, rejected by Apple this month, lets you place one of 18 politicians onto a giant trampoline, then use his or her body to pop balloons floating across the screen. Barack Obama, John McCain, and other politicians from both parties were among the character choices.
"It's cartoony," says Swamiware President and CEO Patrick Alphonso, hoping to deflate any implications of disrespect. "It's a game."
Apple, of course, didn't see the fun, and the game didn't get in. Swamiware is now working on retooling Trampoline for another try, but the guesswork is leaving its team less than elated.
"We spent a lot of time and money on this product," Alphonso says. "It sucks to develop an app and get it rejected for reasons that you weren't aware of."
2. MyShoe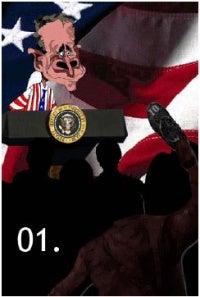 The journalist who chucked his shoe at President George W. Bush missed his mark, and so too did an iPhone game based on the now-infamous incident. MyShoe, conceived by a Pakistan-based programmer, turned the iPhone's accelerometer into an apparatus for imaginary footwear-flinging.
The developer has been quoted as saying the game also let you take aim at Bin Laden and other public figures. Even so, it appears that Apple wanted to dodge the controversy, with its reviewers citing the App Store's rule against "ridiculing public figures" and flinging this idea right into the trash.
3. I Am Poor
You probably remember the ill-fated (and, most would say, ill-inspired) I Am Rich application. The $1000 function-free program–all it did was place a silly, shiny icon on your screen–got snubbed out just days after its debut. Grabbing less attention, though, was the far more affordable alternative, I Am Poor.
"It was the poor man's I Am Rich," explains developer Hardy Macia of Catamount Software, perhaps better known for its Prohibition 2: The Dope Wars game, also rejected by the App Store.
Priced at 99 cents, I Am Poor placed images of ramen noodles, tuna, and mac-and-cheese onto your humble home screen. Apple, however, didn't find the idea appetizing and slapped a "no user functionality" stamp on it.
"Their policies and approval are shrouded in mystery," Macia says. "Whenever an app is submitted, it seems like playing Russian roulette."
4. The South Park App
If anyone's accustomed to battling censorship, it's "South Park" creators Trey Parker and Matt Stone. The same guys who made The Guinness Book of World Records for squeezing 399 cuss words into a single movie have just given up their fight to get into the App Store.
"After a couple of attempts to get the application approved, we are sad to say that our app has been rejected," the duo explains. "According to Apple, the content was 'potentially offensive.'" The app would have allowed iPhone users to access episode clips, read South Park news, and grab wallpaper and other South Park-related downloadables. Some of this content, we gather, contains some R-rated words or concepts. But then again so do the South Park episodes Apple already sells in its iTunes store.
One glimmer of hope for anyone waiting on a mobile Mr. Hankey: Parker and Stone say that Apple told them its standards could "evolve" over time. Hey, maybe by the year 2014, images acceptable on cable television will be allowed on mobile devices, too. Maybe.
5. Pull My Finger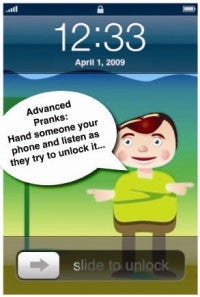 Another app found to be full of hot air was Air-O-Matic's Pull My Finger–you know, the adolescent-aimed emulator of flatulent tones. (That's the technical description, anyway). When Apple first caught wind of the concept, it said no thanks. Right away, the app's originators sensed something didn't smell right.
"Their reasons for banning us really didn't add up," says developer Sam Magdalein.
Apple initially said Pull My Finger had "limited utility," Magdalein remembers, then went on to explain that it might offend some of the iPhone's more sophisticated overseas shoppers.
"After that, they pretty much stopped talking to us or returning e-mail and voicemail," Magdalein recalls.
A month later, Apple reconsidered. A rep told Magdalein inspectors had been caught off-guard with this "genre" of apps and had needed to carefully consider which submissions should be approved. Pull My Finger was in, then, and it didn't take long for the app to propel its way into the store's list of bestselling items.
6. iBoobs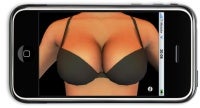 While a bodily function ended up getting approval, a bodily bounce did not. We're talking, of course, about iBoobs–the breast application Mystic Game Development ever created. (You can see a video demo here, if you're into that sort of thing.) The app lets you interactively jiggle a particular part of the female anatomy. Unfortunately, the only thing shaking on Apple's reviewer was his head. The program featured "inappropriate sexual content," Apple said, along with "obscene, pornographic, offensive, or defamatory content."
"Watching an episode of Baywatch on TV shows a lot more than iBoobs," counters MGD Development Director John van der Burg. "Besides that, iBoobs is just a 3-D model and not even real," he says.
Van der Burg's biggest beef was not being able to know in advance if the idea would fly. Had Apple answered his predevelopment inquiries, he says, it would have saved everybody some time.
7. Slasher
The same "offensive content" tag slashed Slasher's chances at App Store success. The simple program was cut from the catalog just one day after it was approved.
"In a word, I was upset," says Josef Wankerl, the app's creator. "I tried contacting Apple to see if there was any way to resolve their concerns, but they never answered my e-mail."
The seeming lack of consistency is what really twists the knife in Wankerl's side: Apps with comparable violence, he notes–such as one in which you use a broken beer bottle as a weapon–have been allowed into the store. Slasher, which only showed an image of a kitchen knife and sounded a scream when you shook it, was not.
8. Murderdrome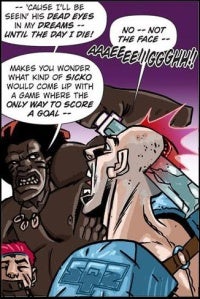 Non-kid-friendly content has been a contentious issue for Apple since the App Store's earliest days. Comic creator PJ Holden was one of the first to find this out when his Murderdrome digital comic was deemed too hot for the iPhone.
"Aside from a few random voices suggesting that the material deserved to be banned, most people took the same reasonable view we did," Holden says. "Apple should really extend their ratings system for games onto the other applications that the App Store has."
Holden has since used the engine built for the Murderdrome app to create more family-oriented comic applications. Still, he believes Apple isn't painting a picture of fairness with its current system–and that, he says, may be keeping talented artists from bringing their work into its platform.
"Apple's 'reasonable judgment' seems to depend largely on an individual reviewer's judgment rather than any simple-to-gauge metric," he says.
9. Podcaster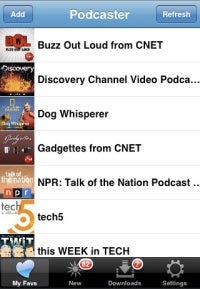 Sometimes, a rejection is issued for a simple reason: Apple doesn't want you competing with its own offerings. That's the exact scenario developer Alex Sokirynsky found himself in with his highly anticipated Podcaster application. Apple told Sokirynsky the app was too similar to iTunes and wasn't welcome on its virtual shelves.
"Although my app does allow you to listen to podcasts like iTunes, it also allows you to download them directly to device, and that is something Apple does not offer," Sokirynsky points out.
Sokirynsky ended up distributing his app to jailbroken phones via a backdoor distribution system. He also created a scaled-down version of the program called RssPlayer that got the App Store green light in late January.
10. Freedom Time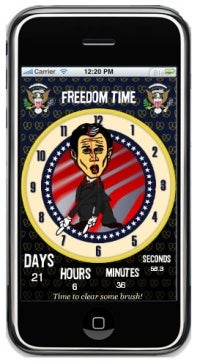 Ever wonder what Steve Jobs would have said about all the recent rebuffing? One developer did, and he decided to ask. Apple put the kibosh on Alec Vance's presidential countdown clock, Freedom Time, before the counting ever kicked off. Inspectors said that the app–designed to tick down the final moments of the outgoing administration–defamed or demeaned political figures.
"Defamation means making an untrue claim about someone in order to hurt their public standing," Vance wrote in a blog posting at the time. "This app makes no untrue claims whatsoever."
Vance went on to e-mail Jobs directly to express his concerns. A day later, he says, he received the following response: "Even though my personal political leanings are Democratic, I think this app will be offensive to roughly half our customers. What's the point?"
Vance got his answer, then, but he's one of many developers who feels it came a little too late. "By the time you get rejected, you've already wasted all the development time and expense," he says, "and there's no recourse to get [the application] accepted."
Propelled by bans of high-profile apps like NetShare and MailWrangler, a movement has been growing within the developer community to persuade Apple to use a more open and transparent application process for new iPhone apps. One programmer has suggested appointing an "App Store evangelist" who would coordinate with developers. Others have asked for a pre-approval process that could provide a tentative "yes" or "no" before any major investments are made.