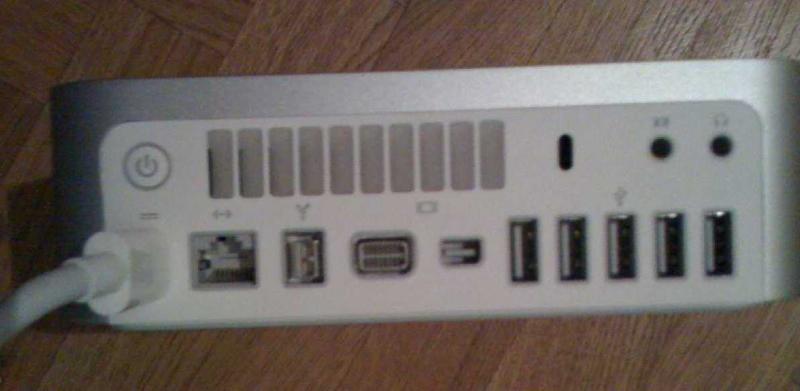 A photo supposedly of the next version of Apple's Mac Mini is starting to make the rounds on Apple-related discussion forums. A user named Monthy submitted the photo to a thread on the Macrumors forum. The picture shows the backend of what looks like a Mac Mini. According to Monthy, the new Mac Mini will have 1 mini Display port, 1 Mini DVI port, 5 USB ports, Firewire 800, 2Ghz Intel Core 2 Duo processor, 2 GB RAM and a Serial ATA Super Drive.
Monthy claims to have seen the new Mac Mini through a friend, and says the Mini should be on shelves in a month or so. The Mac Mini line of Apple computers has been due for a refresh for some time, and March 2009 is the date most often cited for a new Mini by Apple watchers.
Hopeful, But Skeptical
However, once again we're greeted with specs that seem realistic enough, but a photograph that leaves a lot to be desired. The photo is not as blurry as other photo leaks we've seen, but it's not a specimen of fine photography either. Also, what's up with the claim of a Firewire 800 port? Apple recently pulled Firewire off its mid-range MacBooks, so why include it on the Mini-especially since the specs for the new Mini are similar to the 13-inch MacBook? Also, why is there only one shot? If this leak is the real thing, why don't the leakers just take a breath, calm down a little and get a few more shots using a higher quality camera?
Suspicions aside, Apple Insider says the photo may be on the mark. According to AI, it saw photos that looked exactly like the new shot on MacRumors several months ago. So while you should always take rumors and photo leaks with a grain of salt, this just might be the real thing.