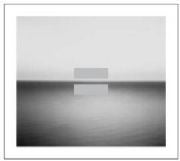 Now you can find what you're looking for: U2's new album, "No Line on the Horizon," has leaked onto bit torrent sites and is spreading across the Internet. Getmusic.com.au, an Australian branch of Universal Music, accidentally posted the album for sale before catching the mistake. One quick and lucky fan nabbed it and posted it on the Web, where its CD-quality tracks are now spreading by the thousands.
This album leak is particularly embarrassing for the Irish rockers because of their stance against online music piracy. Last year U2's manager, Paul McGuinness, joined the party-pooper ranks of Metallica as he bared his fangs at ISPs for facilitating theft. Then, four tracks from No Line on the Horizon were leaked onto the Web after U2 front man Bono played them too loudly from his vacation home, allowing one die-hard fanatic to record the tracks on his cell phone.
After those blunders, U2 took no chances. The group set up ultra-secretive "listening parties" for the media — no recording devices allowed, not even cell phones — instead of releasing copies of the album for review. Whoopsie — it still leaked.
Maybe it's time music publishers, groups, and band managers take a page from Radiohead's In Rainbows and embrace the future of online music distribution. No matter what circumventive methods are imposed, the music-listening public will almost always grab a copy of an album or song before its official release. U2 should release No Line on the Horizon immediately on its Website, asks fans to pay whatever, and reclaim some semblance of control over its publicity and distribution.