I didn't buy Amazon's first Kindle e-book reader when it premiered in late 2007 for two reasons. First, I rarely buy first-generation hardware. Why pay to be a beta tester? Second, I look at a computer screen all day. I didn't want to look at yet another screen for night reading.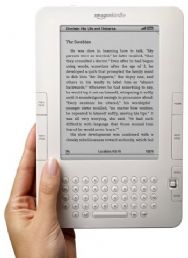 But when Amazon's new Kindle 2 was announced, my first reason for holding out evaporated. And the Kindle's new features eroded my resolve: It can store 1,500 books; it can go for up to two weeks without a battery recharge; it has a crisper screen.
So when the Kindle 2 was announced on February 9, I preordered one. However, soon after, I read David Leonhardt's piece in The New York Times, "To Spend or to Save? Trick Question." The premise: Consumers can be frugal and help the economy, too, by spending money now that will save them money later. In one example, Leonhardt wrote: "Frequent book buyers who don't mind screen reading can buy the new Kindle. It costs $359, but most new books then cost less than $10."
This got me thinking: What exactly would be the likely return on investment for a Kindle 2? I did the math to find out.
On One Hand: Savings Not Compelling
For the sake of argument, let's say I'm an avid reader who buys two paperbacks per month from Amazon. The average price of a book on Amazon's top 10 nonfiction paperback bestseller list is $16.19 (based on my calculations). If I bought 24 paperbacks a year, that's $32.38 per month or $388.56 a year.
I could get free shipping if I ordered two paperbacks at a time and didn't mind waiting five to nine business days for them to ship. If I chose standard shipping (three business days) instead, I'd pay about $4.88 for two paperbacks mailed together. I wouldn't be charged tax. (I live in San Francisco. How much you pay in shipping or taxes depends on where you live.) The $4.88 shipping for two books a month would equal $58.56 a year. That brings my two-paperback-a-month habit (books + shipping) to $447.12 per year.
My Kindle 2 order totaled $365.98, which includes $359 for the e-book reader and $6.98 for three-business-day shipping. The average price of the top 10 Amazon Kindle nonfiction bestsellers is $9.78. If I bought two e-books per month, I'd spend $19.56 per month or $234.72 a year (shipping isn't necessary). My grand total for the year: $600.70, which includes the Kindle 2 and 24 e-books.
In my first year of Kindle 2 ownership, I'd have spent $153.58 more than if I'd stuck with paperbacks. Over two years, presuming there are no price increases on the paperbacks, shipping charges, or e-books (fat chance), I'd have spent a total of $894.24 on paperbacks and shipping vs. $835.42 if I were a Kindle 2 owner.
My two-paperback-a-month scenario is probably way more than most readers would spend, especially in today's economy. And I didn't factor in the cost of hardcovers, which cost more than paperbacks, or any of the newspapers, magazines, and blogs you can subscribe to (for a fee) with your Kindle. Still, my number crunching reveals that even a loyal reader of paperbacks would only have saved $58.82 by the end of the second year of Kindle 2 ownership.
But let's be real. Amazon is sure to introduce a third-generation Kindle during that period, which you may decide you can't live without. There goes your $58.82 savings, and then some.
On the Other Hand: Perfect for Travel
The Kindle 2's allure for travelers is obvious. Imagine that you're out of town at a trade show when a friend recommends a great book. You're all fired up and went to start reading it right away. You don't want to wait and order it online. You're in an unfamiliar city and don't have time to find a bookstore. No worries: Just fire up your Kindle. Presuming the book is available, you can buy and download it (using the Kindle's free cellular wireless connection) in just a few minutes.
Or let's say you're lucky enough to go to Paris. You could carry around Fodor's 2009 Paris guidebook, the restaurant guide Hungry for Paris: The Ultimate Guide to the City's 101 Best Restaurants, and Victor Hugo's The Hunchback of Notre Dame on one device that weighs 10.2 ounces.
Unfortunately, I have no plans to visit Paris or any other international destination these days. But I've got a Kindle 2 winging its way toward me. Lousy return on investment aside, a person's got to have something to look forward to.
Keep on Clicking
Mobile Computing News, Reviews, & Tips
Kindle 2 Accessories: Upgrading from a Kindle 1 to Kindle 2? Your Kindle 1 case may be too bulky for the newer, sleeker e-book reader. If so, one of the most promising Kindle 2 cases is the M-edge Platform Jacket. The protective cover doubles as a stand to prop up your e-book reader. The jacket is available in various colors for $30 in synthetic leather or $45 for genuine leather.
Not surprisingly, has a section for Kindle accessories.
Android Tablet Phone: Archos, known for its slick, portable media player-recorders, is developing a portable tablet phone that uses the Google Android OS. The touch-screen phone is expected later this year. It will offer a high-res, 5-inch display, TV recording, high-def playback, Adobe Flash support (something the iPhone still lacks), and up to 500GB of video storage.
My Phone and Google Sync: Microsoft recently announced My Phone, a service that syncs address book, calendars, and other data wirelessly between Windows Mobile handhelds and PCs. No direct connection between the two is required. Google has already beat Microsoft to the punch with Google Sync, which lets you sync your iPhone, Windows Mobile, BlackBerry, and other handhelds wirelessly with your Google contacts and calendars.
Contributing Editor James A. Martin offers tools, tips, and product recommendations to help you make the most of computing on the go. Martin is also author of the Traveler 2.0 blog. Sign up to have the Mobile Computing Newsletter e-mailed to you each week.
Suggestion Box
Is there a particularly cool mobile computing product or service I've missed? Got a spare story idea in your back pocket? Tell me about it. However, I regret that I'm unable to respond to tech-support questions, due to the volume of e-mail I receive.