Leo knows that data is safer if you don't keep it on the same partition as Windows and your programs. I tell him how to move it in Windows XP.
Backing up, recovering from a disaster, and moving to a new PC are all easier if you keep your data–including documents, photos, and music–on a separate partition. But setting that up isn't easy. Windows and your applications expect to find data in particular locations, and you need to tell them that you've moved it. And I can't guarantee that some program or other won't object.
Because the specifics of this move vary greatly with different versions of Windows, I'll concentrate here on XP. I'll post a Vista version next week. [3/10 Update: The Vista version is now up.]
Before you begin, make an image backup of your drive, then use a non-destructive imaging program to turn drive C: into two "drives." I recommend Acronis' $50 Disk Director Suite. Make the new partition a Logical, rather than Primary, one.
Once you've got the new partition set up, make sure that your PC shows hidden files and folders: In Windows Explorer, select Tools, Folder Options click the View tab, select Show hidden files and folders, and click OK. You can change this back when you're done, if you wish.
Then, just to be safe, back up your registry.
For convenience sake, I'm going to refer to the new partition, which is probably D: or E:, as X:. I'll also refer to your logon name as logon, as in C:Documents and SettingslogonMy Documents.
So let's start:
Navigate Windows Explorer to X:, and create a folder there named with your logon (in other words, named Leo if that's the name you log on with). Open another Windows Explorer window to C:Documents and Settingslogon folder. Everything you need to move is here. Unfortunately, Windows doesn't want you to move some of them, and others–well, you really don't want to move those.
Let's start with the easiest one: My Documents. Click Start, right-click My Documents, and select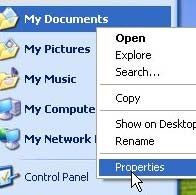 Properties. On the Target tab, in the Target field, enter X: logon My Documents (you know what X: and logon mean by now, right?) and click OK. Click Yes to any question Windows asks you while it moves the files to the new location.
You should also move the Application Data folder, but that's trickier. With both your new and old logon folders visible, drag the Application Data folder from the old to the new. Because they're on separate drives, this will copy, not move, the folder.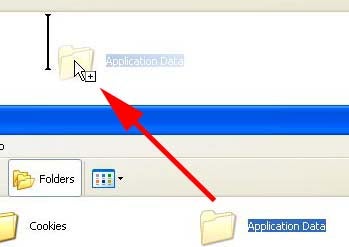 Now select Start, Run, type regedit, and press ENTER. In the left pane, navigate to and select HKEY_CURRENT_USERSoftwareMicrosoftWindowsCurrentVersionExplorerUser Shell Folders. Double-click the AppData value, change the 'Value data' field to X:log-onApplication Data, and press ENTER. Reboot your computer, then delete the Application Data folder at C:Documents and Settingslogon.
That may be enough, but some applications play by unique rules and need special treatment. Here are three popular examples–all by Microsoft. So, if you're using:
Internet Explorer: Use the same "drag the folder, then edit the Registry" technique I described for Application Data. Only this time, drag the Favorites folder, and change the Registry's Favorites key to point to the new location. Don't forget to reboot and delete the old folder.
Outlook: In Windows Explorer, navigate to and select C:Documents and SettingslogonLocal SettingsApplication DataMicrosoft. Inside this folder you'll find a subfolder named 'Outlook'. Move it to X:logonApplication Data.
Then select Start, Control Panel. Double-click the Mail icon (if you don't see this icon, click Switch to Classic View). Choose Data Files, Settings. At the error message, click OK. Browse the resulting dialog box to X:logonApplication DataOutlook, double-click the displayed file, and close the various dialog boxes.
Outlook Express: Open Outlook Express, select Tools, Options, and click first the Maintenance tab and then the Store Folder button. Copy the contents of the resulting field to the clipboard, then select Start, Run, paste that address into the Run field, and ENTER to bring of that folder in Windows Explorer.
Return to Outlook Express and change the data folder's location here to a new folder on X: (my recommendation: X:logonOutlook Express). Then close Outlook Express and drag the files to the new location.
Add your comments to this article below. If you have other tech questions, email them to me at answer@pcworld.com, or post them to a community of helpful folks on the PCW Answer Line forum.