Melissa Riofrio was the first editor of PC World's Top 10 Printers. Yardena Arar is a senior editor for PC World. Special thanks to Jim Aspinwall, Gary Funk, Robert Luhn, and Rick Scheerer.
Whether your printer costs $40 or $400, the purchase price is only the first item on your new list of ongoing printing expenses. Over time, buying the ink or toner and acquiring media (paper, envelopes, transparencies) will very likely make a far bigger impact on your wallet. These costs will vary depending on what you print, how much you print, and what kind of media you use. Some expenses are unavoidable: Printing an 8-by-10 photo on premium, glossy paper will never be dirt cheap. Shaving cents off of other kinds of printing, however, involves just a little thought, effort, and advance planning. Read on for tips on how to choose and use your printer wisely–or perhaps not at all in some cases.
Know Before You Buy
Saving money on printing starts (ideally) before you buy the printer. Before you begin researching new models, make sure that you'll be getting the best printer for the types of documents you plan to produce. For more on the criteria you should use, see "The Right Printer for the Job," and read our comparison of pricing versus print quality trade-offs in "The Best and the Cheapest." Once you start looking at specific models, make a point of checking the recommended print volume; if you typically print 100 pages a day, for example, don't buy a printer that's rated for 500 pages a month.
How much is that cartridge in the window? Replacement ink or toner cartridge costs represent a major part of your long-term printing expenses. As we learned when we researched Hewlett-Packard's $40 Deskjet 3520 (see "$40 Printer, $40 Ink"), replacing the cartridges can cost as much as buying the printer (see "Pay It Again, Sam: Ink Costs Can Dwarf Printer Prices"). In general, expect to pay $10 to $40 for an ink cartridge, and $60 or more for a toner cartridge.
But don't judge a cartridge by price alone; its efficiency, or page yield–the number of pages it can print–matters just as much. Of course, that figure will vary depending on how much ink you use on a page, but the industry-standard assumption is 5 percent coverage per page for each color. Some companies make yield information available on the Web along with other printer specifications; others will provide it if you ask, either by e-mail or phone.
You can use yield information to calculate per-page costs, which can be useful in determining what your printing costs for different printers would look like over time. Laser printer toner cartridges may cost a lot more than ink jet cartridges, but their higher yields make per-page costs lower.
Some printer manufacturers offer multipacks of inks, which can knock a few dollars off the price per cartridge. The standard-capacity black ink for Dell's $79 J740 ink jet, for instance, costs $30 alone; a two-pack is $56.
A few colors more: Some ink jet printers produce superior photo quality by using additional colors beyond the usual cyan, magenta, yellow, and black. But all the color cartridges may not come with the printer. For instance, Canon's $200 i960 printer is bundled with all six of its inks (including Photo Cyan and Photo Magenta), and they cost $12 each to replace. But HP's $100 Deskjet 5150 includes only the standard HP 56 black and HP 57 tricolor cartridges ($20 and $35, respectively); the HP 58 photo cartridge is a separate, $25 purchase.
The incredible, shrunken starter cartridge: Many lower-cost laser printers come with starter cartridges that last anywhere from 60 percent to as little as 33 percent as long as a regular cartridge. Granted, if you don't print much, that first cartridge could last you a while; but if you know you'll be printing at least 100 pages per month, either find a printer that comes with a full-size cartridge or factor in the cost of an early replacement. Of course, if you get a great deal on the printer, your overall cost may still be quite affordable.
The cheapest paper for the job: The heavier, brighter (whiter), or more specialized the paper is, the more it will cost. You'll generally pay as little as a half-cent per page for typical, 20-pound office paper, or as much as a dollar for an 8.5-by-11-inch sheet of glossy photo paper.
Save the pricey stuff for final prints; for everything else, use the cheapest paper you can find. It will affect the print quality from your laser printer minimally, if at all, and it will work fine for producing drafts and other internal documents on your ink jet printer. Third-party brands often cost less per page than the printer manufacturer's media, but test ink jet-specific media on your printer to see if you like the results. You may have to buy a full pack to do this, unfortunately.
Cable not included: Some printer manufacturers save on costs by omitting the USB or parallel cable that you may need to connect the device to your computer. If you can't use the same cable you had for your last printer, shop around: You don't need the expensive models with gold connectors and heavy shielding unless you have a lot of interference in your work area from other devices.
Penny-Saving Printer Settings

The printer you already own may have money-saving features built into it–simply take a few minutes to delve into its settings.
Sip, don't slurp: Many have a button right up front that sets the printer to draft mode (sometimes called Economode, InkSaver, or the like), reducing the ink or toner consumption for everyday documents (see "Printing With a Light Touch"). Other printers may require or allow you to set draft-mode printing in the driver. To see if yours does, choose Start, Printers and Faxes in Windows XP (Start, Settings, Printers in Windows 2000). Right-click the icon for your printer and check the menu for Properties or an appropriately named option. You may have to search, but you should find a way to set draft printing. Many apps, such as Word or PowerPoint, let you select draft printing; some may be able to print in high-quality mode even when the printer is set for draft mode; check the app's print dialog box.
A utility that can help you save on ink or toner is Strydent Software's $35 InkSaver (www.strydent.com or www.inksaver.com), which provides you with an intuitive slider for controlling precisely how much ink to use while printing.
Print smaller: For years, presentation pros have printed multiple pages at a reduced size on one sheet of paper. This practice, known in the industry as n-up printing, also works well for saving paper. You can access this feature by right-clicking your printer icon and choosing Printing Preferences, which brings up a dialog box where you might also find a page-scaling feature that lets you squeeze a legal-size page onto letter-size paper.
Two utilities could help you squeeze more onto a single sheet: The first is the $50 ClickBook 7 from Blue Squirrel; we lauded version 6 in last year's "Cheap Tweaks." The other is the $50 FinePrint 5 from FinePrint Software, a longtime favorite of Home Office columnist Steve Bass (see "Printer Tricks That Save Bucks").
Both of these products perform a multitude of printing tasks, from n-up printing and document scaling to print-job management, as well as the creation of layouts for brochures, calendars, greeting cards, business cards, and more.
Cheapskate Tricks That Work
Some of the best ways to control ink, toner, and paper costs are also the easiest.
Duplexing: Cut your paper expenses in half by printing on both sides of the page. Some offices equip their workgroup printers with automatic duplexers, and a few even set duplexing as the default print mode. A handful of personal printers provide automatic duplexing (requiring no manual refeeding of the sheets) as a standard or extra-cost accessory, and some present a handy on-screen guide for turning and ordering the pages. Barring such features, only a patient soul should try manual duplexing for a multipage document.
Do the toner slow dance: If your laser printer software says you're running low on toner, or if you start to see streaks in your printouts, you may still have plenty of toner left–but it's stuck in the cartridge's nooks and crannies. Remove the cartridge from the printer and slowly rock it end-to-end and then to-and-fro a few times. Do not shake it randomly or vigorously. Reinsert the cartridge into your printer. (Check your hands afterwards to make sure you don't soil your clothes with toner.)
Digital Photo Tips
You can't put a price on memories, but printing cherished family photos on an ink jet will definitely cost you. What are your options?
Third-party services: For your highest-resolution, most precious photos, it's probably best to pay the high price for total control over the process from editing to printing. But for everyday shots, letting someone else print the photos (by either uploading your images to an online photo service or dropping off a CD or memory card at a store) is the easiest, and often cheapest, solution–especially for large quantities (see "Outsourcing Photo Printing").
Find flaws and fix 'em: Whether you've digitized a film photo or downloaded an image from your digital camera, checking for stray thumbs, red-eye, and other flaws before you print will keep you from wasting pricey photo paper. It also pays to preview photos before sending them to a print service; many major services also offer online editing tools. In "Photo Finishers," our recent roundup of low-cost image editors, Jasc Paint Shop Pro 8 (currently $82) earned our Best Buy, but we also liked Microsoft Digital Image Pro 9 ($85) and Adobe Photoshop Elements 2 ($90).
The best quality is worth the money: When we partnered with the archivability experts at Wilhelm Research to test and rate ink jet-printed photos for longevity in "The Fade Factor," we found that the manufacturer's inks and papers generally produce the best-looking, longest-lasting prints. If you want to preserve photos for posterity, you may have to resign yourself to spending a little extra.
Take good care: Who wants to spend money reprinting a photo that's faded or otherwise damaged? Make prints last by taking a few precautions. Henry Wilhelm of Wilhelm Research recommends framing displayed photos under glass and avoiding prolonged exposure to bright light sources. Even mild light exposure may eventually fade a print, however, so just to be safe, Wilhelm also recommends having a second copy in an album. Store redundant copies of your digital image files (in their highest resolution) somewhere safe, too. For more tips, see "How to Print Perfect Photographs."
Taking a Chance on Cheap
The sticker shock from replacing your first ink or toner cartridge naturally leads to a search for cheaper alternatives, such as third-party cartridges or refill kits. But proceed with caution.
When we tested several third-party inks last fall (see "Cheap Ink Probed"), we found that they varied widely in print quality and were uniformly poor in archivability. Ink refill kits can get messy, and in our tests the print quality was mediocre at best. Continuous-ink systems–intravenous hookups from a printer to big bottles of ink–save money, but they require a large initial investment and involve other drawbacks (see "Feed the Need, Cheaply").
However, Nabil Nasr, director of the Center for Integrated Manufacturing Studies at the Rochester (New York) Institute of Technology, says some third-party products are worthy of consideration. RIT, which ran yield tests for this story (see "Pay It Again, Sam: Ink Costs Can Dwarf Printer Prices"), works with printer manufacturers and third-party vendors to develop better ways to remanufacture, reuse, and recycle printer supplies. Nasr says some third-party inks have fared well in RIT's archivability tests; he recommends going with a known brand from a company that tests and guarantees its products. Staples, for example, backs its remanufactured ink and toner cartridges with a promise to pay for any damage caused by a defective cartridge.
Know More, Save More
Printer vendors and computer stores offer little guidance on penny-wise printing (see "Irate Over Ink." Educate yourself and experiment. Visit newsgroups–try comp.periphs.printer, comp.laser-printers, or comp.periphs.printers–but exercise caution in trying out home remedies. Regardless, if you stay aware of all of your printing options, your budget will thank you.
Technology Face-Off: The Best and the Cheapest
Part of printing smart involves using the right printer for the job. None of the major technologies–monochrome laser, color ink jet, color laser–is perfect for everyone. Below are representative models of each major technology, along with prices and per-page costs (based on industry-standard assumptions of 5 percent coverage per color per page), as well as general text- and photo-quality ratings and best uses.
Color lasers offer the best balance of image quality and consumables cost, but only if your printing volume justifies the hefty purchase price. Ink jets offer low initial costs and the best photo quality, but ink and photo paper costs can rise quickly (photos will often require 100 percent ink coverage per page). Workhorse monochrome lasers are best for offices of any size that want to print just text documents.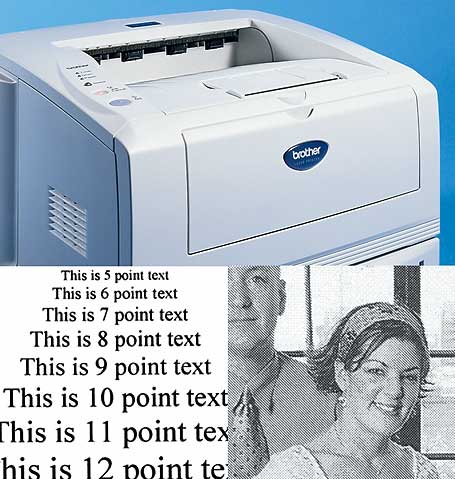 Monochrome Office Laser
Purchase cost: $229
Toner cost per text page: 2 cents
Toner cost per page of graphics: 6 cents
Text quality: Outstanding
Gray-scale images: Fair
Best for: plain text and rudimentary graphics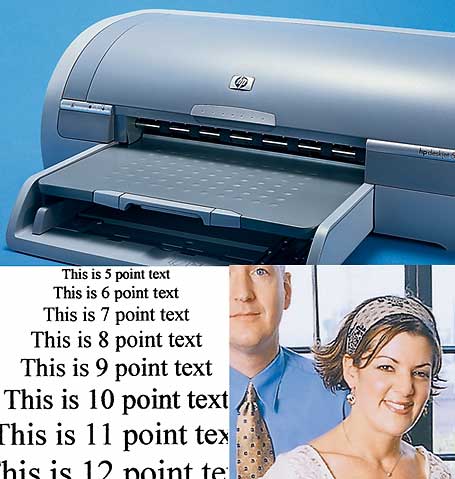 Ink Jet
Purchase cost: $100
Ink cost per text page: 4 cents
Ink cost per color page: 13 cents (cost based on standard inks and default settings on plain paper)
Text quality: Good
Photo quality: Outstanding
Best for: art and photos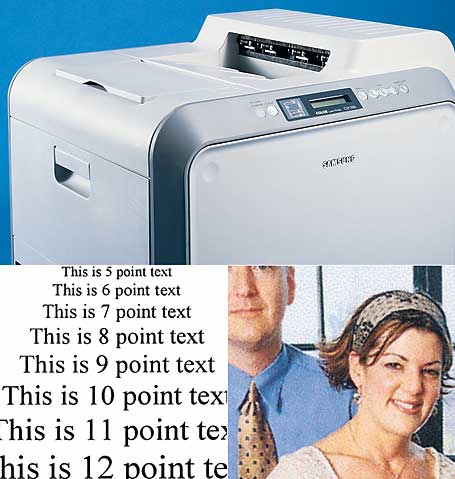 Color Laser
Purchase cost: $699
Toner cost per text page: 1.7 cents
Toner cost per color page: 8.1 cents
Text quality: Very good
Color graphics: Good
Best for: color business documents
Ink Jets: Printing With a Light Touch
An easy way to make ink jet cartridges last longer is to use your printer's draft-mode setting. This lays down less ink on a page, saving as much as 50 percent on the per-page printing cost. Your pages will look light (see draft, left, and normal samples below from the HP Deskjet 5150), but will be fine for quickly checking layouts or a Web page. Many printers offer a range of ink-saving options for a gradual trade-off between print quality and print speed.
Yardena Arar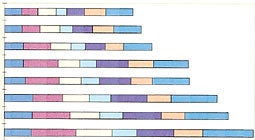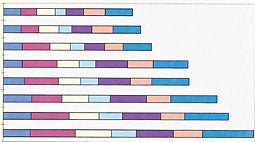 Pay It Again, Sam: Ink Costs Can Dwarf Printer Prices
It's no big secret that the ink jet printer business is based on the razor-and-blade economic model: Once you invest in the printer, you're stuck with the ongoing costs of the consumables–in this case, the ink and paper–needed to actually use it. Printer manufacturers rely on such sales to subsidize the relatively low costs of today's ink jets. Does that mean a cheaper printer could wind up costing you more?
To help us find out, the Rochester Institute of Technology's Imaging Products Lab performed page-yield tests on five current ink jets from four major vendors, ranging in price from $40 (Hewlett-Packard Deskjet 3520) to $180 (HP Deskjet 6122). Based on those tests and the manufacturers' Web site prices for ink jet cartridges, we calculated ink costs for a page of plain text and a page of text with color graphics, then determined how much you'd spend on the printer and ink (after you'd used up the cartridges that came with the printer) for 500 and 3000 printed pages (half of them with black text only, and half with text and color graphics).
We found that at the 500-page mark (using replacement cartridges), the total cost for each printer ranked in the same order as the printer's purchase price. But after 3000 pages, the total cost for Lexmark's Z605 added up to $517, a pack-leading figure that belied its $50 bargain purchase price; the $130 Canon i560 had the lowest total cost, at $298.
IPL's tests assume 5 percent coverage per color on an 80-square-inch printing area; ink costs would likely rise more quickly if you print photos. Infrequent printers might wait years to recoup the cost of a more expensive printer that uses cheaper ink. But that printer might also have a lot more features and produce nicer-looking prints–something to think about when you buy your next ink jet.
Yardena Arar
Online Services: Outsourcing Photo Printing
Tired of high ink costs for printing photos? Consider using an online photo service instead. They're convenient, and they're cheaper for printing 4-by-6-inch snapshots (though larger photos cost more than if you printed them at home). Among the services we looked at, Wal-Mart's offered the lowest prices.
We researched the costs of printing a 4 by 6 photo and an 8 by 10 photo on several photo service sites and compared them with the costs of printing the same-size photo on two current ink jets, Epson's Stylus C84 and HP's Deskjet 5150. (We based printing costs on vendor data, adjusted where necessary to reflect the assumption that a photo page will be covered 100 percent with ink.)
We also found that it pays to shop around. To avoid shipping fees, use services like Wal-Mart's, which lets you pick up your prints at a local store for free.
Bulk Ink: Feed the Need, Cheaply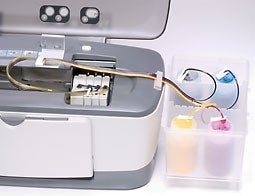 For people who print hundreds of photos a year and need to maintain complete quality control (an online service won't cut it), a continuous-ink system promises significant cost savings. But it requires a hefty initial investment and several adjustments to how you use your printer. And families, take note: These systems are too delicate to be exposed to curious kids or pets.
Think of a CIS as an intravenous drip for your printer: Large bottles sit in a container next to your printer and administer ink continuously via small hoses into special cartridges. I tried the $273 Niagara II Continuous Ink Flow System from MediaStreet with a 4-ounce set of Enhanced Generations inks ($66); NoMore Carts also makes CIS systems that are available at Inkjet Art Solutions or Piezography BW.
Installing the Niagara II on an Epson Stylus C80 took about 45 minutes. Your printer's lid must remain propped up permanently to allow for the line feeds, exposing the printer's guts to kids, pets, dust, and other elements. I had to clean the printhead and nozzle eight times to get the inks flowing properly.
The text and photo samples I printed were only slightly inferior in quality to identical samples printed using Epson DuraBrite inks and media. Archivability comparisons are more difficult. Ink-longevity experts at the Wilhelm Research Institute project that the DuraBrite inks will last up to 92 years when displayed; however, Wilhelm has not tested current Enhanced Generations inks.
But the ink cost savings can be considerable. Once you're buying only 4-ounce refills, you're paying just $4.11 per ounce–and larger bottles (up to 32 ounces) offer greater savings. Epson doesn't say how much ink its cartridges hold, but using volume estimates from a manufacturer of Epson-compatible cartridges, we estimated that the ink in an $11.40 Epson color cartridge costs about $40.64 per ounce, while the ink in a $31.35 black Epson cartridge costs $63.33 per ounce. Epson's prices are no more astronomical than other printer vendors' are, but they're higher than those of MediaStreet and most third-party suppliers.