If you give PowerPoint-style presentations, a digital projector can help your work look polished and professional. But in the past, a model matching the resolution of your laptop's screen and suitable for both work and play cost big bucks. Not anymore.
The first wave of sub-$1000 units with native 1024 by 768 (XGA) resolution has arrived, a significant quality upgrade from the lower-resolution 800 by 600 (SVGA) products that dropped below that same price level last year. The Epson PowerLite 76c, the Microtek CX6, the Hitachi CP-RX60, and the Sharp Notevision XR-10X–all of which make our chart–are versatile portables that match up well against our top-rated projector, the NEC LT35, at less than half the price.
These lower-cost newcomers may not have all the extras you'd find on a high-end business model like the NEC, but they do offer a reasonable mix of power and performance, whether you want to deliver a presentation in a conference room or view DVD movies in the family room.
To find out how well these bargain-priced XGA projectors would perform when tested alongside other portable models, we rounded up a total of 16 business projectors from over a dozen manufacturers. The PC World Test Center examined units from Canon, Dell, Epson, Hewlett-Packard, Hitachi, NEC, Microtek, Mitsubishi, Optoma, Panasonic, Plus Vision, Sharp, and Sony, and rated how well they displayed various images. (Click here for complete test results and a review of each model tested.)
The 16 projectors we corralled for this roundup represent a range of shapes, sizes, and designs. The smallest we reviewed are two sub-3-pound models: HP's diminutive MP2210 (which finished in tenth place) and Plus Vision's slender, seventh-ranked V-339. The heftiest products, at 8.6 pounds each–Canon's Realis SX50 and Sharp's XR-10X–are over twice the size of the supercompact ones. Each supports native XGA (or higher) resolution and weighs less than 9 pounds. And while none of these models is intended strictly for home theater use (see "Home Theater Wonders" for more), all of them may be used for at-home entertainment as well as for work.
In this article:
Projector Face-Off
To evaluate the performance of these projectors, the PC World Test Center used a battery of tests that included text files (several Microsoft Word and Excel document screens) and an assortment of still images supplied by the ICIA's InfoComm Projection Shoot-Out DVD. We also conducted motion tests with DVD movies and a video game to see how well the devices could display fast-moving images without creating artifacts.
The projectors in this roundup represent the three core front-projection display technologies: Texas Instruments' Digital Light Processing, liquid crystal display, and liquid crystal on silicon. Nine models used DLP, six LCD, and one LCoS. Though we saw some performance differences, our tests failed to establish any technology's superiority over the others for general use.
TI's DLP technology uses a multisegment color wheel that, advocates say, produces brighter, higher-contrast images than competing technologies do. Meanwhile, front-projection LCD technology employs three LCD glass panels to display the red, green, and blue components of a full-color (RGB) image simultaneously. Supporters claim that LCD projectors generate richer, more natural color than do most DLP business models, which typically use a single-chip design with a four-segment color wheel to display red, green, blue, and white.
Unlike DLP and LCD projectors, which are commonplace, LCoS models remain a rarity. LCoS–a hybrid of DLP and LCD systems–is touted for its realistic color representation; however, it remains expensive (Canon's Realis SX50 sells for $4999).
Besides coming from a range of technologies, the projectors we tested represent a wide range of brightness levels. At the low end is the Plus V-339, rated at 1300 ANSI lumens (an industry-standard measure); this model's lumens rating means that it should be bright enough for use in small conference rooms of up to about a dozen people, either in darkness or with low ambient light, or for use when playing movies. At the other end of the spectrum are models like the NEC LT35 (our Best Buy) and the eighth-ranked Panasonic PT-LB30U, both rated at 3000 lumens. For larger rooms and environments with more ambient light, higher-lumens-rated models such as those are a better match.
We evaluated each projector at its native resolution and default factory settings. Most of the devices are rated at native 1024 by 768 resolution, as are most business notebooks we've seen recently. We also tested two models with a native 1400 by 1050 (SXGA+) resolution: the Canon Realis SX50 and the $3599 Dell 5100MP. Both of these relatively expensive projectors missed our Top 10 chart–and not just because our scoring system rewards lower-priced products in this category.
Since the still images in our tests are native 1024 by 768 resolution, the Realis SX50 and 5100MP had to use interpolation to show them full frame. Interpolation typically results in less-than-perfect displays of text, and that's what we saw here: Both SXGA+ models presented slightly fatter (blockier) text than the XGA models did, a result that underscores the importance of matching your computer's resolution with the native resolution of your projector. In informal tests that we conducted at their native SXGA+ resolution, the Realis SX50 and 5100MP did a much better job of displaying sharp text. The difference in resolution didn't seem to hurt the two projectors on our graphics tests, however; each earned above-average scores on those measures.
Vibrant Colors
At their default settings, business-oriented projectors make bullet-point slides and flowcharts pop out as much as possible, since their brightness and contrast levels are optimized for use in a conference room. The trade-off is that such products often sacrifice color saturation, image depth, and accuracy to achieve their higher brightness and contrast. Fortunately, several manufacturers have taken steps to improve the color quality.
Our Best Buy, NEC's LT35, earned the top score overall on both our text tests and our graphics tests. In addition to displaying one of the brightest images (it's rated at 3000 ANSI lumens), the LT35 did the best job of rendering crisp lettering in spreadsheets and a multisize-fonts screen. It also excelled at reproducing vibrant, realistic colors in our test photos (including ones of fresh fruit and of a barn surrounded by amber waves of grain). The unit may have benefited from NEC's Vortex Technology Plus, a proprietary approach to image processing that the company says improves a projector's color accuracy and dynamic range.
The Mitsubishi XD460U came in a close second to the LT35 in our text and graphics tests; its higher price, however, pushed it down to sixth place overall on our chart. The XD460U displayed sharp fonts in a CAD drawing and realistic skin tones in a group portrait. This model's impressive ability to display subtle color shades–especially in nature scenes–is no doubt aided by its use of a five-segment DLP color wheel and its implementation of TI's BrilliantColor image processing, which brightens the highlights and midtones in images without increasing the blacks and shadow values.
Panasonic's LCD-based PT-LB30U finished in a statistical dead heat with the XD460U for second place in our text and graphics tests. This model displayed bright, colorful graphics and crisp text; its ambient-light sensor, dubbed Daylight View, is designed to boost image color in well-lit rooms.
Another notable performer was the DLP-based Microtek CX6, which matched the PT-LB30U's performance on our text screens. Among projectors whose prices hover near $1000, the CX6 landed in a statistical tie with the Hitachi CP-RX60 and the Sharp Notevision XR-10X on our performance tests. The Epson PowerLite 76c and the nonranking Optoma EP719, by comparison, earned only average scores for their image quality, and neither distinguished itself on our graphics tests. Both the Canon LV-X5 and the Mitsubishi XD205U, though, were lackluster across all of our tests, and missed our chart.
Though the Plus Vision V-339 failed to wow us at its default settings, its innovative Dual Color Mode feature caught our attention. Unlike most DLP projectors that use a single moving color wheel, the V-339 has two color wheel positions. One is a four-segment (red, blue, green, white) wheel optimized for projecting at high brightness and contrast, such as for presentations; the other combines six segments (red, blue, green, red, blue, green) from two color wheels to produce better color saturation and accuracy, such as for movies. In our informal tests of DCM, the color wheel designated for vivid color and video did a great job of improving the quality of moving images, to a level that handily surpassed most of the V-339's DLP-based competition.
Niceties and Extras
All of the projectors include a remote control and provide security protection (such as user password options), economy modes for running at lower brightness (to increase lamp life and reduce fan noise), and manual keystone adjustment to correct image distortion caused by an improper projector-to-screen angle. A number of units–including the Canon LV-X5, the Dell 5100MP, the NEC LT35, and the Plus V-339–also support automatic keystoning. Out of the box, 7 of the 16 models we looked at–Canon's Realis SX50, Dell's 5100MP, Epson's 76c, HP's MP2210, Microtek's CX6, Mitsubishi's XD460U, and Sony's VPL-CX76–permit you to control your computer's mouse pointer via the projector's remote.
The two Sony models–the ninth-place VPL-CX20A and the nonranking VPL-CX76–came with the most impressive array of automated features. Not only do they provide an automatic keystoning feature, but they also include powered zoom, powered focus, and powered tilt (for raising the projector at an angle). Better yet, you can access all of these features through remote control.
The Sony VPL-CX76 is the only model we reviewed that can support a wireless presentation right out of the box (via the bundled wireless LAN card for the projector and the included USB wireless LAN module for a PC). The Hitachi CP-RX60 and Mitsubishi XD460U can deliver wireless presentations, too, but only if you obtain additional, extra-cost equipment. The Dell 5100MP comes with an RJ-45 input for use in a wired-network environment; the Sharp Notevision XR-10X has an option to add RJ-45.
Seeing Is Still Believing
When you set out to buy a projector, a range of factors come into play: price, weight, portability, connectivity, brightness, and (most important of all) image quality. While any of the models we tested will do the job, our Best Buy nod goes to the projector, NEC's LT35, that provides the best balance of performance and value. In a close contest for second place, Epson's PowerLite 76c wins out by offering a satisfying combination of features, image quality, and portability, for about half the cost of the NEC.
Home Theater Wonders Target Your Living Room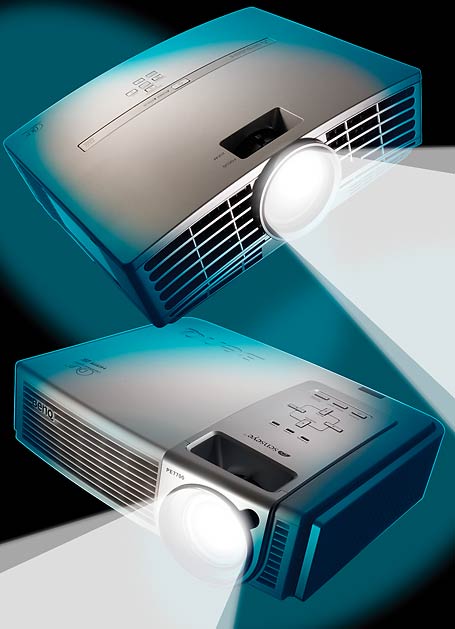 When it comes to entertainment, business projectors can't compare to home theater models that are optimized for movie playback.
Unlike the business models we reviewed for our roundup, home theater projectors favor color accuracy and proper saturation over bright white light. Some home models also have more-versatile connectivity options, making them perfect for playing back DVD movies and high-definition TV.
Until recently, home theater projectors cost even more than their business counterparts. But recent trends indicate that this is changing. Home theater projectors are more affordable than ever–especially when you compare their prices with the cost of large-screen TVs. A portable projector is easier to reposition than a stationary TV; and you can use it to show different-size images, either on a special screen or on a plain white wall.
One of the most interesting recent developments in home theater models is the emergence of all-in-one units that combine a highly capable projector with a built-in DVD player and an internal sound system. We examined two plug-and-play combos–the 15-pound, $1200 Epson MovieMate 25 and the 7.8-pound, $1300 Optoma MovieTime DV10–and found both of them easy to use, relatively quiet, and delightfully proficient at displaying colorful images.
For people who want more than an entry-level projector, two impressive higher-end products are the $2675 BenQ PE7700 and the $2295 Mitsubishi HC3000U. Both DLP units provide a native resolution of 1280 by 768, so they're ideal for displaying wide-screen content (either DVD movies or HDTV) with a 16:9 aspect ratio.
What stands out most about these two home-oriented models, though, is the gorgeous quality of their color images. Using six-segment (red, green, blue, red, green, blue) color wheels rather than the four-segment (red, green, blue, white) wheel that most business projectors employ, both units displayed well-saturated color with excellent contrast enriched by deep blacks. The Mitsubishi unit's inclusion of TI's BrilliantColor feature (which increases color depth) likely contributed to its fine image quality.
Depending on your budget, any of these four products would be a fine addition to your entertainment center.