In previous versions of Windows, tweaking settings to get the fastest system possible used to require bouncing from one arcane dialog box to the next. Though Vista makes most system information easier to find, many of the tools that will put your PC into overdrive remain buried. Here's a guide to Windows' built-in performance tools.
A new Control Panel applet in Vista collects your favorite (and not so favorite) tools for analyzing and revving up your system: Click Start, Control Panel, System and Maintenance, Performance Information and Tools, and click the links on the left to access the tools you need (see the image at right). Be sure not to neglect the various options that lurk behind the 'Advanced tools' link.
Note: Few of these tools are new to Vista–XP users can access most of them by following the steps listed in the chart below.
Vista's Performance and Information Tools Options
Windows XP/2000 equivalent1
Manage startup programs
Download and use Startup Control Panel
Adjust visual effects
(XP only) Click Control Panel, System, Advanced, Performance Settings, Visual Effects
Adjust indexing options
Download and use Copernic Desktop Search
Adjust power settings
Click Control Panel, Power Options
Open Disk Cleanup
Right-click the disk's icon in Explorer and choose Properties, General, Disk cleanup; or choose Start, Run and type cleanmgr.exe
Advanced settings
Event Log
Click Start, Run and type eventvwr.msc
Reliability and Performance Monitor
Click Start, Run and type perfmon.msc
Task manager
Right-click the taskbar and choose Task Manager; or press Ctrl-Shift-Esc
System Information
Click Start, All Programs, Accessories, System Tools, System Information
Performance Options
Open Control Panel and choose System, Advanced, Performance Settings
Disk Defragmenter
Right-click the disk's icon in Explorer and select Properties, Tools, Defragment Now
1Windows XP and 2000 have no equivalents for Vista's System Health Report or Ready Boost.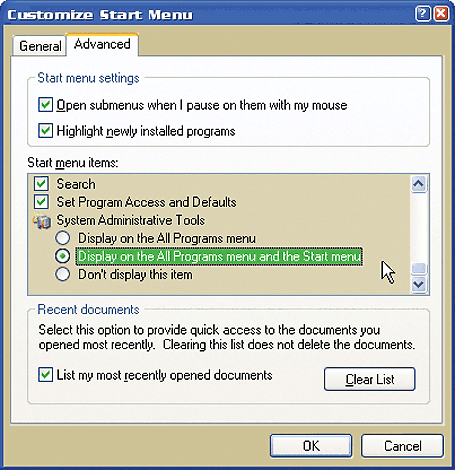 Although not intended as performance tools per se, a number of the apps in the Administrative Tools Control Panel applet available in all versions of Windows include options for revving up your system. These settings are much easier to reach when you put them on the Start menu, however.
To do so in Windows 2000, right-click the taskbar and choose Properties. In the 'Taskbar and Start Menu Properties' dialog box, click the Advanced tab. In the Start Menu Settings scrolling list, check Display Administrative Tools and click OK.
In XP and Vista, right-click the Start button, and then choose Properties. Click whichever Customize button is selectable. If you use the Classic Start menu, check Display Administrative Tools in the 'Advanced Start menu options' list at the bottom of the dialog box. If you use the default Start menu, click the Advanced button in the top right of the window. Under 'Start menu items', find System Administrative Tools and select whether to display it on the All Programs menu or on both the All Programs and Start menus (see the screen shot at upper right). Click the OK button twice.
Mind Your Memory
Poor performance may signal problems with your system RAM. Vista will prompt you to use its Memory Diagnostic Tool if it detects a problem with your RAM, but if you want to be sure, you can run this utility any time you want: Choose Start, All Programs, Administrative Tools, Memory Diagnostic Tool. (Click Continue if prompted by User Account Control.) To check your system, click the first option, Restart now and check for problems (recommended).
The tool will reboot your PC, and you'll see a text-based (or DOS-like, for you old-timers) screen. Press <F1> for more options. You can choose from three types of tests: Basic, Standard, and Extended. Selecting one from the keyboard displays a brief description that is incomprehensible to all but the most serious of geeks. Leave the highlight on one to select it and then press <Tab> to move to the next section, namely the Cache settings and the Pass Count, or the number of times you want the test repeated. If your PC gives no indication of problems, I recommend the Basic test with the defaults for the Cache and Pass Count. Press <F10> to start the test with these settings.
The memory test can take several minutes. After it reboots your PC, Vista displays the results; if no problems are found, Windows will start and show a pop-up in the system tray to report that fact. If it reports errors, replace the memory modules; browse to "How to Upgrade Your RAM" for video instructions.
Scrub the Services
Every time you start Windows, it loads a bunch of "services" that perform various tasks, some of which you may not need. The fewer services you run, the faster Windows starts and the more memory you have for applications and tasks.
Making changes to services can cause problems, so set a System Restore point or back up your Windows Registry (browse to "Block Spying Cookies, but Keep the Helpful Ones" and scroll to the middle of the page for directions.) Even after this precaution, be careful about which services you disable. Never shut down a service you don't understand, and don't disable several at once. Instead, turn one off and see if your system runs okay without it for a while before disabling another.
To control which services run, use (what else?) the Services tool: Click Start, All Programs, Administrative Tools, Services (or open the Administrative Tools Control Panel applet; see "Hidden Performance Gizmos" above). Which services are listed depends on your computer's configuration. In XP and Vista, a short description appears on the left when you select a service (see the image at the top of the next page). If you don't see the description, select the Extended tab at the bottom. In Windows 2000, choose View, Details and look for a Details column that explains each item.
Disable all the tools you don't use. For example, if you never send out faxes from your PC, double-click the Fax service in the list to open its Properties dialog box. Next to 'Startup type', choose Manual or Disabled. The former prevents the service from starting with Windows but keeps it available when needed.
If the description in the Services tool doesn't help identify it, search Windows' 'Help and Support' program (look for a shortcut on your Start menu). For a thorough description of services along with suggestions on which you can safely disable (sorted by Windows version), consult the Black Viper Web site.
Perk Up Printing
When you choose the Print command in Word, Excel, or some other application, Windows sends the data from the program to a "spool" file on your hard disk. As soon as the first page is spooled to disk, Windows sends that page to the printer. The OS attempts to compromise between getting pages to your printer quickly and freeing your application to do other things.
But you don't have to stick with the Windows way. You can customize your print settings to rev up what's important to you. In Vista, choose Start, All Programs, Administrative Tools, Print Management (or select it from the Administrative Tools Control Panel applet; see "Hidden Performance Gizmos"). With Custom Filters selected in the left pane, double-click All Printers in the middle, and double-click the icon for the printer whose performance you'll customize.
In Windows XP, click Start, Printers and Faxes (on the default Start menu) or Start, Settings, Printers and Faxes (on the Classic Start menu). Right-click the printer you want to customize, and choose Properties.
In Windows 2000, choose Start, Settings, Printers. Right-click the printer you'll customize, and pick Properties.
In all Windows versions, click the Advanced tab in your printer's Properties dialog box, and make your choice based on your priority:
To reduce the time your application makes you wait while printing a large document, make sure Spool print documents so program finishes printing faster is selected, and click Start printing after the last page is spooled (see the screen shot at upper right). You'll need to have enough free disk space to spool the whole document.
To reduce the time pages take to print, choose Print directly to the printer. This option may not be available if the printer is shared, but changing a setting under the Sharing tab can stop sharing. The printer must be turned on for this option to work, and you won't be able to pause the print job.
If neither of these settings is satisfactory, return to the default by reselecting Spool print documents so program finishes printing faster and Start printing immediately.
Speed Up Startups
Administrative Tools' System Configuration option lets you control the software that starts automatically with Windows. In Vista this option is on the menu, but in XP and 2000 you must choose Start, Run, type msconfig, and press <Enter>. Uncheck the programs you're sure you won't use, such as utilities for a printer you've replaced. Reducing the number of autostart applications can significantly speed up Windows' startup. For details, browse to "How to Make Windows Start Up Faster."
Park Your Mouse
Another way to work faster is to keep your hands on the keyboard and leave your mouse alone. For a list of the most useful keyboard shortcuts, see "Use Your Keyboard for Faster Windows Control"; for even more keyboard control, see "The Shortcut King: Active Keys."
Performance Tweaks: The New View of Your System Info
When your computer is in need of some maintenance or troubleshooting, make Vista's Reliability and Performance Monitor your first stop. While you can find many of the individual tools in previous Windows versions, the new Control Panel applet helpfully puts much of Vista's most important and useful system information in a single location.
The resource overview in the main Reliability and Performance Monitor window shows, at a glance, the percentage of resources that your CPU, disk, RAM, network, and other system components use.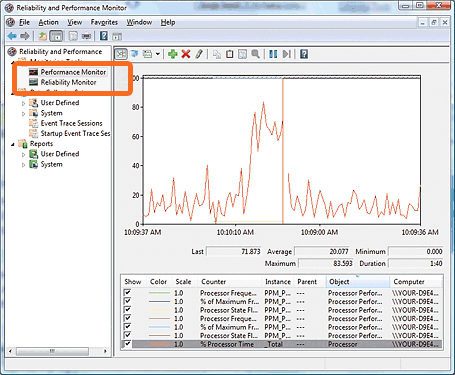 Obtain a second-by-second look at your PC's activity level via the Performance Monitor option. Shown is the percentage of processor time in use.
Dig deeper into the causes of application and hardware failures, Windows crashes, and other system woes on a day-to-day basis in the Reliability Monitor tool.
The Shortcut King: Active Keys
Windows lets you create your own keyboard shortcuts for launching applications (just right-click the app's icon on the Start menu, choose Properties, and enter your keys of choice in the Shortcut Key box under the Shortcut tab). But for real control, check out Active Keys, an easy-to-use utility that assigns keyboard shortcuts to actions you never thought were keyboardable, such as repositioning a window to a specific corner of the screen, pasting the date and time, emptying the Recycle Bin, and changing your media player's sound volume. The program costs $20; the trial version is at the creator's site.