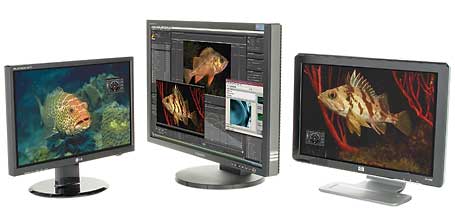 Everyone needs a good monitor (or two) to get the most out of a PC. But finding the right model depends on several factors: what applications you use, how much room you have on your desk, the amount of on-screen real estate you need, and, of course, how much you can afford to spend. For many people, the wide-screen display wins, and bigger is better.
But that's not the whole story. Though our discussion covers such critical factors in the purchase decision as screen size and native resolution, it's still very important to consider a monitor's ability (or lack thereof) to render sharp text and vibrant images, as well as–for ergonomics–the range of physical adjustments that it lets you make, from basic tilt-and-swivel maneuverability to height and pivot options (some higher-end displays rotate 90 degrees to portrait orientation).
We tested 17 new midrange-priced wide-screen LCDs in three size categories that are growing in popularity: 19 inches, 20 or 22 inches, and 25.5 to 28 inches. The Top 5 charts you'll find here represent the best in each category. We've also updated our Best Buy charts for other popular flat-panel sizes, including standard-aspect 19-inch models plus 23- to 24-inch and 30-inch wide-screen units.
As always, we subjected the new monitors to the PC World Test Center's barrage of viewing tests. A panel of six judges rates how well each monitor displays 11 text and graphics images at its native resolution. Some of the test images are from DisplayMate for Windows, an industry-standard display evaluation and diagnostics program. We also assess motion using a scripted demo from the game Return to Castle Wolfenstein, and DVD video playback of Star Wars: Episode I–The Phantom Menace. See "How We Test Monitors" for full details of how we test and rank LCDs in key areas such as features, performance, and design.
Find All of Our Monitor Reviews
Click on the links below for our latest wide-screen monitor charts, or for a comprehensive list of all monitors we've tested.
What's the Right Size?
Buy too small a monitor, and you'll have trouble cramming everything you need to see on your screen; purchase a display that's too large, and you may run out of space on your desk, or you might have to crane your neck to take it all in. We'll start with 19-inch wide-screen models and make our way up to the 30-inch monsters.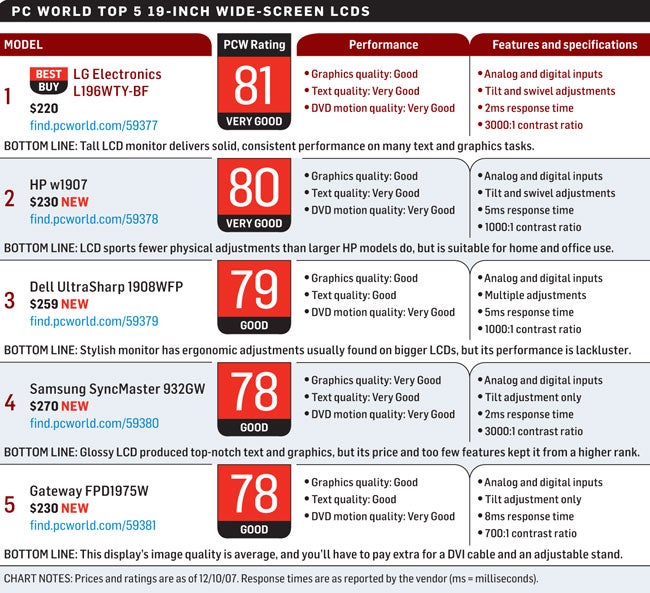 The most recent forecast from research firm IDC predicts that U.S. shipments of 19-inch wide-screen LCD monitors will finally edge out those of long-dominant standard-aspect 17-inch and 19-inch units in the second quarter of 2008. At the time of writing, a search on PC World's Shopping and Price Comparison Center showed 19-inch wide-screen displays ranging in price from about $130 to $400; we found models with great quality for a little more than $200. The $220 LG Electronics L196WTY-BF, the least expensive of our test group, offers finely rendered text and consistently strong performance, which helped the monitor earn our Best Buy award.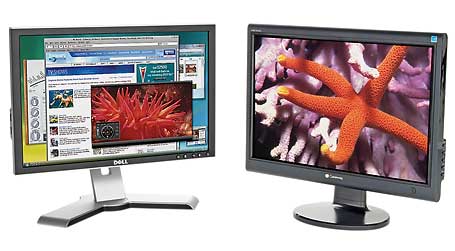 On 19-inch units you can also get some (but not a lot) of the high-end features common on larger models. Two examples: While many rival 19-inchers and some bigger units offer tilt only, Dell's third-ranked, $259 UltraSharp 1908WFP provides easy height, swivel, and pivot adjustments. And AG Neovo's $399 E-W19 boasts hardened scratch-resistant glass; though it's pricey, you get top-notch performance.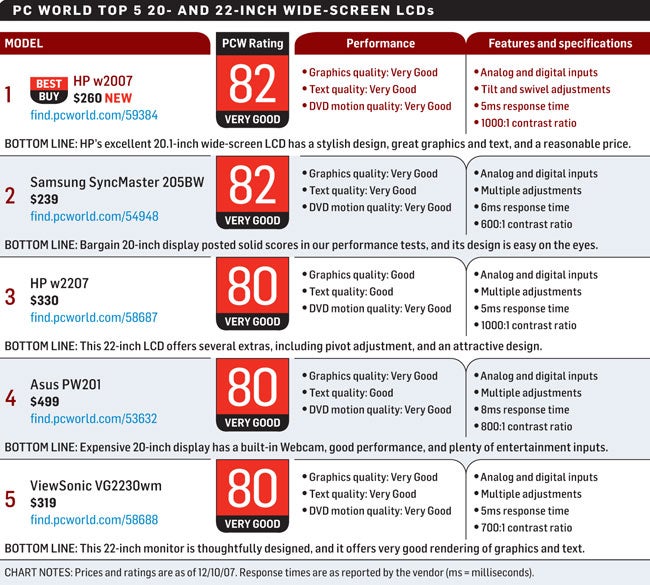 The next step up is a 20-inch display: Such monitors offer features and prices very similar to those of 19-inch models, but their typically higher native resolution (1680 by 1050 versus 1440 by 900) lets you fit more on screen.
And because 22-inch wide-screen LCDs–like the seven we first tested for our story "22-Inch LCDs: More Screen for Less Green"–have the same native resolution as most 20-inch LCDs, PC World now scores the two screen sizes against each other for the same chart. Interestingly, IDC expects sales of 22-inch wide-screen flat-panel displays to ramp up to about 19 percent of all U.S. monitor shipments by the end of 2008, second only to the popularity of 19-inch wide-screen displays, which stands at just over 30 percent.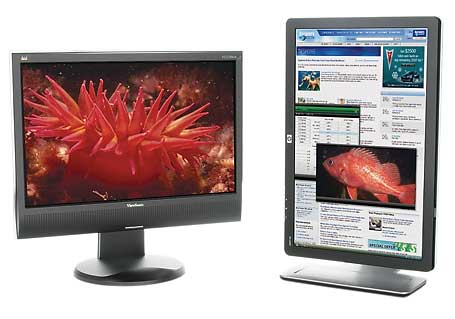 The least expensive model to make our chart of 20- and 22-inch LCD monitors is the $239, 20-inch Samsung SyncMaster 205BW, which placed second behind the $260 HP w2007. The latter is a praiseworthy 20.1-inch display that delivers razor-sharp text and lusciously deep colors, despite some problems producing discernible darker shades of color or readable text against a dark background.
The top 22-inch wide-screen LCD in our tests was the pivot-capable, $330 HP w2207–it reached third place overall, largely because of its comparatively higher price.
Big Screens, Small Budget
Need even more space? Entry-level wide-screen models sized at 23 or 24 inches start at around $250–not much more than 22-inch units–while the least expensive midrange model on our 23- and 24-inch wide-screen LCD chart is the $649 HP LP2465, ranked third, behind the 24-inch Dell UltraSharp 2407WFP. With a typical native resolution of 1920 by 1200, 23- and 24-inch or larger LCDs are your best bet for watching Blu-ray or HD DVD movies, because these displays do not have to scale down the content to fit the screen.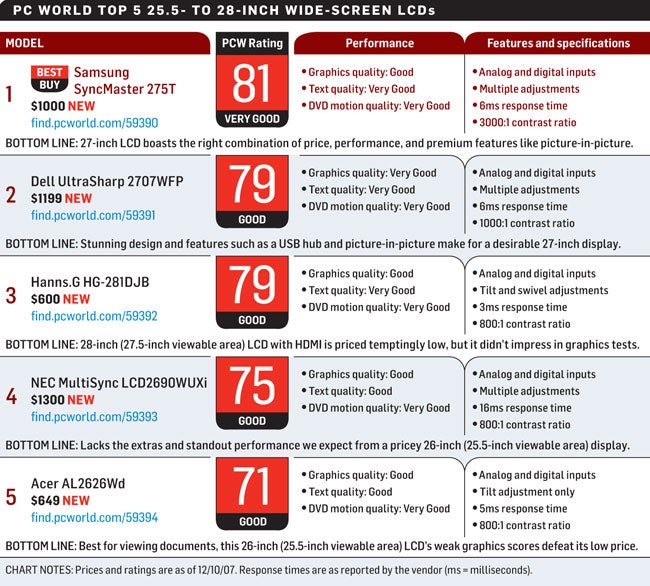 Since people tend to rate bigger monitors higher when comparing them with smaller ones, we allow only displays with a 10 percent difference along the diagonal (which translates into roughly 20 percent along the horizontal) to be tested against one another. That's why the models in our first-ever 25.5-inch to 28-inch wide-screen monitors chart aren't tested against 23- and 24-inch monitors, despite sharing the same 1920 by 1200 native resolution.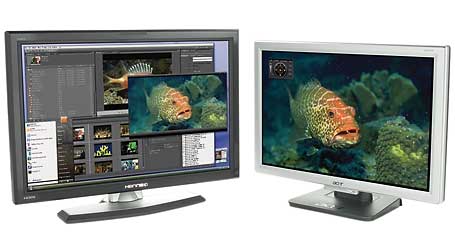 Though basic 26-inch monitors start at about $550, the 28-inch (27.5-inch viewable area) Hanns.G HG-281DJB that we tested is temptingly priced at $600; that alone earned it a spot on our chart. The display does a decent job with office documents and has HDMI, but in our tests it was unable to handle very light and very dark blocks of color, producing muddled tones instead. The 26-inch (25.5-inch viewable area) Acer AL2626Wd, also low-priced, at $649, struggled with graphics, too; it lacked the color saturation to produce truly vivid images. Note that with monitors of this size category in particular, we're seeing vendors slightly round up an LCD's viewable image size (calling a flat-panel measuring 25.5 inches a 26-inch model for instance). So far they've been good about not totally misrepresenting the true size, but you should always be sure to check the specifications.
Our Best Buy nod went to the reasonably priced (for its features) $1000 Samsung SyncMaster 275T, a 27-inch model. It received accolades from our jury for excellent text rendering, as well as for delivering sufficiently good graphics.
With larger models, picture-in-picture abilities become more common. The Samsung, along with the second-place, $1199 Dell UltraSharp 2707WFP, for example, lets you work on documents while also watching video on a smaller screen.
The Swinging 30s
Just a year ago, a 24- or 27-inch display might have been considered luxurious, but now 30 inches is the new size to lust after. The least expensive model on our 30-inch monitors chart is also our Best Buy, the $1179 Samsung SyncMaster 305T. It rendered impressive text, but some of its photos exhibited a slightly dark cast. All of the models on the chart deliver excellent image quality with incredibly sharp text and vibrant colors. In addition, each offers features such as built-in media card slots or multiple DVI ports. Because of their high 2560 by 1600 resolution, these 30-inchers require a high-bandwidth dual-link DVI cable, as well as a graphics card that drives dual DVI-out. Most models include this cable in the box, but you may have to supply the graphics card, which can add to the cost if you don't already have one.
The Big Picture
Let's take a look at some other monitor options and shopping considerations.
LCD TV vs. monitor: With their prices commonly on a par with, or even below, those of 30-inch monitors, it's natural to wonder if using a high-definition LCD TV–such as those on our 32-inch wide-screen LCD HDTVs chart–is a worthwhile option. But beyond the sets' lack of physical adjustments, using one as a desktop monitor has drawbacks. The native resolution of most 32-inch HDTVs, for example, is typically 1366 by 768. "In the TV world, that's great for viewing almost any type of HD content from 720p to 1080i (interlaced) or even 1080p," says Chris Connery, vice president of market research for analysis firm DisplaySearch, "but for up-close viewing, this resolution is too low for computer use."
A sharper image: Because you use your computer in an up-close way, you're more likely to notice the individual pixels on the screen if you employ an LCD TV, as they have lower counts of pixels per inch (ppi). The pixels-per-inch measurement works the same as dots per inch does for printers. The lower the number, the larger and more noticeable a screen's pixels will be, which detracts from the image you're viewing. A 32-inch LCD TV with a resolution of 1366 by 768 has a count of just 49 ppi.
Connery puts that in context: "30-inch LCDs, on the other hand, have much higher resolution (2560 by 1600) and an excellent ppi of just above 100." That increase translates to sharper text and more detailed graphics–explaining why bigger isn't always better when your goal is image sharpness. 23-inch and 24-inch models, which have a native resolution of 1920 by 1200, have very good counts of 98 ppi and 94 ppi, respectively. Newer 25.5-inch (89 ppi), 27-inch (84 ppi), and 27.5-inch (82 ppi) units have lower pixel-per-inch numbers, as they also have a native resolution of 1920 by 1200, despite being larger.
Connery continues the breakdown: "22-inch wide-screen monitors tend to have a resolution of 1680 by 1050 (for a ppi of around 90), while their smaller, 20-inch wide-screen cousins share the same resolution, allowing for a better ppi of 99. The ppi for 19-inch wide-screens, which typically have a resolution of 1440 by 900, is 89."
High-definition video: For optimum 1080p high-def playback–be it Blu-ray, HD DVD, or even Windows Media and DivX content–you'll want a monitor with 1920 by 1080 resolution or higher. Wide-screen monitors 23 inches or greater will do the job natively, but Connery says that "these days, almost every size of wide screen, including 19-inch models, will scale HD content using a chip inside the monitor itself so that all types of high-def content from 720p to 1080p can be viewed on the screen regardless of the monitor's native resolution." As always, we recommend that you double-check a monitor's specifications. In order to play copy-protected content, such as Blu-ray and HD DVD media, for example, your monitor will also need a DVI or HDMI port with High-bandwidth Digital Content Protection (HDCP) compatibility, a feature that all of the models on our charts include.
And for anyone still considering a combined LCD TV and monitor, new higher-resolution full-HD (1080p) models are beginning to hit the market, but you'll be spending a few hundred dollars more than you would on a standard LCD TV.
More of the Big Picture
Standard vs. wide screen: Take a step back–will a wider screen necessarily give you more for your money? Connery suggests a relatively simple calculation aid to figure out your bang for the buck. "A 20-inch monitor with a standard 4:3 ratio and a native resolution of 1600 by 1200 has around 1.92 million pixels [and can be found for as low as $180]. But 20-inch wide-screen LCDs with a 1680 by 1050 native resolution [start at around $200] and display about 1.76 million pixels," he concludes. Using those prices, the 20-inch monitor with a 4:3 ratio has the better price per pixel.
But the productivity benefits of a wide-screen unit can't be underestimated. You can open two documents or Web pages side by side, and better manage large spreadsheets or apps with floating toolbars. Wide screens are appealing for watching movies without black bars at the top and bottom, too.
LCDs get a wider color palette: Traditionally, graphics pros have preferred CRT monitors, partly due to their ability to represent up to about 85 percent of the NTSC color space (the main benchmark for color matching between things such as the printed page and electronic displays). Most flat-panels, on the other hand, have managed only about a 72 percent color representation.
Two major advancements in LCD technology are changing such color-gamut limitations. First, the standard backlights used for LCDs, called CCFLs (cold cathode fluorescent lights), have seen improvements; many vendors have been implementing new CCFLs that can allow for a 92 percent color representation.
Second, other backlight sources such as colored LEDs (light-emitting diodes) are being explored as alternative backlights for desktop monitors. The use of RGB (red, green, blue) LEDs as a backlight source can improve the color representation to about 125 percent of the NTSC color standard. Wide-color-gamut displays are already available and include Dell's 27-inch UltraSharp 2707WFP and NEC's 25.5-inch viewable MultiSync LCD2690WUXi. A handful of RGB-LED-backlit monitors have also begun to appear, but color-matching the hundreds of RGB LEDs is still costly and labor-intensive, keeping prices for such displays quite high.
Meanwhile, Sony has released an 11.1-inch OLED (organic light-emitting diode) LCD TV in Japan, but Connery tells us that we aren't likely to see large-volume production of desktop LCD monitors with the technology for another four to five years, mostly because of their high cost of manufacture.
Something to look forward to in the more immediate future: Dell's $1199 Crystal display, an innovatively designed 22-inch wide screen with capacitive touch controls, an integrated Webcam and microphone, and speakers built into its 4mm ultraclear tempered glass. The Crystal is set to be unveiled in January at the 2008 Consumer Electronics Show.
Accessorize Your Monitor
The right accessory can transform your flat-panel from staid to standout.
For instance, HP's $13 Easy Clip Accessory Kit includes a vase and photo holders that attach to the edge of its displays.
PC and monitor maker Gateway sells a bare-bones line of wide-screen monitors that can be tricked out to match the features of loaded displays. For example, its 19-inch, $230 wide-screen FPD1975W has optional speakers ($30), and an alternative stand that will let you do height adjustments ($50). For the extra costs, however, you may be better off getting a bigger monitor with all those options included. ViewSonic carries a line of monitors called ViewDock with built-in iPod docks, and–for people who want swank–is planning to let users add Swarovski crystals to its LCD bezels.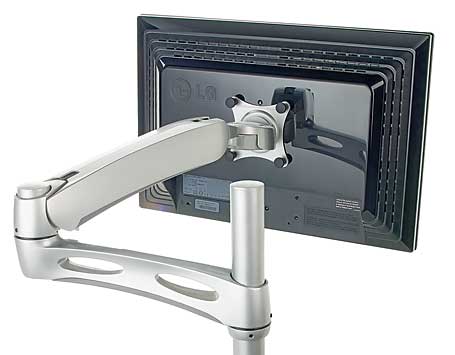 The most cramped desks may benefit from a desk-mounted monitor arm like Ergotron's $130 LX (pictured) or a wall mounting kit. Most displays have a provision for such mounts, usually exposed after you detach the stand from the back panel.
Then you have modding sites, such as Steampunk or MetkuMods), that take display customization to the extreme. You'll need to be comfortable opening up electronics, be handy with a screwdriver, and in some cases be ready to spray-paint. But with lots of patience, you can add eye-catching LEDs and customized bezels to change a boring monitor into a desirable objet d'art.
–Roy Santos
The Future of the Monitor Port
For years, PC users had a simple choice of connecting a monitor to a computer via either an analog port (VGA) or, more recently, a digital port (DVI). But new monitors and high-definition content require technologies that can handle more data.
A limited number of vendors are using the ubiquitous USB connection to route graphics data from PC to display through a technology called DisplayLink. Its main benefit: You can daisy-chain up to six monitors to one PC. Samsung has one of the first DisplayLink-equipped monitors, the standard-aspect 19-inch 940UX, and is set to unveil a 22-inch wide-screen model at the 2008 Consumer Electronics Show (CES) in January. Meanwhile, USB 3.0, expected to come in 2008, will be able to send ten times as much data as USB 2.0. Wireless USB, touted as a freedom-from-cords technology, may be another possible way of using DisplayLink.
But the real port showdown is between two modern digital standards: HDMI, which is slowly becoming de rigueur on high-end monitors and TVs, and the emerging DisplayPort. The latter was developed by VESA (the Video Electronics Standards Association) and backed by giants such as Intel. Also on board is Dell, which is set to unveil at CES its $1999, DisplayPort-equipped UltraSharp 3008WFP, the 30-inch wide-screen unit you see at upper left.
Because DisplayPort is a royalty-free standard, manufacturers don't have to pay for each use of the technology (currently 4 cents per port/use for HDMI), so the incentive to push DisplayPort is potentionally motivated by economics.
Tom Mainelli, senior research analyst for monitors and projectors at IDC, thinks HDMI has the advantage because, among other things, it's largely compatible with DVI by using simple adapters. DisplayPort, on the other hand, has a new structure that may require new, more complex (hence, potentially more expensive) adapters. For now, the upstart DisplayPort may be royalty-free, but the more-established HDMI has already appeared on some large monitors, and is slowly working its way into smaller ones.
–-Roy Santos
Danny Allen is a PC World associate editor. Roy Santos is a freelance writer and Web designer in the San Francisco Bay Area.