The Nintendo Wii brought gesture control to game play, and it seems very likely that you'll soon be seeing variations on the idea in a lot more consumer products.
Two examples turned up at CES, one very real, the other a bit off in the future: Sony's Z555 gesture phone and JVC's "Snap & Gesture" technology, in which your hand, and just your hand, replaces the remote control for your television set.
First the real. If you're anything like me, you probably hate fumbling around with the phone to find the "silence" control when a call comes in at an inconvenient time or when trying to use it as an alarm clock on the road.
Sony Ericson seems to have solved that problem with the Z555, a new clamshell phone which lets you mute the phone or snooze its alarm without interrupting what you're doing (like trying to sleep).
When a call comes in, a simple movement of your hand back and forth over the phone mutes the ringtone. Similarly, sweeping your hand over the phone when using it as your alarm clock will put it into 'snooze' mode.
This neat little trick works by taking advantage of the use of the Z555's embedded camera. Oh, and it's a nice looking phone too, with a pretty diamond design on its body. The Z555i is an EDGE/GSM/GPRS 900/1800/1900 phone that will be available in selected markets this spring. The Z555a is an EDGE/GSM/GPRS 850/1800/1900 phone, available in the same timeframe.
Talk to The Hand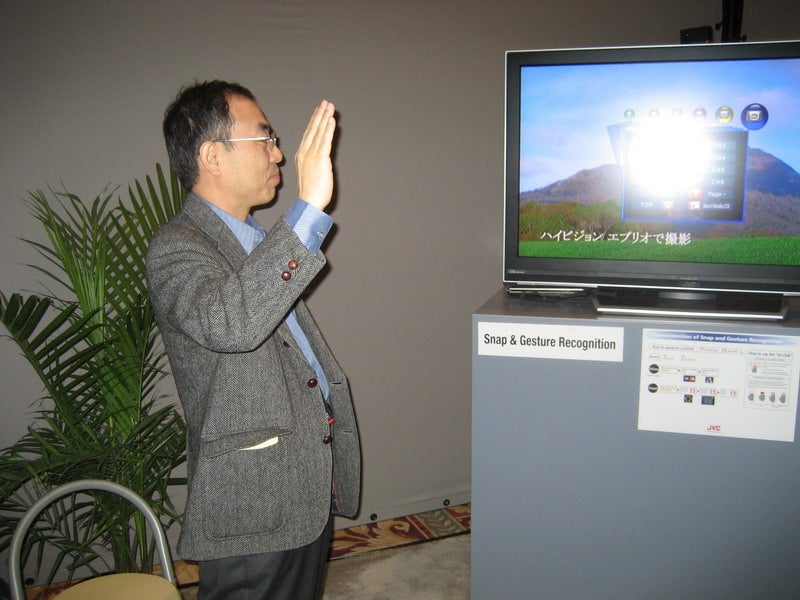 JVC's "Snap and Gesture" system for controlling a television is at the technology demo stage right now, but it looks like the kind of prototype that could have some impact down the line.
Many of you in the "older" generation (those of you over 21) will remember the days when you could only turn on the TV and change channels by touching the TV (gasp!) with your hand. Then came remote controls. Snap and Gesture, gets the hand directly involved again by making it the remote. No hardware, just your hand.
The demo I saw was pretty astonishing. Snap your fingers or clap, and the TV comes on (okay, the famous "Clapper" you've seen on television for years does stuff like that), Once on, the menus, channel selection, set-up, everything you would normally do with your remote control, is operated by simple hand waves, claps or finger snaps, depending on what you want to do.
The system isn't nearly ready for prime time yet, and I'm not so sure I actually want to "clap hands" to make my TV work the way I want, but the gesture control idea is intriguing.
As long as I don't have to re-program my hands when things go blooey.