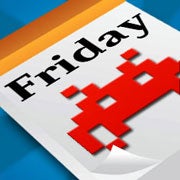 New column alert: Every Friday in this space I'll be celebrating slack with the newest games, gadgets, movies, and more. So check in here regularly for a breakdown of some stuff to do with what little free time you have this weekend and beyond.
It's certainly been one helluva red-letter week for anyone who wanted to shirk work. Online video service Hulu went live, Super Smash Brothers hit the streets, and the people rejoiced.
Name That Tune
PC World's very own Matt Peckham recently brought up a point near and dear to my heart: using videogames to introduce people to new bands. First, game soundtracks highlighted great music; and now you can download music song packs for Guitar Hero III: Legends of Rock and Rock Band.
But what if music you already owned became the game? Audiosurf is a racing game with a twist: The track bends and undulates according to the audio file playing on your computer. You can download it from Valve's Steam digital distribution service. This week, I also checked out My Music Quiz which creates a videogame version of Name That Tune on your computer. Guess songs based on intros (or just one note). It's best suited for times when you have a band of music fans huddled around a PC, but even as a form of musical solitaire it's worth a try. The game has a 30-day trial period; and for those of you who are ready to rock indefinitely, an unlock code costs $24.95.
What's in a Name?
I love all those random name generators that crop up online. So it's only natural that I just wasted 15 minutes with The Video Game Name Generator. Keep clicking the 'Next' button, and watch the site come up with some hilariously random associations. Two of my favorites: "Pagan College Rider" and "Mary Kate and Ashley's Prison Beatdown."
Now here's the neat part: Indie gaming site, TIGsource.com, is hosting a competition playing off The Video Game Name Generator. Create a playable game based on any randomly generated title. The submission deadline is March 24–and I, for one, can't wait to see the entries. Anybody want to work on that Olsen twins game for me?
Call Me Mr. Hulu
The ad-supported video streaming service, Hulu, went live this week. It's not perfect, but I dig the notion of watching TV shows and movies that I can stream anywhere I can latch on to an Internet connection, without ever having to pay. Yes, I wish that there was a way to pull the videos offline, but I'll take what I can get for the moment. On my wish list: a mobile applet for smart phones. Get on that! The bigger problem: Hulu is slowly killing my productivity! I just had the entire series of Firefly running while I worked yesterday.
Game Picks
Super Smash Brothers Brawl (for Nintendo Wii console)
Kids always get into the "who can beat up whom" argument at some point: The Hulk could beat up Superman, Batman could thrash Captain America–the list goes on and on. In the new game Super Smash Brothers Brawl, the slugfest is between famous Nintendo characters such as Mario, Zelda, Link, and Starfox. Playing as these characters, you can hammer out some definitive answers to the pecking-order questions that have troubled you since childhood. Warning number 1: This is not meant to be a sit-at-home-and-play-by-yourself game. Sure, you can go it alone, but it gets a whole lot better if you play against friends. What's that? Nobody in the neighborhood is willing to come over? Super Smash Brothers also supports an online multiplayer mode–which leads me to warning number 2: The game is apparently outing disc-reading flaws in a handful of Wii consoles, according to Nintendo. The good news is that Nintendo is on the case, repairing the few faulty consoles it has uncovered thus far. The bad news is that you'll be Wiiless for a couple days while you wait for repairs. In the meantime, go outside, get some fresh air–and stay out of brawls if you can.
Condemned 2: Bloodshot (for PC, PS3, and Xbox 360 consoles)
If you enjoy watching twisted movie and TV thrillers like Se7en and CSI, this is the game (and compulsively psychotic experience) for you. Doggedly explore your own broken psyche (hallucinations make you question what is real and what isn't), and take in grisly crime scenes from a first-person perspective. When an enemy leaps from a dark corner, you'll jump. When you grab a lead pipe from the ground to defend yourself, you'll wince. Sad to say, when I was playing the other night, I jumped a couple times. As the foregoing summary suggests, this game is absolutely not for children, due to the violence, harsh language, terroristic threats, etc. In fact, some adults may shrink away from the screen as well. I know I did.
What would you recommend? Have you found some great gadget, Web site, or game that you'd like to let the rest of the world know about? Post here or e-mail me directly.
Until next week…
Senior Writer Darren Gladstone geeks out over gadgets, games, and odd uses for humdrum tech. In other words, he's a nerd–and he's okay with that.