I confess: I use Vista. Every day. It's the only operating system on my main computer. Vista and I have a love/hate relationship. I love the look, the built-in search tool, and the little-known 'Copy as Path' command. But Vista comes with its own special set of problems. Here I answer three reader questions about the operating system that was supposed to take over the world.
Send your technology questions to answer@pcworld.com, or join the discussion in the PCW Answer Line forum.
Should I keep Vista or go back to XP?
rknutson, Answer Line forum
For many users, choosing an operating system is a highly personal matter. You have many factors to consider, and there's no clear-cut answer. But here are some arguments for both sides, beginning with a few good reasons to go back to XP.
Hardware reliability: A year and a half after its release, Vista still has a lot of hardware issues–even with new gear. Plug and Play works especially haphazardly, as does waking up from sleep mode or hibernation.
Speed: Given the same hardware, XP is faster than Vista. That's only to be expected; just as hardware speeds up with each new generation, software slows down with the addition of new features.
Vista advantages, without Vista: You don't need Vista for fast, indexed searches. Just download the free (for personal use) Copernic Desktop Search. And Microsoft's own Windows Live Photo Gallery improves on Vista's Windows Photo Gallery, yet runs on XP.
The UAC: Vista's User Account Control–the annoying thing that constantly pops up asking your permission for what you've just said you want to do–is a classic example of a good idea badly executed. Yes, a "Do you really want to do this, and, by the way, are you an administrator?" type of query is appropriate for some actions, but loading your backup program and changing the time aren't among them.
In Video: How to Reinstall Windows XP
On the other hand, there are good reasons to stick with Vista.
Prettier looks: Okay, that sounds irrelevant. But you're looking at that screen all day, and it makes a difference.
Better security: Vista comes with a better firewall, a more secure version of Internet Explorer, the above-mentioned UAC, and better encryption than XP has.
A lot of cool, little user interface improvements: Flip 3D, which you access with a press of Windows-Tab, is a great way to move between open windows. If you use a Web-based mail client such as Gmail, the 'Copy as Path' feature (Shift-right-click a file and select Copy as Path) makes attaching files to e-mail much easier. And Vista's own indexed search integrates with the user interface in all sorts of slick ways that Copernic could never manage.
Fixes for shortcomings: You can improve performance by shutting off the Sidebar and other user interface "improvements" (see "Tweak Vista for Peak Computing Performance" for details). And you can turn off UAC–although you're arguably safer with it on (for more on that, see "How Can I Make Vista's UAC Less Annoying?").
Sheer laziness: Vista is already on your PC. Changing it will be a major hassle.
Backpedaling Instructions
If you do decide to abandon Vista and move back to XP, PC World has some great resources to help you on your way.
Jon L. Jacobi provides excellent instructions in "Farewell Vista, Hello XP." But the article assumes you have a Windows XP CD-ROM. That's not a safe assumption, whether your PC originally came with XP or Vista.
If your PC had XP out of the box, it came with a tool for restoring that operating system–probably a disc or a hidden partition for returning your hard drive to its factory condition. If that's the case, follow Jon's instructions up to the "Time for Your XP Install" headline. At that point, run your restoration tool. Afterward, uninstall the bundled software you don't want, reinstall your preferred applications, and restore your data from the backup you made following Jon's directions.
If your PC came with Vista, you have to acquire a copy of XP. That means a CD with its own unique product key (the long number you have to enter when you install Windows). If someone else is using the product key, you won't be able to activate Windows.
If you're reading this before June 30, 2008, you can still buy a retail copy of XP. Microsoft will stop manufacturing the OS on that date, after which it will be harder, but probably not impossible, to buy. Remember that selling or buying a used copy is legal as long as the original owner is no longer using the software. And some PC makers are taking advantage of a Microsoft licensing loophole to offer downgrades to XP with the purchase of a new Vista PC. For more on obtaining XP after June 30, check out Preston Gralla's informative "How to Get and Keep Windows XP After June 30."
Can I add XP-like expanding folder shortcuts to Vista's Start menu?
Matthew J. Filip, Saxonburg, Pennsylvania
Unfortunately not. In XP, all you have to do is drag a folder to a desired place in the Start menu, and you get a submenu of that folder's contents. Not so with Vista.
You have a number of workarounds for this problem, but the best one I've seen came from Filip himself, after he asked me the question. This tweak places your folder on the Start menu's right pane, along with Documents and Control Panel, so you can open it via a pop-up submenu.
1. Right-click the Start button and select Properties.
2. In the Start Button tab, click the Customize button next to the 'Start menu' option.
3. Scroll down the list of options in the resulting Customize Start Menu dialog box. Consider the various folder options; those with suboptions let you choose whether to display them as a link, a menu, or not at all. Find one you don't need, and for that folder, select Display as a menu.
4. Click OK to close both dialog boxes.
5. Click Start, right-click the folder you selected in step 3, and select Properties. (Unfortunately, this won't work with the Games folder.)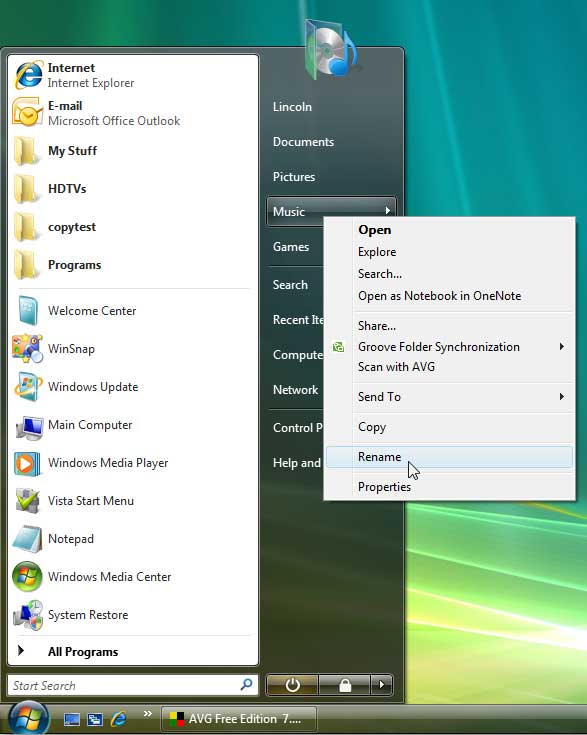 6. Click the Location tab and type in the path of the folder you want easy access to.
7. Click OK. I'll leave it to you to decide whether to move any files from your former Music, Photos, or Games folders to your new, basically fictitious one.
8. Click Start, and right-click the folder whose location you just changed. Select Rename and then rename the Start menu's pointer to the appropriate folder name.
Why doesn't Vista's System Restore actually restore the system?
Stepsx12, Answer Line forum
Poor system restoration is one of Vista's most vexing problems. Some utilities, usually big security suites that must be on at all times to protect you, interfere with System Restore's ability to do its job.
The simple workaround is to run System Restore in Safe Mode. Reboot your PC and press F8 before Windows starts loading (you may need a few tries to get the timing right). Select Safe Mode. Once Windows is up, try System Restore.
Is a long-term solution available? Uninstalling your security software might help. There's no guarantee, however, and of course you'll need to replace that software with something else. Trying to uninstall it is probably not worth the trouble unless the program is giving you a lot of other problems.
At the Answer Line forum, Evildave recommended disabling and reenabling System Restore as a possible fix. But do that only after you have successfully restored your system or completely given up, as the action erases all of your existing restore points. Here's how.
1. Click Start, type sysdm.cpl, and press Enter.
2. In the resulting System Properties dialog box, click the System Protection tab.
3. You'll see the Available Disks list. Uncheck all that are checked.
4. When you attempt to uncheck C:, a warning will ask if you want to turn System Restore off. Click Turn System Restore Off.
5. Back in System Properties, click Apply. Wait while Windows processes that command.
6. Recheck the box next to C:, and then click Apply again.
7. Click Create to make a new restore point.