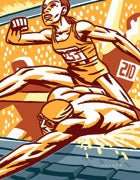 The 2008 Summer Olympics, which begin on August 8, will captivate audiences worldwide: No other sporting event captures the spirit of sportsmanship and athleticism quite like this quadrennial gathering. But the Olympics can be a source of frustration for remote watchers: A complex schedule that mimics a 14-ring circus often makes following your favorite sports difficult. That is, until now.
NBC Universal hopes to transform your Olympics viewing experience via an ambitious Web strategy that includes more than 2200 hours of live streaming video (with the option of viewing up to four streams at once) and interactive data to help you move smoothly between text such as athletes' biographies and vid­eo of their performance.
Seeds Planted in 2006
Besides streaming live video at its official Beijing Olympics Web site, NBC plans to post some 3500 hours of recorded video online at the conclusion of each event, for the duration of the Olympics. Previously, NBC's only streaming-video presentation during an Olympics was a single hockey game, which it streamed live during the 2006 Winter Games in Torino, Italy.
"We're delivering more video content for this Olympics than in the last three Olympics combined," says NBC's Perkins Miller, senior vice president of NBC Sports and Olympics. The goal, he says, is to deliver "the most complete Olympics possible," in part by paying closer attention to sports that previous broadcast coverage typically ignored.
All of the digital content will be available at no cost, but it will be accessible only to viewers in the United States. By the terms of NBC's deal with the International Olympics Committee, its Web streaming rights mirror its broadcast rights, which are limited to the United States.
The Silverlight-Microsoft Connection
NBC turned to Microsoft's Silverlight technology to get the necessary link between data available elsewhere on its NBCOlympics.com Web site and the network's Olympics video. Silverlight is Microsoft's programming environment for producing slick, interactive content that can be played on any Web browser; the platform ties into Microsoft's .Net framework and its myriad services, including Microsoft Live Search. As with Flash, you must download a browser plug-in in order to support the content. Silverlight 2.0 is also supposed to have smoother video playback performance as compared with Silverlight 1.0.
NBC's player is based on the latest beta version of Silverlight, which the Democratic National Convention will also use to distribute video in August. Silverlight 2.0 is due out in the fall.
About 15 different companies are involved in the NBC Olympics streaming experience. The player itself was built by Schematic, a Web developer that won an Emmy award last year for its ABC streaming video player.
Viewing Online: What to Expect
NBC's media player–based on Microsoft's Silverlight technology–supports three interactive modes: Enhanced, Live Control Room, and Pop­up. Enhanced mode is playable in wide-aspect ratio, at full screen (1060 by 600 pixels) or at small screen (848 by 480 pixels). The player will use the highest bit rate that your PC allows–up to 650 kbps for live events and up to 1.5 mbps for on-demand (that is, recorded) events, as deter­mined by a combination of your bandwidth, your PC's components, and your choice of live or on-demand video. (See "Better Streaming Video" for tips on how to optimize your hardware and your broadband connection.) Enhanced mode also gives you access to extra features like expert commentary and live blogging that will appear in an accompanying text window–a handy option if you are catching the competition while at work and can't listen to the audio action.
"Our research [shows] that everybody is diving for the mute button when the video comes up, so we tried to integrate that into our design," says NBC's Miller.
Multiple Simultaneous Live Video Streams
Live Control Room mode may be the most appealing option for true Olympics junkies. It lets you view up to four live streams of video at once, via one primary window and three smaller picture-in-picture windows. The primary video in this mode is presented at 320-by-176-pixel resolution, with a 350-kbps video stream; picture-in-picture views are presented at 128-by-96-pixel resolution, with a 50-kbps video stream.
Presenting multiple simultaneous video streams in the Live Control Room is a twofold technical challenge, says Matthew Rechs, chief technology officer at Schematic, the company that built the NBC player and that has also worked on presenting interactive content on HD DVD movie discs. "When we have multiple video images on the same screen, we have to add up the bit rates to see how much bandwidth it will take to display all of that video simultaneously, without impacting the system's performance," says Rechs. "You want to intelligently manage the total bandwidth available and distribute that across the various images. There are different modes for video playback, and each mode has different bit rates available to it."
The third mode, Popup, has a smaller interface that you can keep next to open work documents while you are at the office. The basic Popup player runs at 592-by-336-pixel resolution, with a 650-kbps stream for live events and a 1.1-mbps stream for on-demand events.
Silverlight's ability to handle text data and video helps the NBC player break with the standard design of media players that display video in your browser window. For example, with YouTube, you have a media player in one quadrant of the browser and supplemental info in other quadrants; the sections are not necessarily integrated or tied together. "Silverlight will make the player look more like a TV experience, and less like a data experience," Miller promises.
With the NBC Olympics player, the user interface leaves the Web browser window and enters the player itself, as navigation icons and extra content appear within the player window. You can obtain additional info–for example, athlete biographies tied to the competition you're watching–from within the player.
In all, eight video streams will be available for live video and six for on-demand video. And according to Rechs, the possible player and video stream permutations are so numerous that video can't be encoded natively for each scenario; instead, a video stream may be delivered at a resolution different from the one that the playback window is designed to use. "In these cases, we are shrinking or stretching the video slightly at playback time, but we have done extensive testing to ensure the integrity of the video image," says Rechs. The Silverlight player will automatically pick the right stream to present, given your bandwidth and your viewing choice.
Where the Content Will Come From
According to NBC, the video available for playback will hail from a mix of sources, including feeds from the International Olympic Committee's international pool of broadcasts, NBC's cameras, and NBC's studio commentary operations in Stamford, Connecticut, and at its New York City facilities.
Though the player application was still under development two months before the start of the Games, NBC officials described some of the more-impressive plans for the project. After a competition concludes, for example, you'll be able to click on the name of an athlete listed in the competition results and then view the athlete's performance at your leisure.
"We're assigning metadata with all of the video, so as the athletes perform, we're syncing up the metadata of their results with the time code of the video," says Miller. For example, while watching a recorded gymnastics video, you'll be able to navigate to the winning moment even while scrolling through athletes' biographies or through competition results. The same approach will be used to assemble the on-demand reels of highlights.
Naturally, NBC's hopes that these digital highlight reels–along with expanded profiles of the athletes–will attract new viewers to these sports, as well as encouraging fans to tune in to more coverage online or on TV.
Given the immense scale of this project, NBC has taken various precautions with regard to server infrastructure to ensure that it's prepared to handle the anticipated load of online viewers. "We've spent a great deal of time with Microsoft and their networking teams, since they're hosting our video," says Miller.
Mobile Streaming Video Planned
Access to NBC's multimedia streaming won't be limited to desktop PCs. NBC will have a dedicated live-streaming mobile channel, NBC-to-Go, that will carry feeds from NBC's television networks. However, the channel will be available only on AT&T cellular phones. Don't have an AT&T phone? Then you won't be able to watch live feeds–but you can access video highlights of various events via a WAP (Wireless Access Protocol) version of NBCOlympics.com on any WAP-enabled cellular phone.
Also in the works as of press time: NBC Olympics On-the-Go, which is designed to enable you to take prerecorded video content with you for viewing on your laptop when you travel.
Beefy Broadband Needed for Olympics Viewing
Want to enjoy the Olympics online? You'll need a broadband pipe that's big enough to meet the demands of NBC's Silverlight video player. According to Schematic, which designed the player for NBC, the Popup mode (a small pop-up screen that coexists with your spreadsheets and Word docs) will require a 512-kbps broadband connection plus either a PC with a 2.4-GHz Pentium 4 CPU and 512MB of RAM or an Intel-based Mac PC.
The player's Enhanced mode and Live Control Room mode–for viewing content and multiple video feeds, respectively–require a 768-kbps broadband connection, a spec that lies beyond the reach of many lower tiers of DSL and even some cable broadband services. To use these modes, you must also have a PC equipped with a 3.2-GHz Pentium 4 processor and 1GB of memory, or an Intel-based Mac.