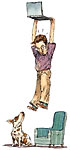 This year marks the tenth anniversary of my affair with 3-pound notebooks. In 1998 I fell in love with Sony's pioneering 1-inch-thick VAIO 505G, and I've kept the flame burning with a couple of its successors. But now the unit I've been carrying everywhere for four years has a Webcam that's dead and a keyboard with shiny surfaces where various letters should be. Before the Wizards of Redmond could drive a stake completely through XP's heart, I went looking for a portable that wasn't restricted to The Windows That Must Not Be Named. Making a choice turned out to be a surprisingly tough call.
I briefly considered deserting Windows entirely. But Apple's Macbook Air resembles the original VAIO lightweights, with dongles for important connections and an optical drive that's both outboard and optional. That combination is state of the art–for 1998. And since a charged-up spare battery often saves my bacon, the Air's nonremovable cells make this ultraportable a classic form-kills-function Steve Jobs Vanity Machine.
Lenovo's ThinkPad X300 series has an excellent keyboard, a built-in DVD writer, plenty of connectors, and XP if desired, but the 13.3-inch LED-backlit screen is rather dim. Worse, the unit ships with a 64GB solid-state hard drive only. That helps the system boot in just 45 seconds–but hikes the cost to a luxury-liner minimum of $3200. And the package weighs about 3.4 pounds, a little porky for an "ultralight" model.
Toshiba's Portege R500 amazes by weighing a full pound less than the X300 while still stuffing in just about everything users need for some $2100–and as of this writing, you can still buy one with Windows XP. But the bummer here is a shimmery, grainy, unevenly lit 12.1-inch screen. It flexes, displays wan, odd colors, and has an almost nonexistent sweet spot for viewing–in short, it's the worst notebook screen that I've seen in years.
HP's Mini-Note has a chunky, newish form that isn't thin; but at 2.8 pounds it's light, and at $750 it's also cheap. Though it manages to pack a surprisingly decent keyboard into a small space, the Mini-Note is basically a box of severe compromises: The processor and graphics perform at a glacial pace; the bright, sharp 8.9-inch screen is a tad too small for comfort; the laptop has no optical drive; the touchpad buttons are in the wrong places; and the standard battery lasts only about 2 hours. Here you'll find Windows Nameless at its most repulsive, with an infuriating 3-minute boot time. But at least XP is available; Linux too.
Sony's VAIO TZ series–the great-grandchild of my old 505G–starts at around $1800. Its crisp, bright 11.3-inch screen is by far the best of the bunch, and a DVD writer and lots of connectors come standard. But this VAIO has some faults of its own: Its separated keys (none dedicated to the likes of and Page Down and End) are small, and its touchpad buttons are a bit too slick and stiff.
And get this: To assassinate Windows Voldemort, you must shell out an extra hundred bucks for the business version, which comes with XP "downgrade" disks. Then you supply a couple of hours' labor to install XP and eliminate the laptop's cornucopia of crapware, followed by a trip to the Web to download a bunch of replacement drivers. Despite those annoyances, I ended up committing to this imperfect 2.7-pound package anyway. Old habits die hard.
All the same, I have to wonder about the wisdom of shelling out for such an underpowered ultralight when I could easily have found a beefy garden-variety notebook with better performance for one-third the price. But every time I pick up my overstuffed traveling bag or someone sends the airplane seat in front of me diving toward my lap, I know that this costly affair will continue to smolder for years to come.