I won't waste time rehashing the argument over whether Windows Vista is any good. The fact remains that lots of people prefer Windows XP, and they'll go to great lengths to get it.
The problem: Windows XP "officially" went off the market on June 30, 2008, and computer vendors aren't supposed to sell new machines configured with any version of Windows except Vista.
Fortunately for XP enthusiasts and Vista vetoers, the PC marketplace still has a loophole or two in it. In response to pressure from customers, Microsoft has made some concessions for people who really want XP, offering a lifeline for users willing and able to wade through the company's convoluted downgrading program. The upshot is that virtually every copy of Vista Business or Vista Ultimate Edition is sold with a license for XP, which a computer manufacturer can exercise to install XP Professional on any Vista Business or Vista Ultimate PC.
But just because a manufacturer can install XP doesn't mean that it will. And just because its official policy permits it to sell XP machines doesn't mean that its employees understand that policy.
In Video: How to Reinstall Windows XP
To find out how difficult it is to get a new XP machine these days, I asked the nine largest PC vendors in the United States–Dell, HP, Gateway, Toshiba, Acer, Fujitsu, Lenovo, Sony, and Asus–about the specifics of their downgrade policies. Then, to see how closely the official story synced up with the reality in the marketplace, I called sales representatives for each company and asked them whether I could purchase a new laptop equipped with XP from them.
The verdict? Downgrade policies are all over the map, and more than a few rank-and-file sales reps have a sketchy understanding of those policies. Some notebook PC sellers make getting XP preinstalled on a new laptop a snap; others don't offer it under any circumstance. As a rule of thumb, your odds of finding a machine with XP and a sales rep who knows how to configure a machine with that OS are far greater if you call the business sales line instead of the consumer sales line. (Be prepared to fib and say you're planning to buy 25 computers during the next 12 months.) Getting XP via online purchase can be tricky, too.
Here's how each manufacturer's formal policy–and informal reality–shakes out.
Dell
The Official Word: Dell has one of the most extensive and detailed policies on Windows XP of the nine vendors I investigated, but getting XP preinstalled on a machine may cost you extra. The company outlines the situation in this blog posting, where the company explains that though the XP downgrade program targets corporate customers, it's an option for general consumers, too. Though the rules are complicated, they are in line with those of most other sellers. To be eligible for an XP downgrade, you must be purchasing a Latitude laptop, an OptiPlex desktop, a Precision workstation, a Vostro laptop or desktop, an XPS 630 desktop, or an M1730 laptop. The machine must be specced to come with Vista Business or Vista Ultimate, and you can downgrade only to XP Professional. You must pay a $20 to $50 fee for the downgrade if you're buying a Vostro or XPS; corporate clients receive the downgrade at no charge. The program is slated to run until January 31, 2009, but Dell says that even after that it will continue to make some enterprise-level exceptions.
The Real Deal: Alas, not all Dell reps seemed to be up to speed on the company's XP strategy. First I tried to purchase an Inspiron running XP for "home use" (that's not covered in Dell's policy, but I decided to try my luck anyway). The harried sales rep I spoke to told me, "We don't have any computers running XP any more." After some pushing, he acknowledged that "I think business has them" but insisted that I'd have to check with another department to pursue such a purchase. He also repeatedly asserted that I could not obtain any machine in the XPS line configured with XP, contrary to Dell's posting. I called Dell's business sales line next and asked which computers I could get with XP. The rep casually (and correctly) answered "all of them," provided that I affirmed my intention to use the computer for business purposes. Of course, since Dell doesn't include models from the Inspiron line in its business sales category, the rep directed me to the Latitude series instead.
HP
The Official Word: HP offers dozens of computer models, but its policy regarding Windows XP breaks down fairly simply: None of its consumer products are eligible for downgrading, but all of its business products are. The machines covered include some(but not all) desktop PCs, notebook PCs, and workstations in the Compaq line, as well as some systems that bear the HP brand. On qualifying systems, HP will preinstall XP and you'll receive a disc for both XP and Vista. This arrangement will continue to be available until at least July 30, 2009, according to HP. Thereafter, HP will preinstall a customer's custom XP image on request.
The Real Deal: Visit HP.com and click through to one of the business sections (not to the Home & Home Office section), and you'll find that virtually every computer model listed has a clearly labeled XP option. When I called HP's sales operations, the reps largely repeated the official policy. When I asked a consumer sales specialist whether I could buy a new Pavilion laptop (a consumer model) with XP, she said no, but she referred me to some Compaq business models instead.
A degree of confusion erupted over the question of whether I would have to install XP myself: The first rep I spoke to told me that HP sold all of its machines with Vista preinstalled and that I wouldn't be able to get an XP disc until after I'd received the computer, placed a call to technical support, and asked for a disc to be mailed to me. Then I'd have to install it myself. ("Legally we can't do it," she said.) After nearly 20 minutes of talking and waiting on hold, I got transferred to a business sales rep who reversed the consumer rep, assuring me that XP came preinstalled on any machine labeled "Windows XP Professional custom installed" on HP's site and confirming that HP included a Vista install disc in the box as well.
Gateway
The Official Word: Short and sweet. Gateway says that it officially no longer offers XP on any of its machines, since it "sells only to consumers now." Even Gateway's systems to be sold in retail channels (such as Wal-Mart) are now Vista-only.
The Real Deal: I was stonewalled when I called. A flabbergasted rep told me that Gateway didn't sell XP ("that was done on June 30″), and he couldn't understand why I'd want it, either. "You have to upgrade to Vista Ultimate and then you can do the downgrade," he said–but I'd have to perform the installation myself, and I'd have to buy the software from another source. "It ends up costing you more to downgrade," he summarized. Retail stores don't offer new Gateway machines with XP, either. If you want a new Gateway laptop that runs XP, you'll have to bring the components together yourself or you'll have to purchase an older model that's still lingering in the retail channel.
Toshiba
The Official Word: The official policy on XP downgrades at Toshiba is shrouded in legalese. A spokesperson told me: "Toshiba continues to see demand for Windows XP from our business partners. Toshiba will follow Microsoft's Windows XP Product End of Life Policy while fully supporting customers who continue to require Windows XP through End User Downgrade Rights and Provisions. For more details about Microsoft's programs, please contact Microsoft." Huh?
The Real Deal: Visit Toshiba's Web site and you'll understand Toshiba's reluctance to provide a clear explanation of its XP strategy: It's selling loads of models with an XP CD included in the box, as well as a number of systems with XP as the only operating system option. But if you want an XP machine from Toshiba, don't rely on the main Toshiba.com Web site; instead, visit the company's toshibadirect.com site, which has a greater number of product choices and more-timely information. I called a sales rep who referred me to numerous XP-capable systems (most of these come with Vista preinstalled but carry an XP restore disc in the box), including the bulk of the Tecra and Portege lines. Toshiba even offers a few consumer notebooks–among them, Satellite M300 and Satellite Pro L-series laptops–with XP preinstalled. Collectively that covers quite a bit of Toshiba's laptop lineup. All you have to do is call and ask.
Acer
The Official Word: Acer doesn't sell machines directly to consumers, only to resellers. According to Acer, the company no longer sells machines with XP installed, nor does it offer a standard XP downgrade program. Nevertheless, Acer says, resellers can request a downgrade on any machine, and Acer will continue to offer such services through January 31, 2009.
The Real Deal: Visit Acer's Web site and you'll find at least one system, the Ferrari 5000, listed as being available with Windows XP (though that configuration option may be an oversight). Visit a few resellers, and you'll find some Acer machines loaded with XP and some loaded with Vista, though systems of the latter type are more commonplace. Various Aspire laptops continue to be offered for sale with XP preinstalled, but many of these are older models. In my hunt for new gear, I checked with a major Acer reseller, Tiger Direct, which verified that all of its Acers were now configured with Vista. A sales rep told me that the only way I could downgrade to XP was by doing it myself (he quoted me a price of $129 for a CD copy of Windows XP), adding that if I were to "change the software configuration of the laptop," it would void the warranty on the laptop. The rep didn't even hint at Acer's downgrade program, though he did offer a copious array of alternative PCs running XP, including a multitude of refurbished and off-lease machines, a Lenovo, and a large selection of Systemax machines that he said were still shipping with XP standard (and with a Vista upgrade as an option).
Fujitsu
The Official Word: Fujitsu offers a wide selection of machines for which XP downgrades are available. The company will preinstall XP, if you wish, on any Fujitsu model that has either Vista Business or Vista Ultimate listed as an OS option. (Machines with Vista Home are not eligible for downgrade.) If you prefer, you can buy an XP CD instead, along with all of the required drivers, and perform the installation yourself. There is no charge for either option. Fujitsu has a special paged dedicated to buyers who may be "not ready to transition to Windows Vista"; the vendor takes care to point out that, officially, if you wish to downgrade from Vista to XP, you must meet Microsoft's definition of a business customer–that is, you must "agree to the intent to purchase 25 units [computers] or more over the next year." Fujitsu notes that this is not a binding agreement; you simply have to say (or pretend) that you need a whole bunch of PCs.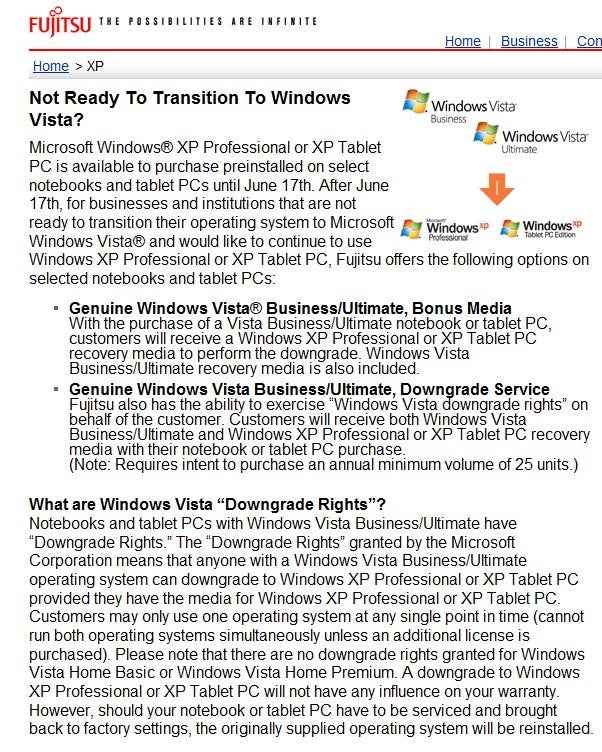 The Real Deal: I called Fujitsu's consumer sales line to inquire about one of the few models that Fujitsu sells only with Vista Home Premium preinstalled, and was told that it was not available with XP. My rep enthusiastically pointed to a number of alternative models that the company would ship with XP for no extra charge, accurately noting that only Vista Business and Ultimate machines were eligible for the program. At no time did the rep ask me whether I was a business customer, offer to transfer me to a business sales rep, or seek confirmation that I intended to buy 24 more computers within the next 12 months.
Lenovo
The Official Word: Lenovo offers a helpful Web page that outlines its downgrade policies in detail. Specifically, it notes that anyone who purchases a machine that has Vista Business or Vista Ultimate installed on it may also purchase a bootable Windows XP recovery CD until January 31, 2009. "Fees may vary."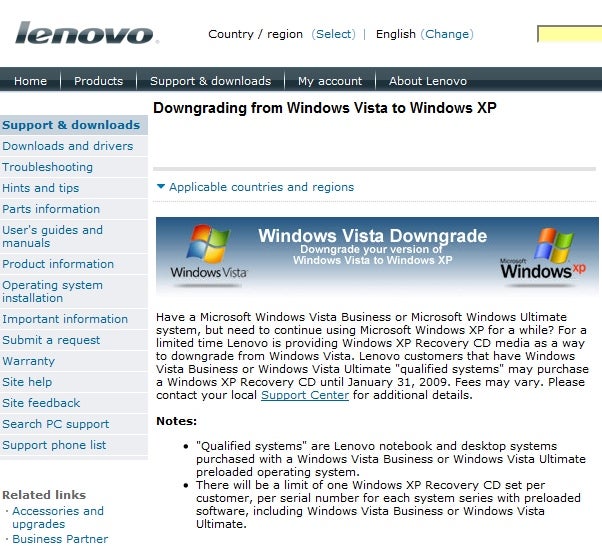 The Real Deal: In reality there is no fee. When configuring the laptop you plan to buy online (the entire ThinkPad line is covered, but not IdeaPad or Lenovo 3000 models), you may select an option under 'Operating System' for "Genuine Windows Vista Business downgrade to Windows XP Professional." Lenovo will then ship you the PC with XP preinstalled for the same price it charges for the Vista Business option. Strangely, there is no similar option for Vista Ultimate; and when I called a rep to ask about this inconsistency, he didn't know much about the plan other than what was stated on the configuration page. If you select the XP option online, you'll receive an ominous red pop-up message worded similarly to Fujitsu's warning: "Note: The downgrade from Genuine Windows Vista Business is intended for business, educational and public sector customers requiring Windows XP Professional that expect to order at least 25 PCs annually." But the warning is toothless: In completing your purchase, you never have to agree to order more PCs or even indicate a willingness to do so.
Sony
The Official Word: Initially, Sony told me that it offered no XP downgrade options on its current crop of computer models. Just as we were going to press, however, the company confirmed that two new laptop series–the VAIO BZ and VAIO SR–will come with an XP downgrade option, with XP preinstalled by Sony at the customer's request.
The Real Deal: I called Sony before the company had announced the loopholes in its "No XP" policy, so I didn't expect much. Surprise: A rep told me that if I ordered either the VAIO TZ or the VAIO SZ laptop configured with Vista Business, Sony would ship it with a driver CD in the box that included everything needed to make the laptop work with XP. The rep said that Sony wouldn't provide or sell the XP disc itself, so I would be responsible for supplying the OS myself.
Asus
The Official Word: Officially, Asus says that it offers only "select Eee PC models" with XP preinstalled–specifically, the Eee PC 900, the Eee PC 901, and the Eee PC 1000, each of which enjoys special status under Microsoft's "ultra low-cost personal computer" exemption (for PCs in this category, Microsoft has promised to extend the availability of XP Home Edition all the way through June 30, 2010). The upcoming Eee Box "net top" box will run XP as well, according to Asus.
The Real Deal: When I asked an Asus sales rep whether I could purchase the company's high-end Lamborghini machine loaded with Windows XP, he replied that Asus sold all of its machines as ensembles," meaning that they were configured at the factory and couldn't be changed once they were shipped to Asus. The rep told me that no XP drivers were available for the Lamborghini–but when pushed, he added that a reseller might be able to make something "custom" for me. Resellers writing drivers? No thanks. But the sales rep also said that, beyond the Eee series, he could offer two other models running XP: the W7S and R1F Tablet laptops. Though both are primarily available in Vista configurations, you can indeed find both configured with XP at numerous resellers.