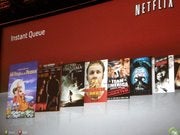 Announced at the annual E3 Media and Business Summit in LA, the deal expands Netflix's plans to bring movies to home theaters via the Internet, which it already does via its Web site and the Roku Netflix set top box.
(Check out PC World's live blog of the announcement.)
This new partnership will let Xbox 360 owners who are also Netflix subscribers stream "thousands of movies" to their game console. To use this service, much like the current Roku player, you'll have to initially select the movies via the Netflix Instant Queue feature on its Web site so you can later view them on your Xbox 360.
Still Netflix is only making a small fraction of its titles available for download through its partnerships with Roku and now Microsoft. The lack of titles appears to only be a minor complaint of the Roku offering, considering the player is apparently out of stock. Xbox 360 owners already have access to movie titles and video content through the Xbox Live Marketplace Video Store.