Want to cut your fuel costs by 60 percent, use water as fuel, receive a free $1000 gas card, or lock down the price of gas to $2.49 a gallon? You can find these offers on the Web–but experts say most are bogus, designed to collect personal information, to get you to sign up for services you may not want, or to sell you pricey gizmos that won't save you a dime in fuel costs.
With gas prices headed toward $5 a gallon, many people are understandably looking for ways to cut costs at the pump–and some sites can help you hunt down the lowest gas price in your neighborhood. But the Web (not to mention your inbox) is also brimming with dubious offers for free gas and schemes to save at the pump. Experts say that in most cases, you should steer clear.
"It comes down to your mother's advice," says John Paul, spokesperson for the Automobile Association of America, "If it sounds too good to be true, it probably is."
But the Better Business Bureau reports that, as gas prices have gone up, so have complaints about sites–some of them heavily promoted in search-engine ads–that promise free gas but deliver only headaches and unwanted e-mail.
'Fill 'er Up With Evian'
The most prevalent gas-savings pitch I've seen on the Web lately is for a kit that's supposed to show how to use water to supplement a car's use of gasoline in order to reduce fuel costs. A headline on a site called Half Water Half Gas, for example, reads: "Use water as fuel, cut your costs by as much as 60 percent and make the environment better and make your car run better at the same time."
Most of these water-as-fuel kits show you how to create a Mason jar-size gizmo that sits under your car's hood and, supposedly, extracts hydrogen from water. According to Half Water Half Gas, the hydrogen then is mixed with oxygen to create a fuel called HHO (or oxyhydrogen), which the device then pumps into your engine's intake manifold to reduce (but not eliminate) its dependence on gas.
Sites such as RunYourCarWithWater.com are also pitching $50 manuals for HHO conversion and conversion kits that range in price from $150 to $1150.
Experts say such car kits are hogwash. "All of these devices look like they could probably work for you, but let me tell you they don't," says AAA spokesperson Paul.
And Popular Mechanics editor Mike Allen, in a report called "The Truth About Water-Powered Cars: Mechanic's Diary," described the water-powered car kits advertised on the Internet as "rubbish" and "outrageous." Only under tightly controlled settings, Allen wrote, might a hybrid HHO and gasoline car see modest increases in fuel efficiency.
In other words, claims by some sites that these kits will increase your engine's gas mileage by 10 to 80 percent are not realistic.
Free Gas Cards: Not Such a Deal
I found one typical free-gas offer by clicking a search-engine text ad with a pitch that read, "Getting A $1000 Gas Gift Card For Free Is Simple," for a site called ExxonMobileGiftCard.com. I didn't pursue the offer, however, because my McAfee SiteAdvisor browser toolbar identified the hyperlink presented within the ad as "unsafe" and described the site it links to as a "high volume or spammy e-mailer."
It turns out that the McAfee SiteAdvisor warning didn't even apply to ExxonMobileGiftCard.com: SiteAdvisor spokesperson Shane Keats explains that the McAfee warning actually applies to a site called paydayasap.com to which the link sends you (transparently) before redirecting you to ExxonMobilGiftCard.com. SiteAdvisor flags PayDayASAP.com because people who signed up for its promotions received nearly 150 unsolicited e-mail pitches within a week.
While stressing that the ExxonMobilGiftCard.com site (which does not appear to have any relationship to ExxonMobil) has not been formally reviewed by SiteAdvisor, Keats says the site "has all the hallmarks of a scam site."
Keats says most "free gas" sites, like free iPod sites, are really just come-ons designed to make money from visitors. ExxonMobilGiftCard.com, for example, pitches you dozens of services, products, and free trials (including an "Ivory White Teeth Whitening free trial kit" that requires a credit card payment of $4.87 for delivery).
The site requires that you take what it calls a survey, which is basically a series of sales pitches for weight-loss pills, car loans, books, and the like. After you've declined all of them, you're told that to get the gift card you must accept at least two offers.
Keats says that many of the "free gas card" sites SiteAdvisor has reviewed earn commissions on the offers–and that if you share your e-mail address, phone number, and maybe even cell-phone number, you can expect a deluge of marketing e-mail messages. The value of the commissions and your personal information can easily exceed that of the free gift card.
And you may not ever see the card: Keats says less than 5 percent of people who sign up for every offer actually get the "free" gas card (or iPod).
Auto-Lock Gas Prices?
Another type of gas savings deal that has generated consumer complaints involves a promise to lock in gas prices at an attractive fixed rate. The Southern Arizona Better Business Bureau, for example, says it has received a number of complaints about this type of offer on sites operated by Free Zone Media, based in Richmond, Virginia.
Free Zone Media operates at least three identical-looking sites (RadioGasDeal.com, GasLockedIn.com, and GasPumpRebates.com) that promote an offer called America's Gasoline Relief Program, which promises to, in effect, lock in gas prices at $2.49 a gallon.
Just as on ExxonMobilGiftCard.com, you must sign up for commercial offers in order to get a gas card that will cover the difference between the actual cost of gas and $2.49 a gallon. The big catch is that one gas card covers only up to 15 gallons of gas purchased. You can find this out on the site–if you carefully read the terms of the program (click on the image above).
In the Southern Arizona BBB complaints, people say that after filling out surveys and joining various buyers' clubs, they never got the gas card. Free Zone Media did not return e-mail inquiries requesting an interview, and no one answered the phone number in the company's WHOIS listing.
MyGallons: Prepaid Cards for Gas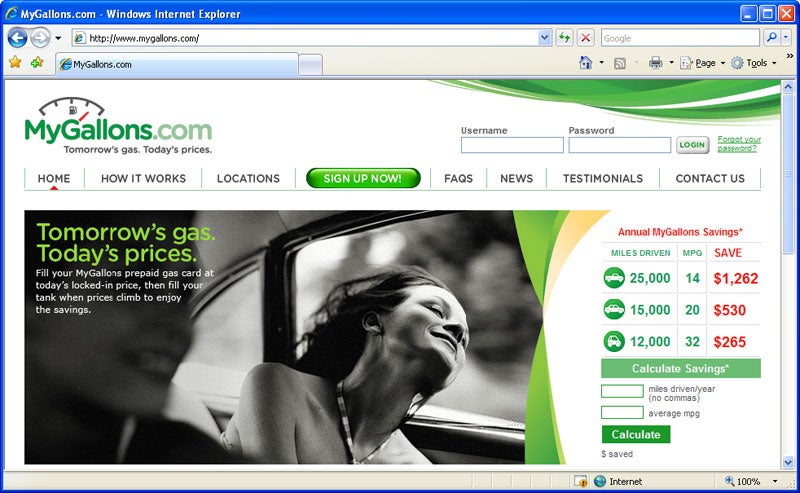 In early July the Florida BBB expressed concern over a similar offer from Miami-based MyGallons LLC for a prepaid gas credit card promising tomorrow's gas at today's prices. People paid membership fees of $30 or $40 to be eligible to buy the card, which MyGallons.com said they could use at participating stations to buy gas at the rate they paid online–even if the prices at the pump had gone up.
The company received national media attention, but after receiving several complaints, the Florida BBB determined that, contrary to its advertised claim, MyGallons had no deal in place with a vendor who would be able to process gas purchase transactions.
A spokesperson for the BBB told The Los Angeles Times that it didn't believe MyGallons.com was a scam, but that the BBB did have "serious concerns" about the company.
BBB and MyGallons officials subsequently met, and the bureau's site says MyGallons agreed to change its advertised claims, to stop collecting fees from new members, and to refund membership fees paid by 6000 people. MyGallons.com still accepts new signups, but informs them that the company is "in the process of transitioning to another payment network that can provide the proper level of service."
No Silver Bullets
Other sites promise fuel savings through the use of fuel additives (SimpleGasSolution.com) or magnets (MyEnergyCel.com) that, when attached to your fuel line, are supposed to increase fuel efficiency.
"If any of these really worked, car manufacturers would be the first in line buying this stuff," Paul says. But, he adds, these types of technologies just don't work.
And wishful thinking doesn't mean that a solution exists; as Paul notes: "Everyone just assumes there has to be a way to save at the pump."
But there is no silver bullet for cutting gas expenses, and you should exercise caution and common sense when you run into these too-good-to-be-true offers. Read the site's terms of service carefully, and run a Google search to see if any complaints have surfaced. A little sleuthing at the BBB's Web site or at gripe sites such as Consumerist.com can also usually help you determine whether an offer is legit or not–and really save you time and money.