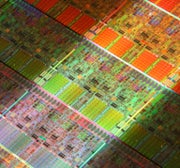 One day after Intel officially released details on its Larrabee platform, the chipmaker's rival AMD leaked details of its own competing Fusion CPU and GPU single chip, code-named Shrike. A number of sources are reporting AMD is leveraging its acquisition of ATI and will soon release the chip consisting of a dual-core Phenom CPU with an ATI RV800 GPU core. The chip will be DirectX 10.1 compatible and is expected to debut on a 40nm platform, courtesy of chip manufacturer TSMC, according to a TG Daily report.
What this means for consumers is a race of one-upmanship in the graphics card space between Intel and AMD to deliver better looking PC-based games and video in very high detail.
The leaked details also reveal that Shrike is scheduled to transition to 32nm at the beginning of 2010, "coincidentally" when Intel's 10-plus core chips will be launched, also on 32nm technology.
Following yesterday's Intel reports, it seems that AMD upped the game and put Fusion on the front burner as a way to compete with Intel's Larrabee – at least in the near future.