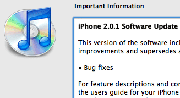 Apple has released an update to the iPhone's OS that aims to fix flaws and thwart those who have hacked (or jailbroken) their iPhones to run unsanctioned Apple software. But if you were hoping Apple fixed all the flaws that have generated numerous gripes (such as short battery life) keep on dreaming.
Some of the changes/fixes 2.0 bring:
* The ability to drag app icons across multiple screens in one fluid motion
* Faster loading of Contacts
* Quicker backup tool
* Quicker keypad loads
* Smoother screen rotation transitions when using the Safari Web browser
* Reduced time needed for syncing device to computer.
This is Apple's first update to the iPhone and iPod Touch since the 2.0 OS was introduced last month in tandem with the release of the iPhone 3G. The download itself is 250MB and is officially version 2.0.1 of the handset's operating system.
According to reports, for those with jailbroken iPhones – beware. The 2.0.1 update disables the popular jailbreak Pwnage Tool. Pwnage opens the iPhone to wireless carriers other than AT&T and plays unauthorized third-party apps. But I imagine this'll be a brief setback for dutiful hackers.