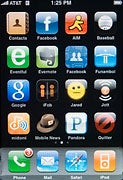 Apple wields ultimate control over applications running on your iPhone. If it doesn't like an app it flips a "kill switch" that zaps an unpalatable iTunes App off your iPhone in a heart beat. At least that's the buzz today in the blogosphere about a line of code found inside Apple's iPhone 2.0 software by independent iPhone developer Jonathan Zdziarski.
Issues surrounding Apple's supposed Orwellian-control over your iPhone have been popping up as iTunes applications have surfaced, disappeared, and resurfaced in recent weeks. The iPhone "Kill Switch" is a separate matter. It is theorized to be a mechanism that can be updated remotely (no syncing required) by Apple and can disable any application running on an iPhone at any time.
As of today, iPhone tethering NetShare, movie listing generator BoxOffice, and the idiotic $1000 "I Am Rich" app-which did absolutely nothing-have vanished from the iTunes App Store without notice.
But to be clear, these applications have not been murdered by a mysterious Apple "kill switch." The so-called "kill switch" remains more mystery than anything else. Zdziarski confesses on research notes posted to his site he knows little about what the code he found does: "We do not know whether this mechanism is active, or what exactly it does."
Nevertheless iPhone developers are beginning to say "hey, wait a minute" as they ponder developing software under the influence of Apple's apparent fickle whims. Many are now asking questions about this "kill switch" wondering could their hard work vanish from iPhones at the flip of a switch?
The NetShare app's direct violation of AT&T's Terms of Service agreement justifies its removal. BoxOffice, which harmlessly provided information on movie theaters, died for no divulged reason. (BoxOffice still exists and functions on my iPhone; is it only a matter of time before it disappears?) Yesterday the "I Am Rich" application was removed.
These disappearances come amidst thorny relations between Apple and app developers surrounding Apple's non disclosure aggreement. Developers are legally barred from exchanging or discussing programming tips with one another. Consequently, the applications suffer, they argue. Various forums have sprouted on the Internet, including the Twitter-fueled "F&%king NDA."
Still the "kill switch" theories grow with no word from Apple about what it really is there for. Some suggest its there as a way of killing truly malicious software programs (much like anti-virus software) should they slither onto your iPhone. Others, suggest the "kill switch" exists to give company IT staff a way of locking the iPhone down so they will be in compliance with the company's mobile handset policies.
Zdziarski admits he hasn't a clue what it is there for saying: "For all we know, it could trigger world war 3, or it could cause some computer somewhere to spit out recipes for buttermilk pancakes."