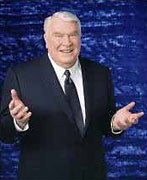 A scant two decades ago, John Madden was still just a man. Following a very brief stint with the Philadelphia Eagles in the late 1950s, Madden began his climb toward immortality when he was named head coach of the Oakland Raiders at age 28. Over the next decade, he became a familiar sight each weekend chugging up and down the sidelines in a white short-sleeve shirt and tie, gesticulating wildly and perfecting an expression of utter disbelief at whatever the officials said his men in black were doing wrong.
Despite having to relinquish top billing for any success to the Raiders' larger-than-life owner Al Davis, Madden gained some recognition for guiding the team to a Super Bowl victory in January 1977. He finished with the highest career winning percentage for a head coach in NFL history, and was inducted into the Pro Football Hall of Fame.
Madden the Media Maven
In 1979, a year after retiring from coaching (at the ripe old age of 38), Madden began a second career as a color commentator on TV. There he acquired long-sleeve shirts–though he seems never to have mastered the art of buttoning the cuffs–and instant popularity with a nation of football fans desperate for informed, plain-spoken enthusiasm after a decade of Howard Cosell. But then, in 1988, everything changed: Electronic Arts put him on the cover of its new Apple II football game and–WHAM!–an entertainment juggernaut was born.
As detailed in our slide show, "20 Years of Madden," the first iteration of John Madden Football was actually six-to-a-side football, not unlike the six-man game played at tiny Texas high schools like Motley County. But since then, Madden Football has grown remarkably, in number of controllable players, in graphical and play-calling sophistication, in complicating factors (weather, injuries, etc.), and–starting with Madden '94–in approval from the NFL (helmets with logos on 'em!). For details about the 20th installment in this video game dynasty, see "Madden NFL 09: The Best Madden Yet."
Happy 'Madden Holiday' to All
It has become a viral spectacle that sports gamers can't wait to catch. Every year, like game clockwork, Madden NFL fans call in sick or cash in their personal day to celebrate the latest release of EA's digital NFL spectacular. Surprised? Don't be. To date, the Madden NFL franchise has rung up unit sales of 70 million copies–1.9 million in 2007 alone–a stratospheric tally that has even chart-busters like Grand Theft Auto and Halo eating its dust. And when it comes to plastering Madden NFL all over the national map, the series' giddy fanbase isn't messing around.
"It is our opinion that a federal holiday is not only wanted, but neccesary so that hard working Americans can take one day off to enjoy the greatness that is John Madden Football," reads part of a petition signed by over 3000 Madden buffs lobbying semiseriously for Congress to declare an official "Madden Holiday" prior to the release of Madden 2006. This spirited effort was sacked by unsympathetic legislators, but that hasn't stopped gamers in their tens of thousands from perennially shirking work, school, and more, to plunk devotedly down in front of big-screens and launch a barrage of virtual seasons, from drafts and trades to playoffs and Super Bowls. NFL "for-real" fans get only one season per year, but Madden fans are at any given time playing through millions.
Then there's Maddenpalooza, this year's music, sports, and gaming fan festival hosted by EA at the Rose Bowl in Pasadena, California, on August 11, just before the game goes on sale. It's a flashy melange of live bands from past and current Madden NFL soundtracks (including Good Charlotte and Busta Rhymes), retired NFL legends scribbling autographs, interactive NFL activities, and 300 Xbox 360 gaming kiosks to whip enthusiasm for Madden 09 into a multiplayer game-ready frenzy before an on-site Wal-mart "pop-up" store places the very first retail copies of the game on sale at 9 p.m. PST.
So happy Madden Holiday 2009, everyone!
This year, big chain stores will open at midnight to lines of eager armchair quarterbacks, all itching to play the latest version of Madden NFL. One store is already offering "Madden Meals" guaranteed to replenish any calories you may lose while working up a sweat on the virtual gridiron. 
The Curse of the Curse
With great power, though, comes great responsibility. And in the case of Madden Football that responsibility includes deciding each year what promising career to ruin by sacrificing the player on the altar of the game's cover. The story of "the curse" goes like this: Since 1999, when Electronic Arts began featuring NFLers prominently in their packaging, a number of outstanding athletes have taken their lumps during the ensuing year. An inordinate number? Well, it's a rough game.
Being skeptics by nature, we propose to deal with this issue scientifically: We'll introduce each season's featured player, starting with the 1999 season, examine that player's performance during his Madden year, and see whether the EA football gods could have made a better choice of curse victim among the rest of the NFL players. Not to take a knee or anything, but we think you'll agree that, in retrospect, Madden Football's Curse Quotient could have been a lot higher.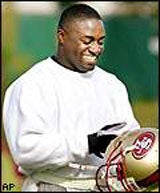 Madden 99 Featured Player: Garrison Hearst, San Francisco 49ers
Curse case: After running for 1570 yards and 7 touchdowns during the regular season in 1998 (the Madden 99 football season), Hearst suffered a broken ankle during the 49ers' playoff game against the Falcons, and missed the next two seasons completely.
Curse contradictions: This sounds like a good episode to launch a curse with, but consider: (1) Immediately after the injury, doctors feared that Hearst would never play again, but instead he made a miraculous recovery and two years later was rushing for 1206 yards and averaging 4.8 yards per carry. (2) By missing the 1999 and 2000 seasons, Hearst skipped the years when the 49ers went a combined 10-22 and got to play during the happier 1998 and 2001 seasons when they went 23-9. (3) We don't see Garrison Hearst on the cover of Madden 99–do you?
Curse counterpart: Ryan Leaf, San Diego Chargers. The only thing everyone talked about prior to the 1998 NFL draft was who should be taken first–Ryan Leaf or Peyton Manning? The Colts chose Manning; the Chargers, trading up to select second, waltzed away with Leaf. Leaf proceeded to guide San Diego to victories in his first two games as a starter–and then fell apart, ending the season with a remarkable 2 touchdowns and 15 interceptions, and a quarterback rating of 39 (the league average during the latter part of his brief career was 78.9).Curse Quotient: Hearst, 120; Leaf, 200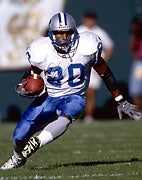 Madden 2000 Featured Player: Barry Sanders, Detroit Lions
Curse case: This guy is a living legend: ten Pro Bowls, a shared MVP award (with Bret Favre) and his best season saw him run for 2053 yards, breaking O.J. Simpson's record. Sanders receives the red-carpet treatment from Madden Football, and suddenly–a month or so before the 1999 season begins–he opts out of his contract and retires.
Curse contradiction: Barry Sanders retired at the top of his game and on his own terms–the first superstar running back to do since Jim Brown left the Browns for Hollywood in 1966. So he's cursed how? Even Lions fans had little to complain about in the short term. With Sanders punishing the opposition in 1998, Detroit went 5-11. Without him, they went 8-8 in 1999 and 9-7 in 2000. Oh, and again, Barry ain't actually on the front cover of Madden 2000.
Curse counterpart: Rae Carruth, Carolina Panthers. Admittedly, Rae Carruth wasn't a superstar, but he had a nice 1997 rookie campaign (44 receptions, 545 yards) and was looking to bounce back from a broken foot that ended his 1998 season after two games. So what happened in 1999? A total psychic meltdown at midseason, which led Carruth to shoot his estranged girlfriend in a drive-by attack. (She identified him as the shooter before she died.) Carruth is serving time in state prison for at least the next 10 years. Curse Quotient: Sanders, 50; Carruth, off the meter
Madden 2001 Cover Guy: Eddie George, Tennessee Titans
Curse case: George scored the first true cover spot, bumping Coach John off the front page. In 2000, he actually improved, running for a career high 1509 yards on the ground, averaging 4.1 yards per attempt, and being named to his fourth straight Pro Bowl. But over the next three years he averaged just over 1000 yards rushing his career closed out with a skimpy 432 total in a cameo with the Cowboys.
Curse contradiction: Let's get this straight: George had a career year the season he appeared on Madden Football. Oh, but his fine career did wind down eventually. Some curse!
Curse counterpart: Duce Staley, Philadelphia Eagles. In 1999 Staley put together a package of 1567 rushing and receiving yards as the feature back in the Eagles' West Coast offense, but five games into the 2000 season, he fractured his foot and was done for the year. But really, we could have beaten EA's curse by picking anyone who didn't have a career year in 2000, now couldn't we? Curse Quotient: George, 0; Staley, 150
Madden 2002 Cover Guy: Daunte Culpepper, Minnesota Vikings
Curse Case: After a strong run in 2000, when the Vikings finished 11-5, Culpepper slid backward the next year during his Madden Football cover season. That year (2001) the Vikes went 4-7 with Culpepper, before his season ended abruptly with a knee injury. The next year he tossed 18 touchdowns, but led the league with 23 interceptions, and Minnesota struggled to 6-10 record.
Curse contradiction: No question Culpepper didn't match his fine freshman campaign of 2000 in either of the following two years, but he had a very good year in 2003 and a career year in 2004 (39 touchdowns 11 interceptions), so even believers in the curse can't claim that it permanently derailed Culpepper's career.
Curse counterpart: Nate Newton, most recently of the Carolina Panthers. If proof were needed that a curse can reach someone in retirement, the massive Nate Newton–an outstanding left guard for the Cowboys and a Pro Bowler as recently as 1998–serves as an object lesson. Though he left the game after the 1999 season, Newton remained very active during retirement. Twice within five weeks during the 2001 NFL season, he got caught with enough marijuana to float a horse–a total of 388 pounds of the stuff, which means that it actually outweighed him by a little bit. But you can't say he didn't learn from his mistakes: In the second bust Newton was carrying about 40 pounds less. Curse Quotient: Culpepper, 135; Newton, very high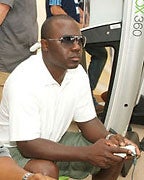 Madden 2003 Cover Guy: Marshall Faulk, St. Louis Rams
Curse case: Faulk blasted past 1300 rushing yards every season from 1998 through2001 in earning his cover spot on Madden 2003. In 2002, though, an ankle injury sidelines him for a couple of weeks. He never could crack 1000 yards in a season after that.
Curse contradiction: What we have here is a classic case of the winding-down phase of a great running back's career. Faulk in 2002 ground out 953 yards in just 10 starts, and his 4.5 yards per carry was excellent. The injury definitely took its toll, but he had already missed two games in each of the previous two years, so he wasn't exactly a spring chicken going into 2002. It's hard to see the trajectory of Faulk's career as unnatural in any way.
Curse counterpart: Barrett Robbins, Oakland Raiders. You want cursed? How about you anchor your team's offensive line throughout an 18-game march to the Super Bowl, and then with one (rather big) game left to play, your bipolar disorder kicks in, you go AWOL during the week of festivities preceding the game, and you get suspended by your team, which then gets its collective head handed to it by the team that still has its starting center? Subsequent legal problems have haunted Robbins as well; Wikipedia reports that "To date authorities have not been able to locate him for extradition back to Florida," in connection with a plea bargain following a brawl with police there. Curse Quotient: Faulk, 110; Robbins, 270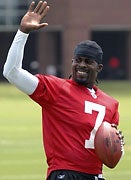 Madden 2004 Cover Guy: Michael Vick, Atlanta Falcons
Curse case: Weeks after his face graced the cover of Madden 2004, Vick broke is leg in a preseason game and had to sit out most of the season. That setback, along with run-ins with the law and pitbulls (years later), have put a sad and premature stop to a once-promising career.
Curse contradiction: Okay, he's cursed. But let's clarify a few points here. Following his broken-leg year, Vick turned in three very solid years as the Falcon's quarterback, starting 46 of 48 games in that span and making up for a somewhat errant arm (38 total interceptions) with some good connections (49 total touchdowns through the air). Then the dogs got him.
Curse counterpart: Bill Romanowski, Oakland Raiders. We're in damage-control mode here because in the long haul Vick is going to beat anyone else who had a bad 2003. But Romo definitely makes a case for a silver-and-black medal in the Madden 2004 Curse Olympics. Though he was still a year away from the 60 Minutes segment where he discussed his steroid and HGH abuse, Romanowski did his part to ensure that the Raiders were done with contending in the year after their Super Bowl collapse. In the 2003 season he played in just three games before a series of concussions put him on the injured reserve list for the duration. But he had already made his biggest impact in a preseason scrimmage, slugging a teammate and crushing his eye socket–an incident for which the victim was later awarded six-figure damages in court. Funny, when teams talk about character, they rarely mention this kind of character. Curse Quotient: Michael Vick, 190; Bill Romanowski, 155
Madden 2005 Cover Guy: Ray Lewis, Baltimore Ravens
Curse case: A dominating middle linebacker, Lewis actually managed to ward off the jinx long enough to play 15 games the year he appeared on the box. He notched 101 tackles and 46 assists that season before breaking his arm and sitting out the final game of the season.
Curse contradiction: You could say that Lewis had a pretty decent year in 2004–named to the Pro Bowl for the seventh time in eight years (he was named again in 2006 and 2007), named first-team All-Pro by AP and Sporting News. And by the way, Lewis gets zero curse credits for the incident where two people died in the limo he happened to be in after a Super Bowl party in January 2000 because that was four years before the Madden Football cover appearance.
Curse counterpart: Ricky Williams, Miami Dolphins. Here's a guy who's been in the league for five years and run for an average of 1277 yards per season and caught passes for another 301 yards per season. Do we want him on the cover of Madden 2005? Heck, yeah! This would have been a curse clincher for EA Sports, but instead: Fumble! Williams's well-known struggles with social anxiety disorder led him to self-medicate with marijuana–and shortly after testing positive for banned/illegal substances he was out of the NFL. He is still trying to work his way back to the level of play he showed during his first half-decade in the pros. Curse Quotient: Ray Lewis, 80; Ricky Williams, 230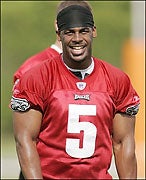 Madden 2006 Cover Guy: Donavan McNabb, Philadelphia Eagles
Curse case: After a superb Super Bowl run with the Eagles in 2004, McNabb was a cinch to break the run of bad luck at Madden central, right? Wrong! Socked with a hernia, McNabb played through the pain for as long as he could, but eventually shut down 9 games into the 16-game season. He wound up 2005 with 2507 passing yards but he had been on a pace for more than 4000 yards.
Curse contradiction: How can you be a world-class Joe Btfsplk when you aren't even the number one Joe Btfsplk on your own team (that would be Terrell Owens, who in 2005 managed to carp his way into a four-game team suspension and eventually deactivation for conduct detrimental, after having carped his way into Philadelphia from San Francisco only a year earlier)? A hernia rates special curse points, and the ACL tear McNabb suffered during the following season didn't dispel thoughts of supernatural malevolence at work, but last season McNabb appeared to be all the way back to pretty good health, with only a sprained ankle and a jammed thumb to mar the picnic in the park.
Curse counterpart: Onterrio Smith, Minnesota Vikings. In any normal year, Owens's antics would have put him at the head of the cursed class. But when it comes to notoriety, Onterrio Smith had a year for the ages. In May of 2005, Smith was stopped by airport security at Minneapolis-St. Paul airport: Zealous authorities had spotted a device in his luggage that evidently made them fear for the homeland. It was an Original Whizzinator, a product designed to defeat urine testing even when the tester is right there in the same room with you. (The Whizzinator site points out that the device comes in five designer colors–"white," "tan," "latino," "brown," and "black"–so you can choose a complementary shade or go for high contrast.) The humorless NFL suspended Smith for the 2005 season, the Vikings dumped him the following spring, and he has yet to reappear in the NFL. Curse Quotient: McNabb, 140; Smith, 210
Madden 2007 Cover Guy: Shaun Alexander, Seattle Seahawks
Curse case: In 2005, Alexander led the NFL in rushing yards (1880), rushing touchdowns (27), and points scored (168). His reward: a juicy contract to re-up with the Seahawks and a nice big Madden Football cover shot. Oh and a curse, to the tune of one fractured ankle, six missed games, and 984 fewer yards rushing than in 2005. In 2007 he was hampered by fractured wrist that again limited him to action in 10 of the 16 regular-season games, and in the off-season Seattle said adios.
Curse contradiction: This one doesn't look so good. Alexander had missed only one game in the previous four seasons before the injury bug bit him in 2006. And he hasn't made it through either season since the first break.
Curse counterpart: Maurice Clarett, most recently Denver Broncos. You could certainly argue that Koren Robinson of the Green Bay Packers would have been a more logical choice by Madden Football, since he had actually played a down of football in the NFL (and in fact had made the Pro Bowl in 2005) before getting bounced out of the league for a year on account of persistent problems with alcohol. But sometimes a curse is just too big to ignore, and Maurice Clarett is a civics lesson in everything that can go wrong. At Ohio State, Clarett had some brushes with the law that ended with his being suspended in 2003 for what would have been his sophomore year of football. He then tried to buck the NFL's three-years-of-college rule and get included in the spring 2004 pro draft, but his legal challenge failed. In 2005 he tried out at the predraft combine but was so out of shape that he was nicknamed "Slow-Mo." Drafted by Denver anyway in the third round, Clarett showed no improvement during training camp and was released. In 2006 the downward spiral continued with arrests in February (for armed robbery) and August (for gun law violations and resisting arrest). Clarett accepted a plea bargain that landed him in Ohio state prison. Curse Quotient: Alexander, 200; Clarett, 300
Madden 2008 Cover Guy: Vince Young, Tennessee Titans
Curse case: There really isn't one. The young Titans quarterback not only made it through the entire 2006 season intact (except for one game, which he missed with a quadriceps injury), he actually improved on his 2005 completion percentage and passing yardage numbers. To crown his season, he led his squad to the playoffs, though they lost to the Chargers in their first postseason game.
Curse contradiction: If he's getting better, he hasn't been hoodooed.
Curse counterpart: Adam Jones, Tennessee Titans. Young didn't get any help on defense or special teams in 2007 from Adam "Pacman" Jones, a superb athlete and strip-club enthusiast who spent the year on the NFL's suspended list. Various unspecified off-field episodes and one very notorious one contributed to the league office's disappointment in Jones, which evidently continues, as he has not yet been cleared to play in the NFL in 2008 (the Titans meanwhile traded him to the Cowboys). Curse Quotient: Young, 0; Jones, 190
Madden 2009 Cover Guy: Brett Favre, Green Bay Packers New York Jets
Curse case: Electronic Arts did the right thing in choosing as its cover subject for the 2008 football season a guy who is 39 years old and until very recently was retired. He shouldn't have any trouble continuing never to miss a game and thereby quashing all talk of a Madden Football curse, should he?
Curse contradiction: Yeah, that seems fair.
Curse counterpart: Chris Henry, most recently Cincinnati Bengals. Favre may get hurt in game one with the Jets, but at least he'll probably be in game one. Chris Henry, even after beating an assault rap several weeks ago, is without a team (the Bengals released him in April) and has four games to serve on a suspension meted out by NFL commissioner Goodell in response to that incident; Henry already missed eight games to a suspension in 2007, following a flurry of four arrests within six months in 2006. Curse Quotient: Favre, overdue to go way up; Henry, already up there