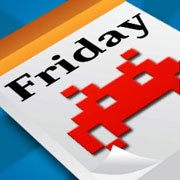 Note: This week's celebration of sloth is a slightly less straightforward (read: completely different) version of a story that PCW ran on the Madden Curse (and legacy) earlier this week. Also, I apologize in advance for anything that may happen to Brett Favre. But I'm getting ahead of myself.
Of course, Madden NFL Football is a huge game. It's EA's golden goose–no, wait, it's more than that. A little over 20 years ago, John Madden was just a man. A former pro footballer and coach turned color commentator. Then, in 1988, Electronic Arts put him on the cover of its new Apple II football game, and–wham!–just like that, he became a legend.
For the latest edition of the game, big chain stores opened at midnight to accommodate anxious armchair quarterbacks. A huge 20th-anniversary jam kicked off the launch at the Rose Bowl in Pasadena. Heck, 7-Eleven offers "Madden Meals" for when you work up a sweat on the virtual gridiron, and you get a Madden-approved Big Gulp thrown in.
Forget "Hallmark Holidays"–Electronic Arts has invented its own testosterone-fueled holiday, leaving a trail of gaming widows in its wake. Hey, you can't blame EA for doing it. Every year Madden Football cracks the top of the video-game sales charts. To date the series has sold 70 million copies–1.9 million in 2007 alone. That pays for a whole lot of Madden bus tours. 
The Curse!
Of course, with all this success comes the Madden Curse–the NFL's monkey paw. The tale goes something like this: Since 1999, athletes featured on the cover of the game have taken some lumps–some suffered career-threatening injuries, and one guy flat-out retired. But bad juju? C'mon, football is a rough sport. Getting beat up and sidelined comes with the job. Let's break down the past ten years' worth of cover stars and see who stiff-armed this "curse."
1999–Garrison Hearst: After running 1570 yards and making seven touchdowns in 1998, Hearst suffered a career-halting ankle break. A couple years after his face disappeared from the European version of the game's cover, he made a remarkable comeback through rehabilitation. Verdict: Euro-cursed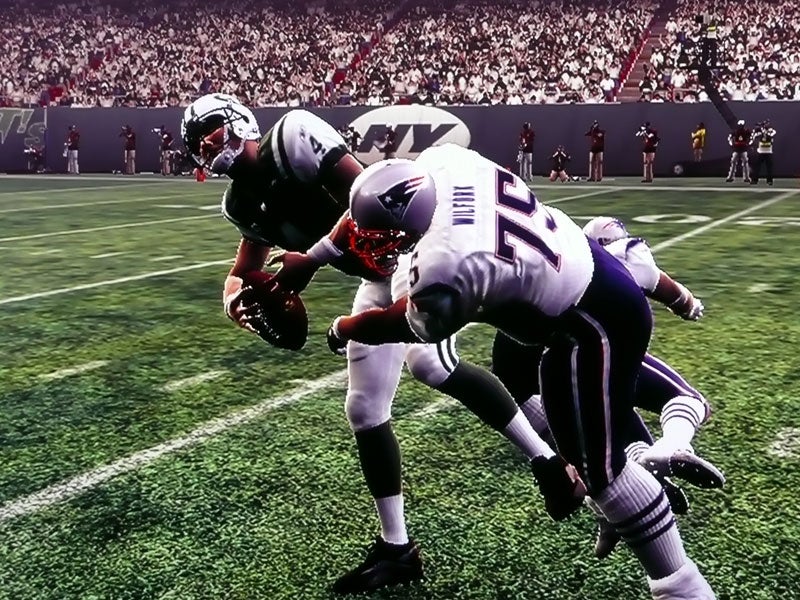 2000–Barry Sanders and Dorsey Levens: Sanders is a living legend. He was in ten Pro Bowls and collected countless MVP awards, and his best season saw him run over 2358 yards, breaking O.J. Simpson's record. After Sanders got on the cover of Madden, he suddenly opted out of his contract and retired. Did he see a curse coming? Packer Dorsey Levens, on the other hand, had no such luck. His picture made the cover of the game's PAL version. After racking up 1000 or so rushing yards in 1999, Levens posted miserable stats a year later (likely the result of a knee injury he had sustained in 1998). Verdict: Curse Dodged (Sanders), Cursed (Levens) 
2001–Eddie George: After averaging 4.1 yards per attempt in 2000 and scoring his cover spot, George saw his performance drop a little and never quite rebound. Nothing life- or career-threatening, but he hasn't been the same since. Verdict: Mildly Cursed
2002–Duante Culpepper: After a strong run in 2000, Culpepper started slipping the following season. By the time he appeared on the game's cover, he was well on his way to a lousy record, his season clipped even shorter by a knee injury. His cover year had him tossing 18 touchdowns and 23 interceptions, leading his team to a 6-10 record. Verdict: Cursed
2003–Marshall Faulk: Between 1998 and 2001, Faulk blasted past 1300 rushing yards every season. A force on the field, of course he earned a cover spot. In 2002, an ankle injury sidelined him for a couple of weeks. He never could crack 1000 yards after that. Verdict: Cursed
2004–Michael Vick: We're not superstitious, but Vick's story has to be proof that something's up. Days after his face graced the cover of Madden, Vick broke his leg in a preseason game, and he had to sit out most of that year. Between that, run-ins with the law, and pit bulls (years later), his fate was sealed. Verdict: Mad-Dog Blitz Curse
2005–Ray Lewis: A dominating middle linebacker, Lewis actually managed to ward off the jinx long enough to play 15 games the year he appeared on the Madden box. He notched about 145 tackles that season before breaking his arm and sitting out the rest of the season. He didn't fare as well dodging murder charges. Verdict: Curse Blocked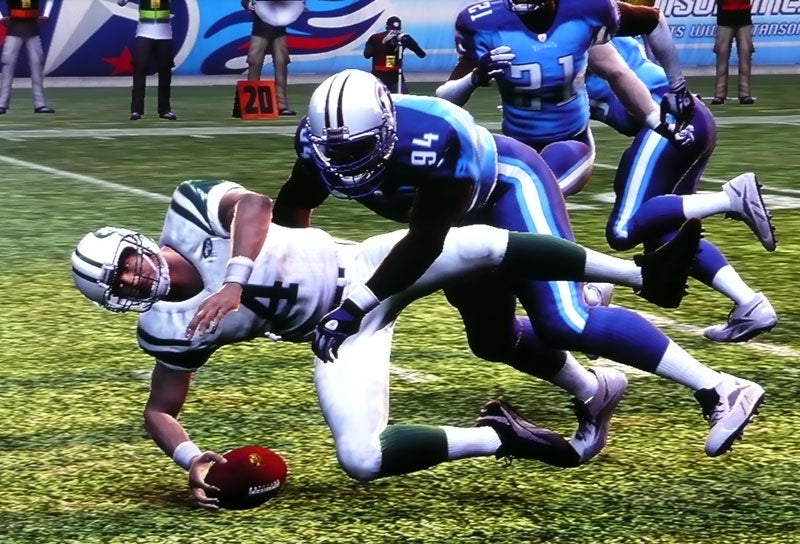 2006–Donovan McNabb: After his Super Bowl run with the Eagles, he was bound to break the curse, right? Wrong! Socked with a sports hernia (um, ouch!), McNabb played through pain the season he was the Madden pick. He wound up tossing for 2507 yards, but he had been well on his way to throwing above 4000 before the injury. Verdict: Herniated Curse
2007–Shaun Alexander: Graduating from his stint on the cover of NCAA Football 2001, Alexander led the 2005 NFL season in rushing yards, rushing touchdowns, and points scored–to name just a few of his accomplishments. Once he got on the Madden cover (and signed a juicy contract with the Seahawks), a big ol' bull's-eye appeared on his helmet. Three weeks into the next season, he fractured a toe in his left foot, and had to sit out six games. The curse lived on! Verdict: Cursed
2008–Vince Young: The Titan quarterback is the only true survivor so far. Maybe he covered himself in bubble wrap between games. He not only made it through a whole season intact (except for one game where he injured his quadriceps during the first half), but he also actually improved. In the 2007-2008 season, he led his squad to the playoffs, beating back the Colts. Verdict: Curse Lifted!?!?!
Brett Favre's Gauntlet
2009–Brett Favre: Green Bay's golden boy is next on the hit list. Well, maybe we should say "New York's newest Jet" instead. With Favre wearing Wisconsin's green and yellow on the cover of Madden 09, can the star quarterback breathe easy? I'm betting that he retired, left retirement, and then changed teams just hoping that the dreaded Madden mojo would pass over his house. Verdict: Green Bay Fans, Cursing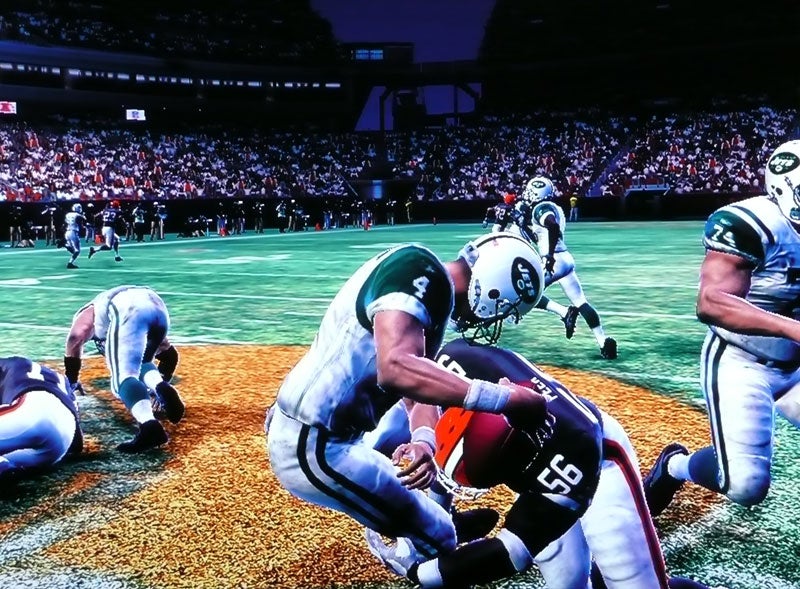 So, in honor of an awesome new season of Madden Football (really, this version is probably the best I've played in ages…hats off to EA for not mailing it in this year), I decided to exact a little revenge for Packers fans–and in the process, evaluate the potency of Madden-cover voodoo. I decided to simulate a season with the Jets inside the latest game and see how long Favre could last with the Madden Curse. (For some of the lowlights, check out all the screen shots here.)
I did my best to tank Favre's virtual season. Fumbles, interceptions, allowing painful sacks…I intentionally made horrible calls, doing everything shy of playing for the other team. That said, I didn't try to put him on the disabled list. (I mean, it would have made for a funny screen shot, but I'm not that evil.)
By the time the sim season was done, the Jets had fought their way to a 9-7 record. I tell you, it's hard to stop that Favre guy. And, since you asked, the Packers made the playoffs with a 10-6 record. Still, I wonder if my digital Favre is asking himself why he came out of retirement.
Better luck next year!
Senior Writer Darren Gladstone geeks out over gadgets, games, and odd uses for humdrum tech. In other words, he's a nerd–and he's okay with that.