We used to say that seeing is believing. These days, when almost anything can be made to look photorealistic, that quaint expression lacks the sincerity it might have once had. Can you really trust the images you see on magazine covers, on television, and on the Web?
Probably not. For evidence you need look no farther than this very column. Every week we talk about ways to doctor reality. Sometimes it's as subtle as changing the color of the sky from overcast to sunny, but sometimes we make dramatic changes like swap out the background, turn an ordinary scene into a miniature, and even resurrect Elvis. If amateurs can do those kinds of things, what does that tell us about professional graphic designers?
Digital Trickery in the Real World
If you pay attention to digital trickery, you'll find examples all around you. Photoshop Disasters chronicles amusing examples of digital manipulation gone awry, like this Gap ad.
This sort of thing isn't limited just to innocuous advertisements, either. Iran was recently caught red-handed doctoring press photos of a missile test: They used everyone's favorite Clone tool to add an extra missile to the landscape. Sites like Gizmodo and Boing Boing went a step farther, publishing a slew of even-more-embellished photos.
Professional journalists aren't immune from this sort of thing, either. Back in 2006, several Reuters photographers were accused of doctoring photos to make them more dramatic, or to tell a somewhat different story than what was really happening. Zombietime did an excellent job of rounding up some examples of before and after photos to show how artifacts like smoke and rocket flares can easily be edited to slew the visuals in a convincing way.
How to Spot a Fake
So how can you detect faked photos yourself? Sometimes it's easy. A photo of Snowball, the giant Canadian cat, has made the rounds in e-mail for years. It's not hard to tell that there's something not right about the photo; the cat doesn't look natural, and there are clear signs of fuzzy and doctored pixels around Snowball's extremities.
But sometimes it's not so easy. When in doubt, take a trip to one of my favorite Web sites, the myth-busting Snopes, and search for information about a suspect photo. You can find authoritative judgments on all sorts of potential hoaxes and myths here, including just about every doctored photo imaginable. Curious about good old Snowball? Predictably, Snopes weighed in on that subject.
If you're more technically minded, there are even Web sites out there designed to teach you how to tell fact from fiction yourself. Scientific American, for example, published a detailed (and quite geeky) article on how to detect fakes. When you're done reading that, try taking Autodesk's visual quiz in which you need to pick which images are photos and which have been created completely using graphics software. Good luck; I scored only 50 percent.
Hot Pic of the Week
Get published, get famous! Each week, we select our favorite reader-submitted photo based on creativity, originality, and technique. Every month, the best of the weekly winners gets a prize valued at between $15 and $50.
Here's how to enter: Send us your photograph in JPEG format, at a resolution no higher than 640 by 480 pixels. Entries at higher resolutions will be immediately disqualified. If necessary, use an image editing program to reduce the file size of your image before e-mailing it to us. Include the title of your photo along with a short description and how you photographed it. Don't forget to send your name, e-mail address, and postal address. Before entering, please read the full description of the contest rules and regulations.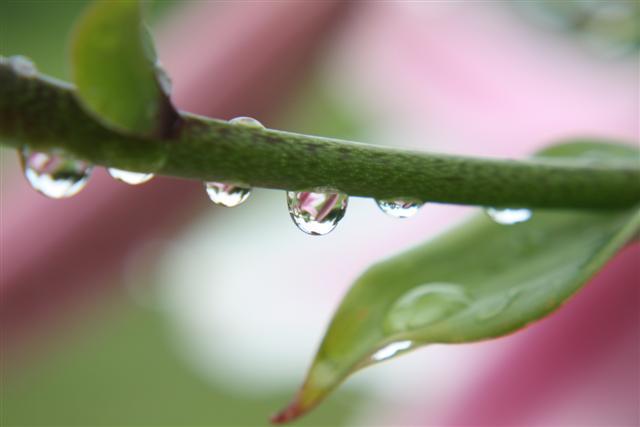 This week's Hot Pic: "Lily Bud in Raindrop," by Maureen Janson, Washington, Missouri
Maureen writes: "I took this photo without a tripod, using my Canon EOS Digital Rebel XSi. I used an 18-55 mm IS lens with a macro +10 filter attached. I like the way the center raindrop shows a pink lily bud."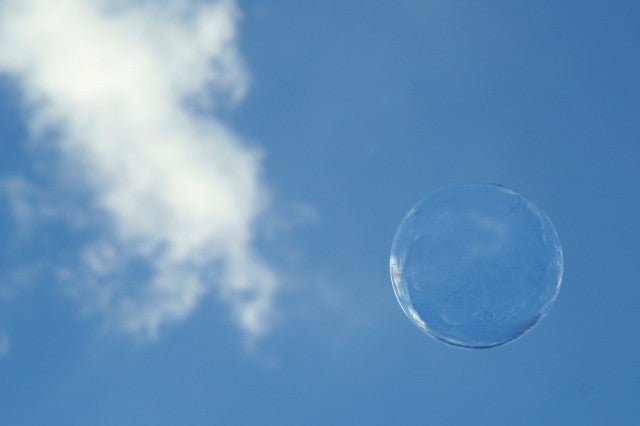 This Week's Runner-Up: "Bubble," by Tom Weber, Wadsworth, Ohio
Tom writes: "I was goofing around with the kids in the yard with some bubbles…. I saw some of them floating away into the deep blue sky, and I thought it was a cool look–so I got my camera and took some pictures."
See all the Hot Pic of the Week photos online.
Have a digital photo question? Send me your comments, questions, and suggestions about the newsletter itself. And be sure to sign up to have the Digital Focus Newsletter e-mailed to you each week.