How do you define "Extreme"? How about as a high-velocity, quad-core processor packed into a mobile platform? That's what Intel announced this afternoon at the Intel Developers Forum. Heretofore known as Core 2 Extreme, the cat (or chips) are now officially out of the bag.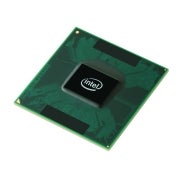 In July, the first Core 2 Duo Extreme Mobile X9100–a Penryn dual-core CPU–to show up at our labs debuted inside Micro Express's JFL9290 laptop. The PC World Test Center is still putting that machine through its paces (you can check out our assessment of its little brother, the Micro Express JFL9226, in the meantime), but the initial numbers are impressive. It dominated our WorldBench 6 tests, notching a score of 115 and posting decent frame rates in Doom 3 (47 frames per second at 1024 by 768 resolution, with antialiasing) courtesy of a 256MB nVidia GeForce 9600M GT GPU. The real speed king, though, is the QX9300 (a Penryn Quad Core)–and it's now out the door, launching this week.
Here's the breakdown on what they offer. The X9100 has a 3.06-GHz frequency, two cores, and a 6MB cache running at 44 watts. The QX9300 has four cores running at 2.53 GHz, with a 12MB cache at 45 watts.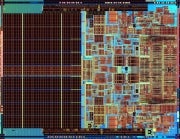 The new chip's focus on gaming capability shows up in many ways, starting with the way it emphasizes design choices for dual discrete graphics cards in the system. Another example is the chip's automatic overclocking of RAM (and DDR3 memory). And don't forget Intel's claims of improved I/O read times with the upcoming X18-M and X-25M SATA Mainstream SSDs.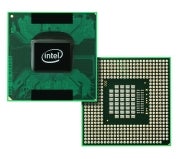 Of course, being "Extreme" means doing extreme things like building overclocking into the BIOS. Good luck if you're foolhardy enough to try and reach the 4-GHz threshold. (One notebook on display at the IDF show, from Flextronics, managed to hit that number, but only thanks to a specially crafted cooling docking station created by CoolIt Systems.) Still, being able to crank your 3.06-GHz CPU up to 3.59 GHz is feasible with the easy-to-use Intel Extreme Tuning Utility, which works inside of the OS. Just make sure to park your tweaked-out laptop on an ice cube or something to keep it cool. (Disclaimer: Overclock at your own risk! Besides voiding warranties, such fate-tempting behavior puts you at risk of corrupting data, burning out the CPU, or worse.)
Intel clearly takes its thermals very seriously. Utilities are available that constantly monitor your hardware…and the chip maker emphasizes that special options such as CoolIt's MTEC Docking Station are all but essential for hitting the performance ceiling without going splat.
How likely are you to buy that extra-hardcore docking station? And how much will it cost you? Those are good questions, and they should be answered when the base launches in January of 2009–just in time for you to see an even beefier Core i7-based Extreme Edition notebook next year.