Eight hours–a full workday's worth of time. No normal human should be in front of a screen playing games so long. I know that the whole point of PC World's weekly goof-off column is to have a yuck or two and not worry about the little things in life like trying to make money. But I just realized that I have a problem. I don't blow cash at the tables, I don't go to the horse races, and up until a Google search, I thought a bookie was someone who read a lot. And, like others before me, I thought I could quit at any time–but with some games, it seems I can't.
It started innocently enough, chatting with Game On columnist Matt Peckham about the new Too Human game. To put it mildly, he thought the Xbox 360 title was "a lumbering, clanging muddle, a clumsy collision of canned dialogue and confusing narrative." So why am I still playing it? The waves of slaughtered vicious robots leaving behind randomized gear for suiting up my action figure. That's what the game comes down to: A slot machine for loot that lets me play dress-up with a virtual doll. Sounds ridiculous when you think of it that way, doesn't it?
Every slain creature randomly drops everything from money to rare equipment. You hear the coins jingle on the ground, and you hear chimes ding when you earn a level's worth of experience. There may as well be an arm lever on the side of your screen and a blinking light on top–but no money is spewing out of your TV. As with Diablo (I dare anyone to tell me that they played Diablo for the narrative) and World of Warcraft before it–two habits I literally had to kick–I fell off the wagon.
But why settle for fake gear? The e-commerce online "game," Entropia Universe, is now offering up 30 nVidia GeForce 9800 GT graphics cards to its players. The whole Entropia world is skill-based and operates on a real-cash economy, but the makers are dropping more pellets into the gaming fishbowl. You go around the world completing tasks as usual (hunting big game, doing monotonous mining), and some of the random loot that "drops" when you complete a task earns a token in the game–and a graphics card in the real world.
'Real' Gaming
Of course, more literal translations of gambling exist in games. Playing Grand Theft Auto: San Andreas, I racked up a pile of chips in Las Venturas (in case you weren't aware, besides Hot Coffee, the game had a full sin city–complete with blackjack, poker, roulette, and slot machines.) Playing those traditional casino games might make some sense: You learn the basic strategies of the games without being taken to the cleaners. Then again, plenty of sites let you get a taste of the action without being bitten in your wallet. These days, I'm playing Governor of Poker, but there are lots of other online flash games. (Just stick to the free sites.)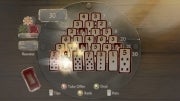 What doesn't make sense, on the other hand, is learning strategies for virtual card games that earn me no cash in the real world. And yet I'm doing exactly that with Fable II Pub Games. It's a collection of fantasy-themed casual parlor games that have you rolling dice and calling cards in hopes of earning money. Here's the twist: this collection is a teaser for the upcoming Xbox 360 title, Fable II. (If you preorder Fable II, you get the game collection for free. Otherwise, you have to buy it over Xbox Live.)
Any gold won in these games will carry over into the full Fable II game when it ships this fall. That means that my character could theoretically start the full game sitting atop a Scrooge McDuck-sized pile of cash to buy clothes, houses….weapons–the finer things in my virtual life. That was incentive enough for me to start learning strategies and yes, even ways to cheat the house. The games are fun, addictive, and at times a little tricky.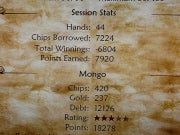 Take my word on that last part. Here I am, staying up late with the wife, playing games, and watching the debt pile up while I keep losing at the tables. If there's a Mongo the Legbreaker in the full game, I think I might be in for a world of hurt.
A final note: It may seem as though I'm making light of serious issues. I'm not. I really do need to step away from the gamepad every so often for fear of staying there all day. I know for a fact I'm not alone on this. How about you? What do you think?
Senior Writer Darren Gladstone geeks out over gadgets, games, and odd uses for humdrum tech. In other words, he's a nerd–and he's okay with that.