At a Glance
Expert's Rating
Pros
Lots of business extras
Great keyboard, Wi-Fi and GPS options
Cons
Expansion SD card slot limited to 4GB
Headset uses mini-USB port
Our Verdict
Easy on the eyes, yet delivers lots of business friendly features for corporate buyers with deep pockets.
In the world of smart phones, while Apple's TV ads insist that the iPhone 3G "works great with work" and BlackBerry fans eagerly await RIM's BlackBerry Bold, new Windows Mobile 6.1 handsets offer alternative products to corporate users who are willing to pay top dollar for a high-end smart phone with advanced features. I looked at shipping versions of two newcomers, HP's iPaq 910c Business Messenger and Palm's Treo Pro.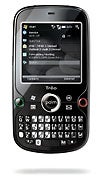 Both are being sold unlocked, meaning that at launch you won't get them at a carrier's site; rather, you can use them on any GSM carrier worldwide simply by inserting that carrier's SIM card. This flexibility is great for frequent travelers–you're not tied to a carrier or a long-term plan, and you can pop in an overseas carrier's SIM card to keep costs down (if you don't mind changing your phone number). But it also means you don't get the type of carrier subsidy that has made the iPhone 3G so affordable. The Palm Treo Pro debuts at $549, and HP's iPaq 910c Business Messenger costs $499.
Two Phones, Many Similarities
Both of these glossy black, candy-bar handsets sport hardware QWERTY keyboards. Both support just about all of the wireless connectivity a person could currently ask for: Wi-Fi, GPS, quad-band (world) voice, and high-speed HSDPA/UMTS data networks (in the United States, AT&T Wireless is the only nationwide carrier to support this GSM-family high-speed technology).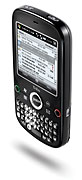 Viewed side-by-side, the Palm is clearly the smaller and lighter of the two: The manufacturer's specs peg it at 2.4 inches by 4.5 inches by 0.5 inch and 4.7 ounces compared to the iPaq's 2.5 inches by 4.5 inches by 0.6 inch and 5.4 ounces. Neither has an exceptionally generous amount of built-in storage: Both provide 128MB of RAM for running apps and 256MB of flash ROM, most of which will be occupied by operating-system and application files.
Both phones also provide a micro-SD Card slot that lets users add the storage room for images, music, documents, applications, and so on; here, however, Palm outclasses HP by supporting cards with up to 32GB of capacity, while HP supports up to 4GB. Both phones also come with USB syncing cables; Palm's slides into an AC adapter for recharging, while HP's adapter has its own cable.
Each of the phones has a touch screen–unlike RIM's BlackBerrys, which have yet to incorporate such a feature. The Palm's touch screen is a transflective 320-by-320-pixel display, while the HP's is a transmissive 320-by-240-pixel display–but both look crisp and bright. Conveniently, each phone offers multiple navigation options, and each includes a stylus (stored within the unit) and a central navigation touchpad. HP in particular makes single-handed operation exceptionally easy by providing a scroll wheel and an OK button on the right side of the iPaq. Palm, meanwhile, has a handy dedicated button on the right side for turning Wi-Fi off and on.
Unlike the iPhone 3G, the HP and the Palm have removable rechargeable batteries. Palm's battery is rated at 1500 mAh, and HP's at 1940 mAh. PC World's Test Center is currently evaluating the battery life of these phones; we'll update this story with that information when it becomes available. Once the results of our battery life tests are in, we will also provide full PCW Ratings for these phones as well.
Palm provides a standard 3.5mm stereo headset jack and a pretty decent earbud headset. Unfortunately, HP's headset connects to its mini-USB port, leaving you with fewer options if you're not happy with the quality. In my hands-on experience, the quality of audio and video playback was acceptable on both devices.
In my tests, both phones delivered adequate (though not outstanding) phone call quality without the headsets. I give the HP the edge at typing messages and e-mail because of its keyboard's superbly sculpted keys and the device's slightly wider form. But Palm's keyboard wasn't too shabby, either; as on the Palm Centro, the keys are covered with a plastic veneer that helps your fingers avoid sliding about.
Both phones came with GPS-assist software to help it get fixes faster–plus Google Maps, which can use GPS to show your location (but does not provide turn-by-turn voice navigation). Palm's preinstalled TeleNav software, delivered good turn-by-turn voice guidance in my tests; the service is priced at $10 per month. HP's site provides a link to an offer for CoPilot Live 7 software and maps on a 2GB micro-SD card for $80 (I did not test this).
Special Features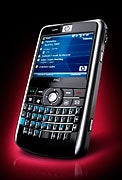 HP's enterprise focus becomes apparent from its included software bundle, which includes applications for security, remote control (for demanding IS departments), mobile printing, using the device as a modem, and viewing PDFs (on top of Windows Mobile's pared-down Office apps). I was impressed by HP's voice recognition software, too: It supports a number of command and control functions beyond voice dialing.
Another perk: HP's 3-megapixel still/video camera had several brightness controls and a built-in flash, and it produced pleasing pictures. Palm's 2-megapixel camera was adequate but had fewer features.
But Palm's home screen provided some welcome tweaks to Windows Mobile, most notably an icon in the upper right corner of the Today screen that lets you view all running apps and shut down ones you don't need. This addresses a principal ongoing annoyance with Windows Mobile: It doesn't automatically clean up after itself.
Even so, I found the HP easier to use overall, despite its slightly larger size. Its button layout was clear, whereas the Palm's was confusing at times. On the Palm, I kept tapping the blank area below the screen softkeys, which never produced a response. The Palm also got warm rather quickly–something I didn't notice while holding the HP, perhaps because of its case's rubbery-feeling back plate.
I would definitely recommend the HP to hard-core business users who can benefit from its enterprise software–as long as they can live with its expansion-card limitations. The Treo Pro has plenty of pluses, too: Skinny good looks, bundled GPS software, a standard earphone jack, support for 32GB SD cards, and easy Windows Mobile app shutdown. But the Treo Pro's heat issue worries me–and its high unlocked price tag will turn off anyone whose corporate IT department isn't buying.