Forget beachside BBQs; try rounding up a few of your closest friends for a LAN party over Labor Day weekend, instead. Don't know what a LAN party is? It's a room full of folks getting together to play games. Also, to check out each other's case mods (a few examples are shown below). And occasionally to sleep. It can be a small garage party for an afternoon or a weekend-long marathon in some convention hall. Each one has their own house rules. My favorite, as observed at the annual Quakecon event in Dallas, Texas: "Bathe!"
This week's Casual Friday is a collection of rules you should follow if you're considering going to a LAN party. What follows are my observations plus the assorted wisdom of folks (quoted below) I recently met during nVidia's nVision08 event.
Get inoculated: Probably the most important thing to do before you show up is run a sweep. Make sure you're virus-free and have some kind of antivirus software on your rig, and keep it running while you play. Though your first instinct may be to turn off your antivirus to improve performance, you leave your machine open to attack if you do. All it takes is one person sharing an infected file over the network, and it's game over.
Check the wires: Chris Brown has been to over 20 LAN parties, and the first thing he does is look at his PC's back ports for the connections on his checklist. Does he have the USB cords he needs? DVI cables? Nothing's worse than unloading a computer only to find you're missing the power cable or your headphones.
Observe HomeLAN security: Large LAN parties may have security checkpoints, but always try and keep your gear safely stowed when you're not around. If you can, use a Kensington lock to put your computer on lockdown. If you have any extra gear, consider storing it in a secure companion bag. Pacsafe's travelsafe100 costs only about $40 for a bag with a high-tensile stainless steel cable lining. It's big enough for a digital camera, a cell phone, your wallet–the basics.
Download your games ahead of time: Whether it's a bunch of buddies or a massive LAN party, find out the recommended games to have installed on your computer. A list is usually posted on a forum or Web site, or in a document when you sign up. For any game you want to play, make sure it's installed before you show up. And don't forget to grab any patches or driver updates beforehand, as well. Imagine if a couple hundred people showed up, and they don't have all the required files–it'll choke bandwidth down to a crawl.
Consult the forums: Prior to the event, little bits of news pop up all the time. Take this past week. Prior to the nVision event, Cliff Colburn checked and found that nVidia would have free parking available on one lot. Another perk is that you learn about last-minute competitions that have been added to the bill.
Go pro: Pro-gamer Amber Dalton, co-founder of PMS Clan, says, "Practice! If you want to take this seriously, it means playing a lot. It also means studying how others play." Just like coaches that study other teams' plays, pro-gamers study each others' moves. Her tactic: Go online, find out who is registered to compete in a tournament, and download video clips of them in action. After all, there's money on the line.
Mind your manners: Just because you're gathering with some like-minded gamers, it doesn't mean that you're in your living room. Let's say, for example, that you have a, ahem, mature-themed desktop background. Consider changing it before showing up.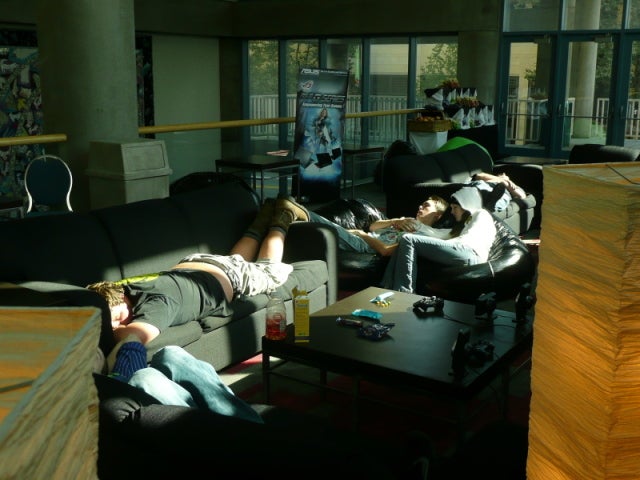 Take a break: This most obvious tip comes from Christian Etter and is simply, "Go home and get some sleep!" His friend Nic Amoroso adds, "I was walking by some guy playing a game, and he fell asleep at his keyboard." If you're in the middle of a massive gaming session, try to take a break. Even the hardcore nuts who attempted to set a Guinness World Record in gaming this past week took 10-minute breaks every hour. If you really need to pull bleary-eyed gaming shifts, try to log a couple extra hours of nap time beforehand.
Avoid energy drinks: Despite all the cans of Red Bull and Bawls pushed on gamers at these events, the smart ones go with healthier choices. According to nVidia's director of marketing communications, Sheryl Huang, "For our Guinness attempt, gamers could get whatever they wanted: hot dogs, pizza–whatever. But all they wanted were fruits, sandwiches, and plenty of water."
Be ready to schlep a big rig: Even weightlifters need a little help. And some of this gear you're lugging around is going to require more than one trip between car and game room. PC case modder Nicolas Falzone says that while some shows offer dollies to transport gear, he's wishing he had his own. Elaborate cases can weigh over 100 pounds, and that's not including keyboards, monitors, and other peripherals. Y'know, at times like this there's no shame in bringing a gaming laptop.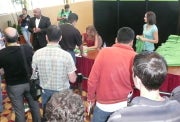 Pack a camera: Okay, hardly the most practical tip, but any given LAN event has many Kodak moments. Granted, this past week's party at nVidia's nVision was more of a spectacle than most. I mean, between the Maserati and the hordes of people who lined up for hot Cylon Tricia Helfer (Number Six, from Battlestar Galactica), I could've filled a memory card.
One last tip: Enjoy the long weekend!
Senior Writer Darren Gladstone geeks out over gadgets, games, and odd uses for humdrum tech. In other words, he's a nerd–and he's okay with that.