We are all byproducts of a movie that came out over 30 years ago: Star Wars. It gave birth to the nerd generation and gave everyone a common ground. Heck, Microsoft Word's spelling checker has "Anakin" in the default dictionary. So it seems only fitting with all the Force flying around lately (Star Wars: Clone Wars hit the big screen last month and a TV series is on the way), PC World's weekly slackfest celebrates the next installments in George Lucas's saga.
On September 16, Star Wars: The Force Unleashed hits store shelves. This Direct-to-DVD-ROM tale chronicles what happens between Episode III: The Revenge of the Sith and Episode IV (you know, the real first movie). The faithful will love the fact that it connects many dots between the two film trilogies. After Anakin dons the infamous black mask, the Jedi scatter to all corners of the galaxy to survive, and Vader harbors a secret Sith apprentice to do his dirty work. We learn of the rebel alliance's origins. We see how many of the characters and places throughout the Star Wars universe connect with each other. In fact, I can now safely say that the entire Star Wars universe is like playing The Six Degrees of Darth Vader.
But more than that, it's a good story with some solid acting. Sam Witwer, who plays the apprentice, actually conveys a lot on screen without coming across as stiff. David W. Collins (who voices robotic sidekick Proxy) also brings a little C-3PO-esque levity to the action. And despite all the plot twists, you keep glued to your seat wondering which direction the story will take–even though you kind of know. It's about losing your way and choosing between revenge and redemption: The mantra for all things Star Wars.
Oh, yeah, and it's a video game.
This brings up a bigger point. The original Star Wars trilogy was priceless. Since then we've gotten Episode I: The Phantom Menace (the equivalent of watching a movie about turning C-Span into a video game; think about that one for a sec…), and the subsequent movies that could be classified as slight disturbances in the Force. Meanwhile, many people are overlooking some good storytelling in games. The Force Unleashed is a great example what can happen when the right elements come together. And yes, harnessing the power of current-generation game consoles only helps its case with uncanny physics and eerily intelligent A.I. (courtesy of Pixelux's Digital Molecular Matter and Havok Physics for the first, and Natural Motion's Euphoria software for the second).
Feeling the Force
Okay, so The Force Unleashed game is more than a week away, and I've teased you enough. What can you do right now? For starters, download the demo currently available on Sony's PSN and Microsoft Xbox Live service. Although it's just a tech demo, it gives you a taste of what's in store. Some might not dig the controls, but at least you know what you'll be getting before you consider dropping $60 on the full game.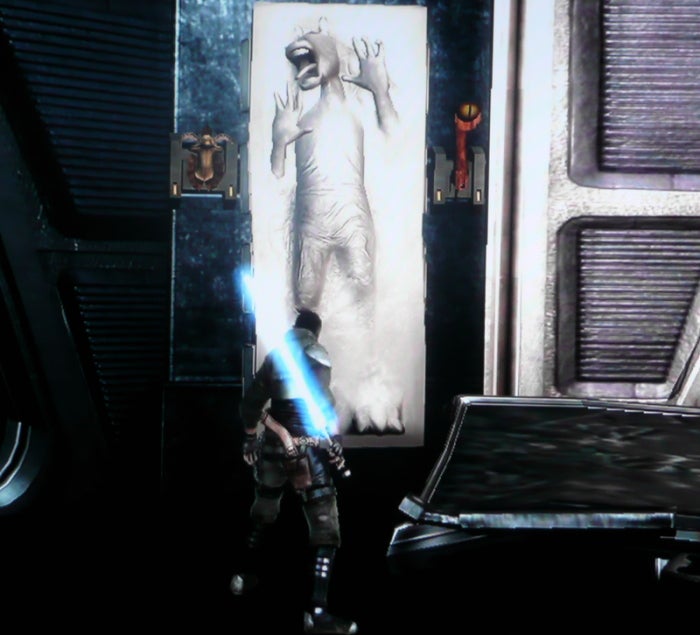 But have you ever played Star Wars: Knights of the Old Republic (KOTOR)? Or KOTOR 2: The Sith Lords? Both of those epic games are filled with deep stories and huge plot twists that rival just about any movie I've seen–and I've seen plenty. You could find either of those role-playing titles in a bargain bin, and it'll wash away the foul taste of Jar Jar Binks having ever existed. These should have been movies.
I also want to provide a couple other Star Wars-centric hookups to help you through the last day of a short week. First up, some new desktop images. A contest at worth1000.com had artists compete to re-do various Renaissance and Old Master classics around Star Wars–take a look.
Another Web site that you need to visit is TheForce.Net. The fan films section is loaded with info and clips. Here, you can find a "classic" fan film tribute to Star Wars: Troops. I've seen this day-in-the-life-of-a-stormtrooper video a billion times, and it never gets old.
Ditto for the parody Chad Vader: Day Shift Manager. The eight-episode run tells the story of Darth's slightly less successful younger brother, who manages a grocery store. (Fun fact: The guy who voices Chad Vader also voices Darth in The Force Unleashed.)
Another favorite, Atom Films, has hosted a Star Wars fan film challenge since 2002. Among this year's finalists: Padme, a mashup of Juno and Star Wars and a special-effects Sith battle called Contract of Evil.
Well, until next week, may the Force….you know…
Senior Writer Darren Gladstone geeks out over gadgets, games, and odd uses for humdrum tech. In other words, he's a nerd–and he's okay with that.