Mash-ups and remakes. You've heard the terms for ages when it comes to music and movies, but video games? Yep, even there, you can find some oddly refreshing takes on old games if you know where to look. Earlier this summer, I compiled a short list of my "top free games"; and at the bottom of last week's column, I tossed in a couple more choices. But today, I'm all about giving new life to old games…or in some cases old life to newer games.
For some time now, enterprising people have been combining classic video games in funky ways. Take Duck Doom Deluxe. This simple game is a mash-up of Duck Hunt (for the Nintendo Entertainment System) and Doom. You aim Doom weapons at the screen and plaster poultry in midflight. Miss, and the annoying digitized dog from the old NES classic mocks you from behind the brush.
Other games are straightforward remakes of individual classics. You can go to Web sites such as Retro Remakes that focus on celebrating the past. And these sites provide countless links to other projects–some that are new, and some that have been kicking around for years. I still occasionally go back and play Armagetron Advanced–a 3D remake of the classic light cycle races from the original Tron arcade game (and the movie, if you want to get all technical). Play against the AI or head-to-head in multiplayer matches.
I also happen to be a huge pinball junkie, so Future Pinball is a frequent destination. Imagine a 3D construction set that designers can use to assemble fantastic-looking pinball tables. Some people craft new pinball games from scratch, while others re-create the classics–and all of their creations are free for fans of the ol' silver balls.
And then there's the demake. What the heck is a demake? Honestly, I think it's an ingenious invention of the fine folks at The Independent Gaming Source. TIGSource.com is a fertile spawning grounds for great up-and-coming indie game developers–and it regularly holds contests. Derek Yu's idea: Get readers to create "unofficial remakes of games made to look as if they were created on older hardware." What if Tony Hawk had originally come out on the Atari 2600? How about the PS2 classic Shadow of the Colossus recast as a TRS-80 game?
Just check out the 69 entries in the Bootleg Demakes Competition. Not every one is a full game, but many of them are odd enough to try anyway. Oh yeah, and they're all free. A couple of my favorites from the list:
Fillauth: Admittedly I have an unnatural love for the postapocalyptic role-playing game Fallout, but someone put a lot of effort into producing a low-fi remake of a classic RPG–and that's worth a thumbs-up from me. Fillauth gets a second thumbs-up for its overly pixelated presentation of violence from the original game.
Hold Me Closer, Giant Dancer: That Shadow of the Colossus remake I mentioned earlier? This is it. Climb up and defeat giant boss monsters in glorious 2D. You get a full game here–and a level editor in case you plan to craft your own creatures.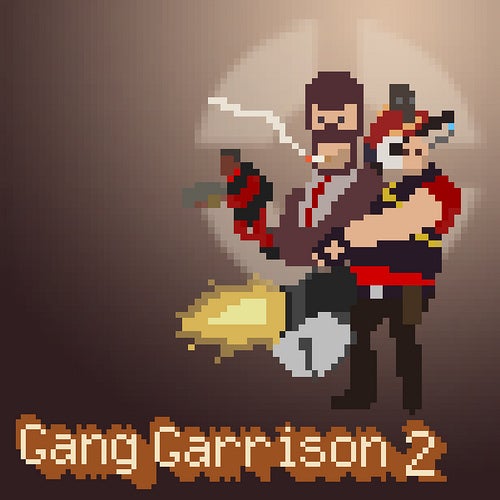 Gang Garrison 2: This, in a nutshell, is what happens when Team Fortress II goes 2D. It may not have all the frosty graphics and 3D sheen of the full version, but it translates surprisingly well (much like the old-school online multiplayer shooter, Soldat). So fire up a multiplayer server and get to it.
Soundless Mountain II: Thriller games with bone-chilling images and 3D graphics are designed to make you jump, but an eight-bit Silent Hill? Yep, with a masterful mix of moody music and great graphics, this game's a killer. If this had come out back when I was kid, I'd still be hiding under the bed.
Heroes in Guitarland: Take the idea for Guitar Hero and plant it back in the days of the NES. What would you get? Maybe something like this. You get only one song with two difficulty settings, but there are promises of an updated version of the game with more songs following the competition. I can only hope.
And those are just a few of the good ones. I mean, I didn't get to talk about the remake of the next-gen console game Haze that plays like Ikari Warriors (Smaze) or the 2D, side-scrolling version of Rez (Overscan). But I'm out of room.
Until next time….
Senior Writer Darren Gladstone geeks out over gadgets, games, and odd uses for humdrum tech. In other words, he's a nerd–and he's okay with that.