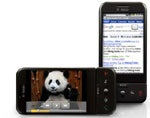 After months of hype, the first Android phone is finally here. T-Mobile unveiled its Google-powered G1 phone Tuesday morning, putting an end to all the speculation.
You don't have to dig through all the specs and in-depth announcements, though — we've broken down all the biggest questions and answers for you right here. Read on and get the information you need.
When's the G1 going to be available?
The T-Mobile G1 will be in T-Mobile stores and "selected retailers" in the U.S. on October 22. Existing T-Mobile customers will soon be able to pre-order the phone online. The G1 will launch in the U.K. in early November and throughout Europe in the first quarter of 2009.
How much will it cost?
The price of the G1 is actually a little lower than what had previously been rumored. Pricing will start at $179 with a two-year T-Mobile contract.
How much are the data plans?
T-Mobile is offering two data plan options: a $25/month plan, which includes unlimited Internet usage and limited messaging; or a $35/month plan that upgrades to unlimited messaging. You have to sign up for one of T-Mobile's voice plans as well.
What's the deal with 3G coverage?
T-Mobile says its third-generation 3G network will be live in 22 markets by the time the G1 launches. That will include all major metropolitan areas and encompass 80 percent of the projected consumer base. The G1 phone will be available in areas not covered by 3G, as the phone also supports T-Mobile's EDGEnetwork.
Does the phone work with Wi-Fi?
Yes, the T-Mobile G1 will work over Wi-Fi connections.
What kind of navigation system does the G1 have?
The T-Mobile G1 features an iPhone-like touchscreen that lets you swipe across to navigate through menus and long-press to open options or drag-and-drop files. It also has a pull-out QWERTY keyboard and a navigation trackball.
What music options are built into the phone?
The G1 comes with integrated Amazon MP3 functionality, letting you surf through the site's music store and do one-click ordering. Its default music player has options to search for related material on services such as Google or YouTube while a song is playing. Of course, a third-party app could ultimately replace that player if you so chose.
What instant messaging options are offered?
This first Android phone has Google Talk built into the platform and also supports AOL, Yahoo Messenger, and Windows Live Messenger.
Will the G1 function as a tethered modem?
The team indicates the G1 will not have tethering functionality as of now.
What about Microsoft program compatibility?
The Android platform supports Word and Excel documents, but does not offer Exchange integration (enterprise e-mail). The Google team, however, indicated that third-party developers will likely create applications for these purposes in the near future.
What browser comes with the system?
Android's default browser is an open-source browser (WebKit) based on the same foundation as Chrome, though it is not branded as such. Engineers describe it as a Chrome-like program that's optimized for the small screen.
Will the G1 will limited to T-Mobile?
As of now, T-Mobile says the G1 will be SIM-locked to its network.
What kind of Google functions are integrated into the phone?
The Android platform has integrated Google Maps functionality. Within your contact list, you can click on an address and instantly have it mapped on Google Maps.
Google Street View also lets you get 3D images of landmarks based on your location. You can activate a "compass mode," which allows the Street View image to progress in real-time based on your own actual movement. You can access directions and traffic information from many menus.
The G1 also has a Google search button built into the QWERTY keyboard that lets you perform contextual search from any program. Direct YouTube searching is included in many menus and programs as well.
Is Gmail built into the platform?
The G1 does have Gmail options included that let you sync e-mail, calendar, and contact information from the service to your phone.
What's up with the app store?
The app store for the G1, called the Android Market, will let any developer create and upload an application for the platform without any approval process. It's based on a YouTube-style user ratings system, so content ranking will be based on user feedback. Neither T-Mobile nor Google plans to moderate the store or "ban" any applications.
What kind of apps will be available?
Google says more apps will become available over the coming months as developers submit their work. As of launch, "dozens" are said to be up for grabs. Some of the highlighted options include ShopSavvy, a program that turns your phone into a barcode scanner able to read UPC codes and deliver instant price comparisons; cab4me, a program that finds and secures you a cab based on your current location; iMap Mobile, a location-based interactive weather system; PedNav, a location-aware app that helps you find the best walking route or public transportation routes to any destination; and Ecorio, an app that lets you record your "carbon footprint" and find ways to do less damage to the environment based on your own day-to-day routine.
When will the Android code become available?
Google says the entire open source code will become available once the product launches in October.
Is the G1 going after business users or personal users?
The G1 team indicated it's expecting more consumer than enterprise users.
There you have it — the ins and outs of the heavily anticipated Google Android phone. Will it live up to the expectations? You'll have to be the judge of that. Your chance to check it out starts next month.