With better broadband speeds and advances in server center technology, sites that are willing to host large amounts of your data are popping up everywhere, and some are free. Other sites take your photos or other content and help you turn them into something fun to watch and listen to. We rate these sites on how secure and inexpensive they are, how much data they will store for you, and the quality of the product that results from working with your content at the site.
Storing and Sharing Content

Drop.io: Here, you can dump up to 100MB of pictures, video, audio, doc­­uments, or whatever into a personal folder, and then share the URL (it would look something like 'drop.io/yourname1') with family or friends. It's supereasy to use, and my favorite hosting and sharing site.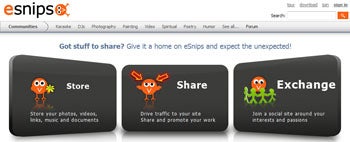 eSnips: At this center for social file sharing, you can store cool content, from documents to music tracks, online, and then easily access your "snips" at a later date and share the content with other users. But what makes eSnips different is that it's really a social network that provides users ample opportunity to discuss the things they're storing and sharing.
Publish Your Stuff
But storing and sharing is just one piece of it. A new breed of sites is making available to users some powerful tools that allow you to transform your content into cool new forms, like multimedia presentations, and then provide a platform on which you can publish the stuff to your Facebook page or your own Web site.

Picasa Web Albums: Flickr is so 2007. Google's Picasa Web Albums does the same kind of stuff (that is, organizing and sharing your photos), with a smarter and friendlier interface.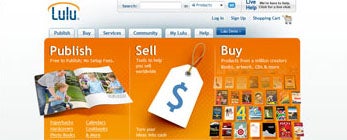 Lulu: You're a genius, and your book is brilliant–the world just doesn't know it yet. Go to Lulu, which will help you self-publish hard copies of your masterpiece at reasonable rates. Its services range from design to marketing.

Animoto: Animoto takes your still photos and stitches them to­­gether into a little animated film using cool effects, and then adds music. It's free and easy to use, and the result is well worth the small effort.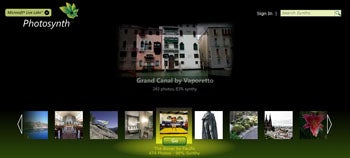 Photosynth: If you really want someone to experience what it's like to visit a place you've been to (a foreign city, an art gallery, a local pub, whatever) this site–developed by M­icro­soft's Live Labs research arm–assembles your digital photos to create a high-res 3D walk-through that people can enjoy via a Web browser.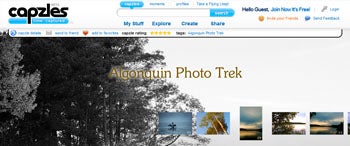 Capzles: Here you can make digital slide shows on steroids. Capzles creates highly controllable and information-rich slide shows of your photos, complete with background images and music.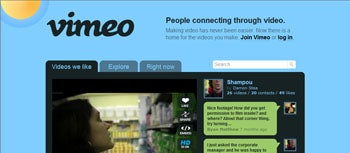 Vimeo: Vimeo is arguably the best video sharing and hosting site right now because of its generous file-size allowances, as well as its focus on professional-grade filmmaking from people who live and breathe it. Worth checking out.

Sprout: Sprout is the easiest way to assemble your own Flash-style widgets, which you can then embed in your site or blog.
Return to the " 100 Incredibly Useful and Interesting Web Sites " main story.