Being bedridden for a couple days gives you a new appreciation for old fixations–in my case, game shows. Somewhere between shouting answers at the boneheaded contestants and heckling the smarmy know-it-all hosts, I realized I needed a bigger piece of the action. I needed to play–heck, why not be the boss and come up with some of my own game-show-caliber questions? Are you ready for this week's Casual Friday column? Come on down!
Let's try something a little different this week. (I'm blaming the cough medicine.) Instead of making you read through my whole column first–of course, I'm not about to stop you if you do–I'm giving you a link, up front. Play my quick eight-question Casual Friday Nerd Quiz.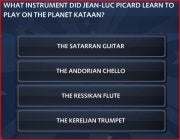 How did you score? (Sorry, no prizes.) Here's the deal: Buzz Quiz TV came out for the PlayStation 3 this week. It does its best to mimic a game show with four cheesy plastic buzzers, a bunch of trivia questions, and an uncomfortably extra-Velveeta-y host. (But aren't all game-show hosts like that?) Now, I know that a bunch of video games have tried to put players on the stage seeking big imaginary money and big make-believe prizes–and this one is no different. The decent mix of options will have you going solo, competing against four friends, or engaging in a "Sofa vs. Sofa" brain bowl over the Internet.
The 5000-odd questions that come in the game will last you only so long, of course. That's the problem with any quiz game; Trivial Pursuit got old the second you heard the same question twice. The difference here is that you have more questions coming every day. For starters, you can download extra content packs (costing between $6 and $8) from Sony's PSN store–but even better, the game also has a community page at mybuzzquiz.com.
There, you can craft your own eight-question quiz just as I did and share it with the world. Or limit it to your pals, if you prefer. Players can enjoy the quizzes directly inside the game or through the Web site. You can take tests made by other players, rate them, and then maybe submit a couple of your own. That part actually gets me really excited–so long as some maniac isn't coming up with goofball tests and loading 'em with the wrong answers labeled as "correct." (Hmmm, that gives me an idea.)
Sony is also launching a pint-size version of the game, Buzz Master Quiz for the PSP. Its 3000 questions may help you through your next few flights, but at some point you might need a change of pace. After all, Buzz is just liberally borrowing from game shows that you've been watching (or playing) all your life.
The Jeopardy Years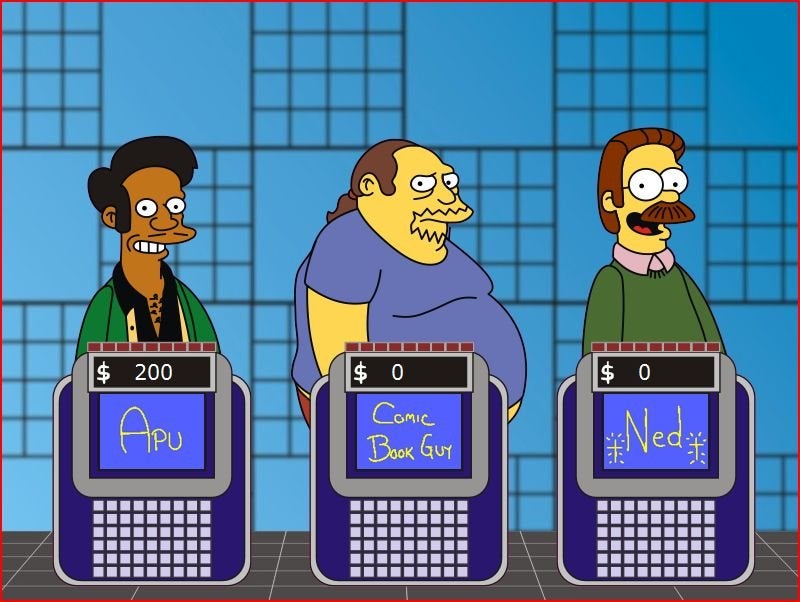 Converting popular TV game shows into board- and video-game form is nothing new. Heck, I have vivid memories of playing Jeopardy on an Apple IIe. And since then, I've gone out of my way to find new places to get my trivia-busting fixes. Here's an old, obscure freebie for you: Simpsons Jeopardy. It was originally a board game, and someone turned it into a freeware tribute.
Want a slightly less cartoony take? A downloadable version of Jeopardy exists on the PlayStation 3 right now, but it's about as much fun as trying to guess an audio Daily Double of Ben Stein reading an expense report. And no Alex Trebek? For all the attempts to make you feel like you're on the show, this version makes you want to change the channel. Fast. Speaking of which, other game shows keep coming–and they aren't doing so hot, either. The Price is Right is out on cell phones, the PC, the Nintendo Wii, and the DS. And not one of those versions seems worthy of a $1 bid.
Maybe I'm looking at this the wrong way. Maybe the problem is that I'm not in it for a big payoff. Some Web sites offer the chance to mix it up with online competition. WorldWinner.com provides play-for-cash versions of everything from Family Feud to arcade games. It's an interesting business model, for sure: You play skill-based games and compete for money in tournaments. In case you're wondering whether these guys are on the up-and-up, WorldWinner's games appear on such "small" sites as AOL, the Game Show Network, MSN, and Pogo–to name a few. (One interesting little side note: Catch 21 started as a game on the WorldWinner site, and GSN picked it up for a TV game show.)
Speaking of game-show networks, the Xbox 360's fall update for its Live service includes a game-show channel, called Primetime. It's the result of a partnership with television producer Endemol. The channel looks set to come to four territories–North America, Germany, the UK, and France–at first. So, are you ready for some massively multiplayer rounds of 1 vs. 100 (which will be available at launch)? No confirmation as to whether this version will be Saget-less, but you will have a shot at competing for real-world prizes. As cool as that may sound, the new Live service isn't live quite yet. I need instant gratification. And maybe a couple more Dayquils.
I'm gonna go pass out now, but tell me what you think of the quiz I put together. Maybe write a few of your own while you're there–I need more trivia questions.
Until next week…
Senior Writer Darren Gladstone geeks out over gadgets, games, and odd uses for humdrum tech. In other words, he's a nerd–and he's okay with that.