Think what would happen at the airport if every plane tried to take off at the same time. Chaos, that's what. And yet that's the situation when a Windows PC boots: Every installed program tries to run itself at virtually the same time. As a result, your once-peppy machine can take five or ten agonizing minutes to start up. What you need is a little air-traffic–make that software-traffic–control.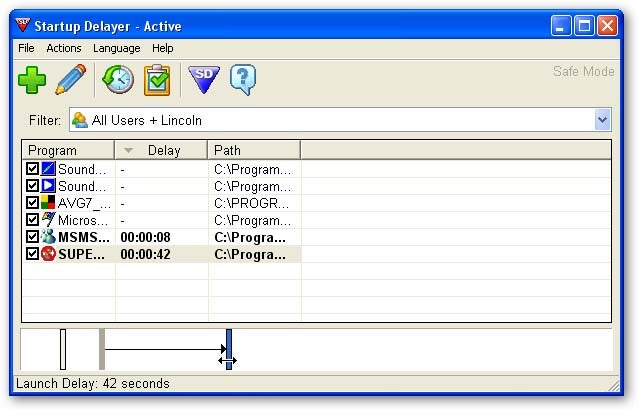 Enter Startup Delayer, which does exactly what its name suggests: delays startup programs so they don't run until later. The end result: your PC boots much more quickly.
The utility presents you with a list of all the programs that start when your system does. To set a delay for any of them, just drag it to the white bar at the bottom of the window. You'll see a line representing the program; drag it left or right to decrease or increase the delay. Repeat this for other programs you want to postpone.
For example, if you have iTunes installed, you'll see a startup program called iTunesHelper.exe. Unless you plan to connect your iPod or run iTunes the moment your PC boots, why not delay this applet for four or five minutes? Same goes for things like LightScribe Control Panel and Google Update. Delay those for, say, seven minutes and eight minutes, respectively. Don't mess with programs you don't recognize, which might be integral to system operation, but the devils you know can easily be put off till later.
Startup Delayer is a freebie, and it's the best way I know of to speed up a slow-booting PC. It's a must-have for anyone who installs a lot of software.