The Internet was built on a very simple idea: People should be able to communicate more easily with one another, using their computers. So it should be no surprise that communication–particularly in the form of e-mail and instant messaging–is still at the heart of why most people go online.
We've rounded up 16 great downloads to help you communicate better through e-mail and instant messaging. They'll help enhance the way you use e-mail (whether it's Web-based or handled in software on your PC), and they'll power up instant messaging chats, too. So if you want to be known as the Great Communicator, read on.
Note: To find all of the files in this story in one convenient place, see our "E-Mail and Instant Messaging Boosters" downloads collection.
E-Mail Software
Most people live in e-mail these days. We have downloads to help you get even more out of it. Whether you want to kill spam, improve the management of multiple e-mail accounts, or use free e-mail software that's better than your current program, here are our suggestions.
Thunderbird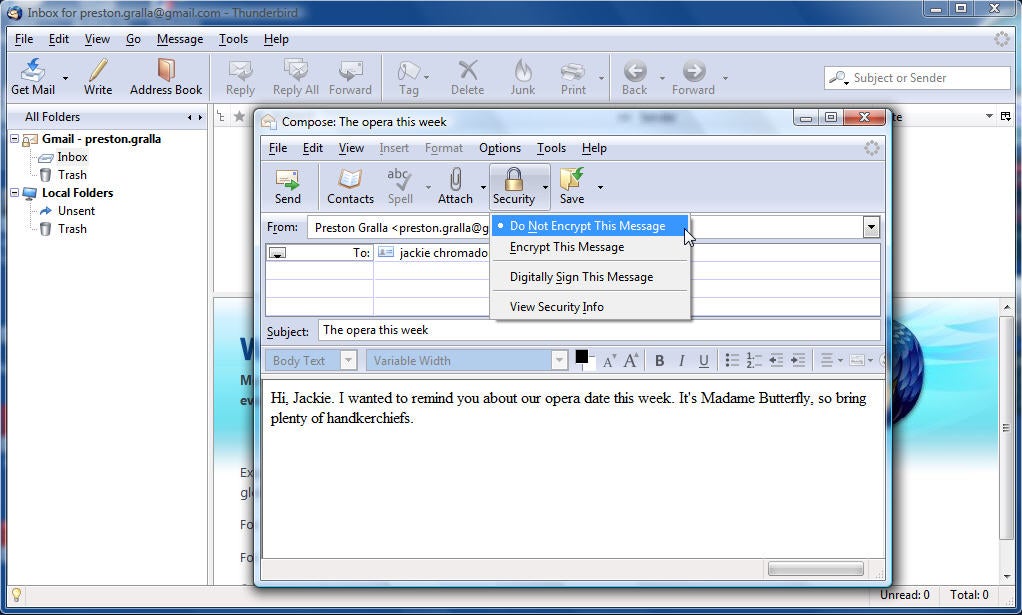 Are you unhappy with Outlook? Or are you unwilling to pay its price, and you're underwhelmed with Outlook Express? Give the free Thunderbird a look. This e-mail client from Mozilla–the same folks who bring you Firefox–is simple to use and offers plenty of the high-end features you'd expect from a top e-mail program, including the ability to encrypt and digitally sign messages, as well as to create filters so the app can automatically handle mail when it arrives.
Setup is a snap: If you already have e-mail software, Thunderbird will import your existing settings. Creating a new account is similarly easy, and the process even includes setup screens for Gmail, which can be difficult to set up with other e-mail clients.
It isn't an all-around personal information manager like Outlook–it has no calendar, for example, and you can't create to-do lists. But if all you want is e-mail, it's a winner. It will even handle RSS feeds and newsgroups, so you can keep up on the latest blogs, news, and discussions. If you're not happy with your current e-mail software, it's well worth the free download.
Download Thunderbird | Price: Free
Windows Live Mail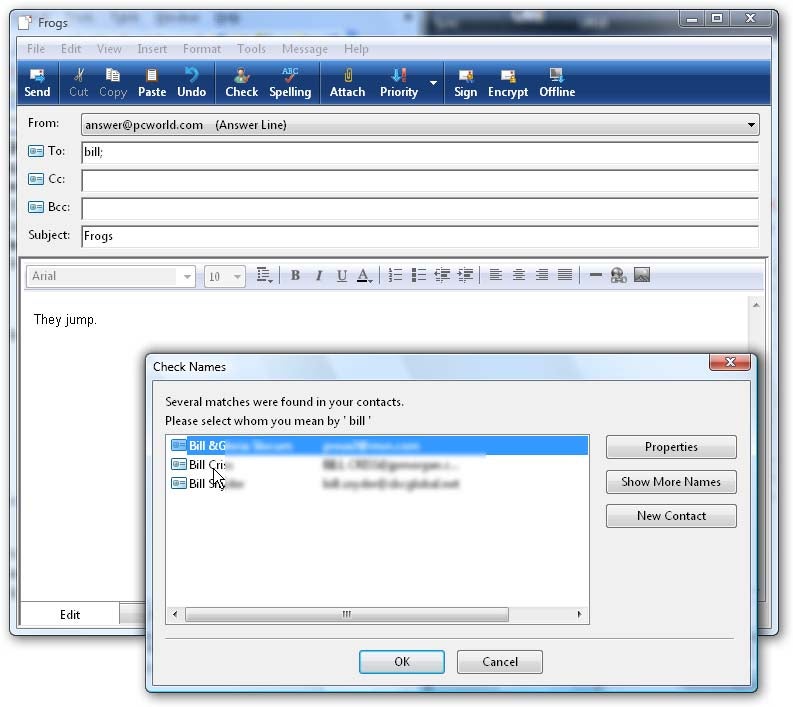 Windows Live Mail, the newest addition to Microsoft's e-mail lineup, is the successor to Outlook Express (shipped in versions of Windows before Vista) and Windows Mail (included with Vista). Neither Outlook Express nor Windows Mail will ship in future versions of Windows; anyone who wants a free e-mail client in Windows 7 will have to download Windows Live Mail. It's very much like both of the older programs, and it shares the same pluses and minuses. On the plus side: Setting up new accounts and using the app are both quite easy, and it includes lots of features for dressing up e-mail, such as stationery, emoticons and pictures, background colors, and font sizes. The program also lets you read RSS feeds and participate in newsgroups.
On the minus side, though it does offer encryption, it lacks other higher-end features such as automatic filtering of incoming mail. It doesn't include a calendar or to-do list, either; if you want that from Microsoft, you'll have to buy Outlook.
By the way, if all of Microsoft's e-mail software and services make you thoroughly confused, join the club. Aside from Windows Live Mail, Windows Mail, Outlook Express, and of course Outlook, the company offers Windows Live Hotmail (Web-based e-mail) too.
Note that when you install Windows Live Mail, it will make Live Search your default search engine and MSN Home your default home page in Internet Explorer, unless you uncheck the appropriate boxes.
Download Windows Live Mail | Price: Free
MailStore Home

Almost any e-mail software you use has two very big drawbacks: Backing up e-mail is exceedingly difficult, and you can't search for e-mail messages across multiple clients.
MailStore Home solves both problems, since it imports messages from multiple mail systems and software programs, stores them in a central location on your hard disk, and lets you search through everything simultaneously. The search is exceedingly fast and quite sophisticated. For example, you can search by subject, message body, folder, and attachments. Once you import all the e-mail, you can also back it up by burning to a CD.
MailStore Home imports and backs up e-mail from Microsoft Outlook, Thunderbird, Windows Live Mail, and other programs. If you import from POP3 and IMAP accounts, some limitations apply–for example, you can import only your inbox. Additionally, you won't be able to import Outlook .pst files directly; instead, you'll have to import folders individually, which can take some time.
Those are minor quibbles, though. MailStore Home is a very good program for anyone who wants to search through multiple e-mail clients and services and back them all up.
Download MailStore Home | Price: Free
MailWasher Pro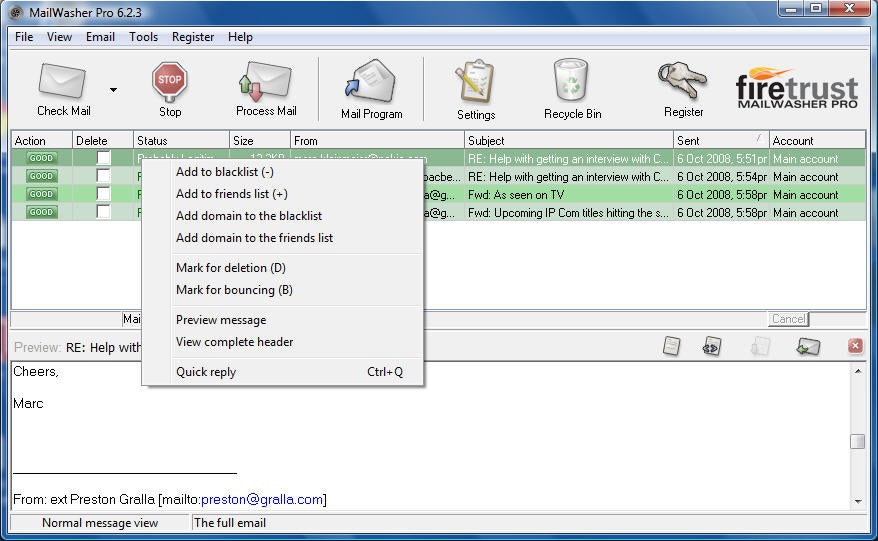 What's the most annoying thing about e-mail? Spam, of course. Plenty of spam killers are out there, and this is a solid one. It doesn't integrate with your e-mail software; instead, it directly contacts your mail server and stops spam before the junk reaches your inbox. The utility flags spam and then lets you delete it, or tells the mail software to let the message through. You also have the choice of bouncing the spam back to the sender.
MailWasher Pro works with virtually any e-mail software, and it's configurable. You can create customized filters, such as blacklists and whitelists, for identifying spam. The software learns from you, so it gets smarter over time, and it does basic virus scanning too. You can also read mail within the program, so it works as a kind of mini e-mail client.
Download MailWasher Pro | Price: Free
ePrompter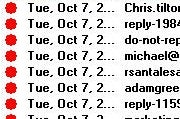 Since so many free Web-based e-mail programs (including Gmail, Yahoo Mail, and others) are available, many people use multiple accounts. That's certainly useful, but it's a pain as well. Manually checking each account a couple times a day is a productivity killer if there ever was one.
ePrompter solves the problem neatly. It automatically checks all of your Web-based e-mail every 15 minutes and alerts you when you have new messages. You can have it monitor up to 16 different accounts. You don't even have to log in to the different Web-based mail systems to see your inbox, read your messages, and respond to them–you can do all of that from directly within the program. You can delete mail, as well.
I had problems getting Hotmail to work with this software. If I identified it as Live Mail, it worked, but another time it wouldn't. But ePrompter is free, and it works fine with other Web-based mail services, so it's certainly worth a try.
Download ePrompter | Price: Free
POP Peeper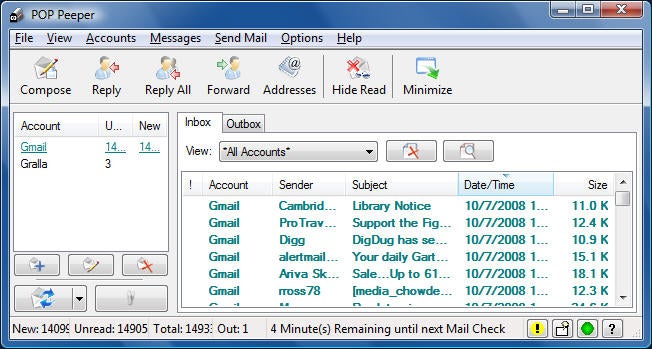 Here's a great tool for checking all of your e-mail accounts, whether they're Web-based (like Gmail) or POP 3 accounts (common among e-mail providers). It works with just about any Web-based mail service or ISP, including Gmail, Hotmail, Juno, Yahoo Mail, and many others.
After a brief setup procedure for each account, POP Peeper checks your mail regularly and alerts you when new mail comes in. You can get video and audio alerts, and customize different sounds for each of your accounts. The utility is small enough to use as portable software–just install it on a USB thumb drive and carry it with you.
And it does more than just notify you when new mail comes in: You can read, create, and delete mail inside it, too. You can even send or open file attachments with it.
Download POP Peeper | Price: Free
Gmail and Outlook
Outlook is one of the most used e-mail clients on the planet, and Gmail is among the most used Web-based mail services. As to be expected, there's plenty of software to help you work with each. The following downloads add nifty features to Gmail or Outlook.
gAttach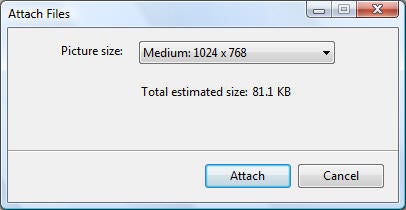 Because Gmail is Web-based, it suffers from one very annoying deficiency: It doesn't integrate with Windows. So you aren't able to right-click a file and then send it via Gmail.
gAttach solves the problem. Install the software, and from then on, whenever you right-click a file and choose Send To, Mail Recipient, it will create an e-mail in Gmail and attach the file to it. You then open Gmail, finish creating the message, and send it on its way.
You can set the program up to log you in automatically whenever you attach a file, or you can log in manually via your browser.
If you run into problems with the program, you might not have set Gmail to be your default e-mail application. To fix that, go to gAttach's options screen, choose the Computer & Internet tab, and click the Make Default button. If that doesn't solve your problem, go to the gAttach FAQs page for more help.
Download gAttach | Price: Free
Gmail Notifier

Just about any Gmail user will want to download and use this neat little freebie from Google. It automatically checks your Gmail account on a schedule that you specify, and displays an icon alert in your system tray when you have new mail. You'll also see the header of the message and a snippet of the text. To look at the mail, you'll have to open Gmail, so this isn't a mail reader. But for getting alerts, it's ideal.
Download Gmail Notifier | Price: Free
SyncMyCal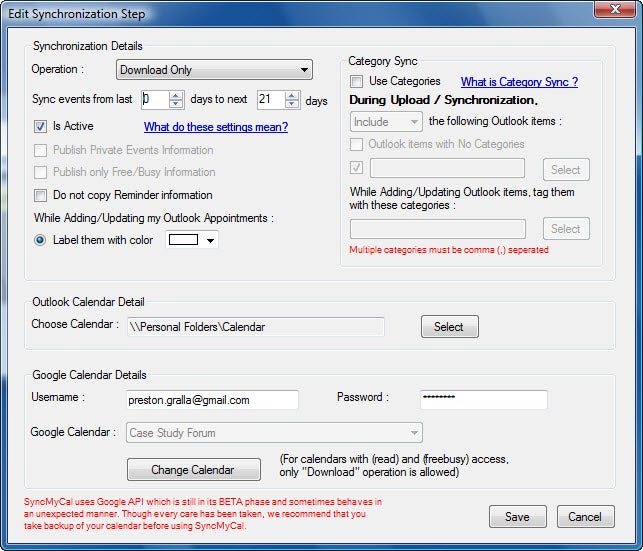 If you use Outlook's calendar for your personal items, but Google Calendar for a work or group calendar, you're in trouble. You need to check both calendars regularly, and you have to copy events back and forth between them–a time-consuming task that's prone to error.
This little utility synchronizes your Google and Outlook calendars and offers many different options. You can fully synchronize the two in both directions, or synchronize only your Google calendar to your Outlook calendar, or vice versa. Other options let you select how many days, weeks, or months of your calendar to synchronize.
The free version of this software won't perform synchronizations automatically; you'll have to tell the program to do it. And if you want to synchronize more than seven days of your calendar, you'll have to use the for-pay version.
Download SyncMyCal | Price: Free
SynchPST
If you use Outlook on multiple PCs, you might have noticed that it offers no easy way to keep all your e-mail in sync. You could try to copy Outlook's .pst files–which contain all of your messages–between PCs manually, but that's a recipe for disaster, since you'll most likely make a mistake and overwrite a new file with an old one, killing much of your e-mail.
This program will synchronize your .pst files so that you always have your latest messages on whichever PC you're using. It does more, too, such as copying and synchronizing individual folders instead of entire .pst files. Note that the makers offer two versions of this program, a basic one (registration fee is $40) and a professional version (registration fee is $70). The professional edition can schedule automatic syncs, works with Microsoft Exchange, and has other extras.
Download SynchPST | Price: $40
Instant Messaging and Chat
Instant messaging and chat are more direct and interactive ways of communicating online. But they have limitations, as well–you can't talk with people who use instant messaging software that's incompatible with yours, for instance. We have help for that, as well as for other things, such as video chat.
Trillian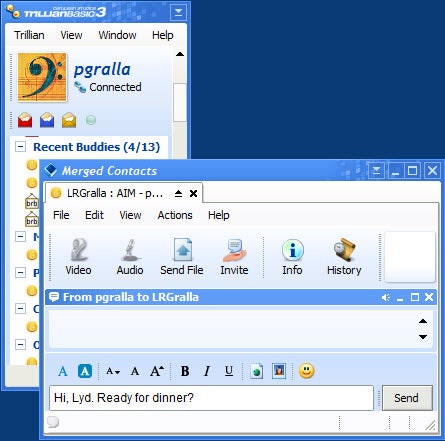 "Can't we all just get along?" That's the cry of many people who use multiple instant messaging apps. If you use AOL Instant Messenger (AIM), for example, you can't communicate with MSN Messenger or Yahoo Messenger users, and vice versa. Sometimes instant messaging seems to drive people farther apart rather than bringing them closer.
Trillian saves the day. Within a single interface, you can communicate with users of all the popular IM programs, including AIM, ICQ, IRC, MSN Messenger, and Yahoo Messenger. It also takes advantage of each program's unique features, including file transfers and audio chats. In addition, it keeps a message history so you can review all of your conversations, and it provides plenty of other nice extras as well.
Be aware that when you install Trillian, it will install a free piece of software from The Weather Channel, as well as the Ask Toolbar for searching. Make sure to uncheck those options if you don't want them.
Download Trillian | Price: Free
Pidgin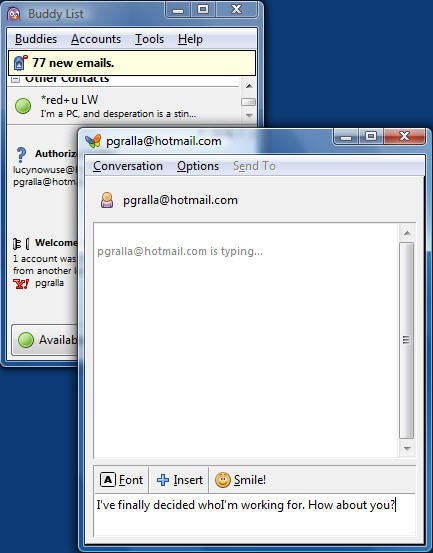 Like Trillian, this is a universal messenger, but it connects to even more IM systems, such as AIM, Google Talk, Groupwise, ICQ, IRC, MSN, and Yahoo. The list goes on, including services you've likely never heard of, such as Gadu-Gadu and QQ. As with Trillian, you can communicate on as many services simultaneously as you want. Pidgin tries to employ the capabilities of each different IM platform, as well, so you'll be able to send and receive files and use other features of the various systems.
Pidgin has plenty of plug-ins that you can download to extend the software even further, giving you new functionality such as the ability to store notes about a specific buddy or to customize colors in the conversation windows.
Download Pidgin | Price: Free
Camfrog Video Chat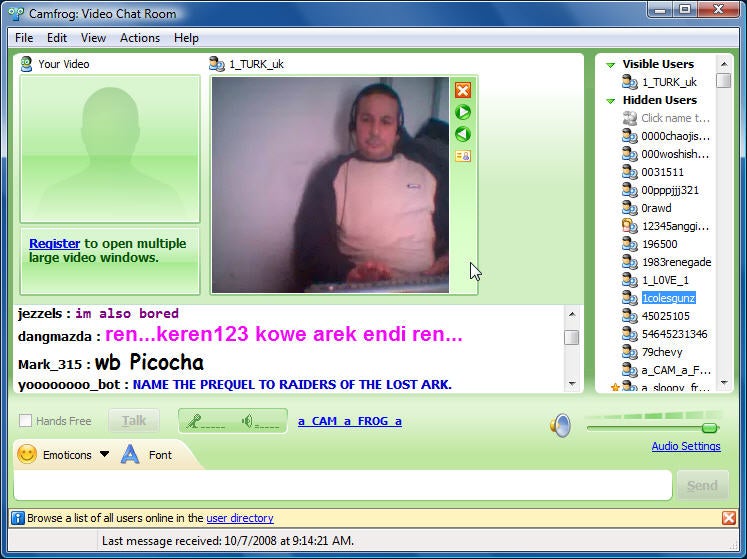 If you're interested in participating in group video chats, you'll want to give this program a try. It connects you to video-chat rooms around the world, where you can talk via your video camera, microphone, and keyboard. Thousands of video-chat rooms are available, and at this writing nearly 140,000 people have registered to use the program.
If you don't have a Webcam, you can still view video-chat rooms. And you can talk in the chat rooms through your microphone and keyboard, even without a Webcam. The chat rooms themselves are varied, with many reserved for specific interests. Be aware, though, that quite a few video-chat rooms are X-rated, so anyone with children should think twice before downloading this software.
When you install the program, it will install the Yahoo Toolbar for Internet Explorer, plus WeFi software for locating wireless hot spots; if you don't want them, remember to uncheck their boxes.
Download Camfrog Video Chat | Price: Free
PaltalkScene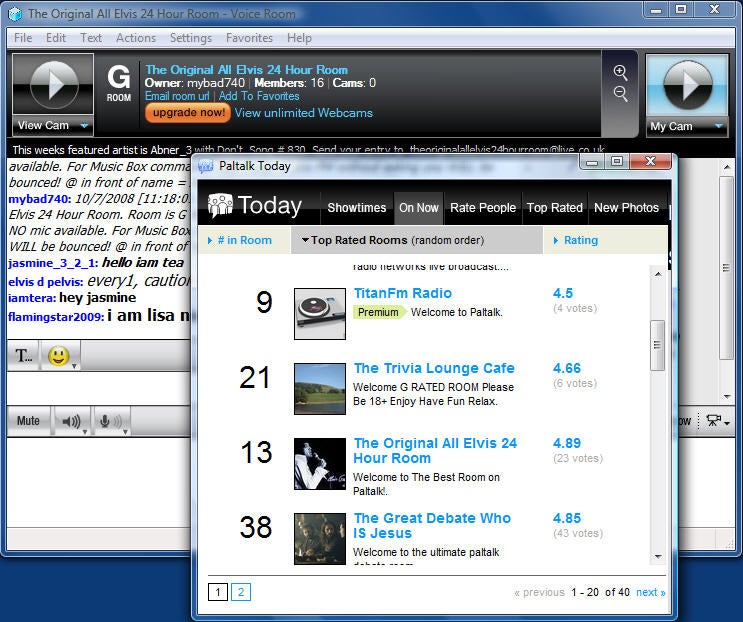 This chat client connects you to thousands of chat rooms that cover many hundreds of topics, everything from Elvis to politics to technology to trivia–in fact, just about anything you can name. Once you launch the software, you'll be able to browse all chat rooms or see a list of the top rooms from which you can choose. Just click the room you're interested in, and you're ready to go. You can voice chat as well as chat via your keyboard.
In addition to participating in public rooms, you can create your own private rooms. The program also includes instant messaging for one-on-one chats. In the free version you get unlimited text and voice chat, but you can view only 10 seconds of video chat. If you want unlimited video, you'll have to pay a monthly fee.
When you install PaltalkScene, it will install the Ask Toolbar for searching, so make sure to uncheck that option if you don't want it installed.
Download PaltalkScene | Price: Free
IceChat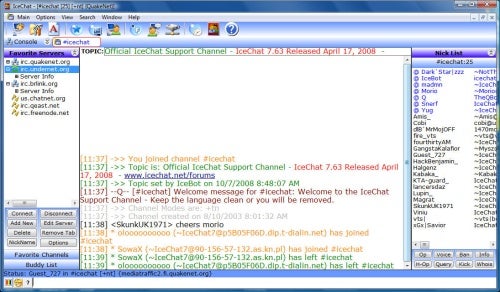 The old-time IRC (Internet Relay Chat) protocol is alive and well, with countless people using it for chats and exchanging files every day. IRC will never be accused of being easy to use; but with the straightforward and free IceChat, you'll be able to participate without a problem. You won't have to know special commands: Just run the program, connect to an IRC server and channel, and start chatting. If you're not clear on what to do, a toolbar full of icons lets you accomplish any IRC task.
Even with this program, IRC can be challenging, but the IceChat Web site has plenty of help. Particularly useful is this basics page, which is an excellent introduction to IRC.
Download IceChat | Price: Free
Skype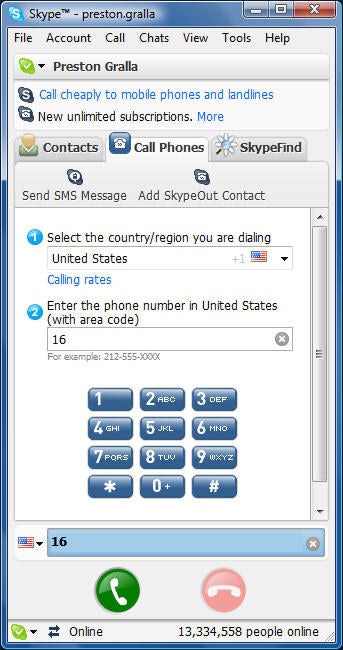 Here's the simplest way to save money on your phone bill: Use Skype. It lets you make Internet-based VoIP (Voice over Internet Protocol) phone calls for free to anyone in the world who also uses Skype on their PC, and it allows you to make inexpensive calls from your PC to landlines and cell phones worldwide. It's an instant messenger as well.
If you've heard of Skype but are worried that it's hard to set up, fret not. It will automatically recognize your headset, microphone, and speakers, so you don't need to worry about configuration. To call another Skype user, just enter a user name, and you're ready to go. You can also save a list of users, so calling them back is simple. To call landlines and cell phones, you need to set up an account and buy credit; whenever you make a call, you use some of that credit.
Skype also lets you video chat and text chat, and send SMS messages. The newest version of Skype features nifty integration with Firefox: With one click, you can call any phone number you see on a Web site.
Download Skype | Price: Free