You might remember Samsung for quirky nano-notebooks such as the Q1 UMPC. Think back, though: The same South Korean company struggled to make headway in the North American market a few years ago. Now, within the same week that Apple unveils its new laptop, Samsung announces several new portable lines of its own. Poor timing? Maybe, but the sexiest of the bunch, Samsung's NP-X360, is aimed squarely at the light-as-Air market. We don't have the machine just yet, but we can give you some initial impressions after seeing the NP-X360-AA02US up close. (The X360 comes in two preconfigured flavors, but I'll get to that soon enough.)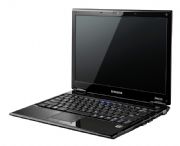 Most folks will notice the X360's strikingly slim profile. Measuring 12.2 by 8.9 by 0.6 inches, it's almost as paper-thin as the Air. In fact, I found myself thinking that it could pass as a PC cousin of Apple's ultraportable. What makes me say that? A bright 13.3-inch display capable of 1280-by-800-pixel resolution, a cut-out keyboard, the optional solid-state drive, and the machine's top-shelf pricing are just some of the reasons.
All of Samsung's full-featured laptops will launch with Windows Vista Business Edition (32-bit) and 3GB of RAM. This particular model comes with an Intel Core 2 Duo U9400 CPU.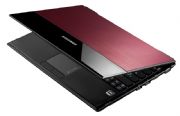 Unlike the Apple Air's aluminum aesthetic, the X360's magnesium alloy lid sports a two-tone red and black finish that's obviously meant to make you think of premium sports cars. The plastic interior, meanwhile, feels silky smooth to the touch. And the aforementioned keys have a satisfying tactile response. It's basically the same feeling as the first time you test-drove an Air (or tapped away on any high-end Sony VAIO in the past couple years). The point is, you either love or hate the cut-out key design. I love it.
Like Apple, Samsung shoehorns in a 1.3-megapixel Webcam and 802.11 a/b/g/n support–and, unfortunately, it also omits an internal optical drive. However, Samsung has a leg up on Apple in that its machine has many more ports; the X360 has not only a seven-in-one flash card reader but also three USB 2.0 ports, an RJ45 jack, and VGA- and HDMI-out.
As I said earlier, PC World doesn't have the X360 in house as of press time, but spokespeople promise that it will have 10 hours of battery life with the bundled six-cell battery (we'll see about that). As for the price, well, let's put it this way: You're paying for the diminutive design. The NP-X360-AA01 sells with a 120GB, 5400-rpm hard drive for $1899 while the 128GB solid-state version (the AA02) sells for $2499. To put that in perspective, Apple currently charges $1799 for a machine with an 80GB, 4200-rpm hard drive.
The X360 isn't alone, though. The slightly larger X460 (measuring 13.3 by 9.7 by 0.8 inches) beefs up with a 14.1-inch screen and an internal optical drive. The difference between the two preconfigured X460 models — starting at $1,599 –is minimal (swapping out an Intel Core2 Duo 2.0-GHz P7350 CPU for a 2.26-GHz P8400 and upgrading a 250GB hard disk for a 320GB one), but the cost is only $100 more for the step-up.
Samsung's Mini-Notebook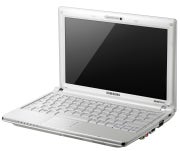 The other bit of "big" news from Samsung comes in the form of a tiny, 2.8-pound mini-notebook. The NC10, Samsung's entry into the sub-$500 market, has many of the same features as we've come to expect from current-generation mini-notebooks. Translation: It offers a 1.6-GHz Intel Atom processor, 1GB of RAM, a 160GB hard drive, and a 10.2-inch 1024-by-600-resolution display.
In short, it sounds (and, honestly, looks) a whole lot like Lenovo's IdeaPad S10, the main difference being that Samsung's unit ships with a six-cell battery and costs $499. When I asked point blank about what makes this machine stand apart, a spokesperson attested to its ample proprietary software (we'll have to get back to you on how useful–or useless–it is) and the fact that the entire mini-notebook was constructed from Samsung parts. Does that mean it's leaner, meaner, and better optimized? We'll let you know the second one of these new mini-notebooks shows up in our labs–before it hits store shelves in early November, we hope.