"Want to review this back shaver?" Scrolling through inboxes full of product pitches on a daily basis, PC World editors are swamped with all sorts of geeky–and in some cases, straight-up strange–gear submissions. (I'm serious about that back-shaver pitch I got from a PR person.) But there are plenty of things that we don't usually get to cover that we should. Did you get a chance to check out Tom Spring's early sneak peek at some sweet holiday gear? That's just the tip of the iceberg, my friends. This week's Casual Friday column is a gadget grab bag of some cool, useful, and goofy gadgets. All are 100 percent geek-approved. And if you're curious about what I want for the holidays, keep reading.
My Mouse Blues
I'm still trying to find a happy middle ground with mice. Do I want my mouse to be weighty, like a professional gamer's Logitech G9? Well, yes, but I also want it to work on any surface. That's where Microsoft's new BlueTrack Mouse comes into play: The company promises that this little critter will function on just about anything. Really? So if I ran it over hot coals, it would work? On a mirror? Okay, maybe not every surface, but I'm curious enough to want to try it out.
A Trip to the Carcade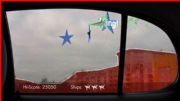 This one isn't a product pitch I've received–but I sure wish it was. Carcade is a concept project involving in-car video gaming for the vehicle's passengers. A Webcam reads how the driver is moving, and the game changes as a result. (Guess you won't see this option in NASCAR.) Imagine you're on a road trip, and on a window you can start shooting down space invaders. In the sample game, the player navigates a rocket. When the driver speeds up, the game gets tougher.
Son of a Gun
Fans go to great lengths to re-create all the cool things they do in games. Tom Spring beat me to it by mentioning in his story the awesomely ocular EyeClops–a ridiculously oversize tribute to the goggles that Sam Fisher dons in the Splinter Cell games. Though they profess to grant you night vision up to 50 feet, you'll need to use 'em in the dark because they look so ridiculous. What looks infinitely cooler is something I doubt I'll find on a store shelf anytime soon: One Japanese tinkerer who's apparently a huge fan of Metal Gear Solid 4: Sons of the Patriots created the Silver Wolf rubber-band gun. Check it out in action!
Retro Recordings
If you're anything like my dad, you have stacks of VHS tapes and a closet full of classic vinyl. Maybe you still have a couple of old Bananarama cassingles lying around. The point is, you have a ton of old media and you need to at least try to archive it. Ion-Audio makes USB turntables and VCRs that you can easily plug into a PC and use to convert the classics. After that, you need something like M-Audio's Torq Xponent–complete with turntables and cross faders–to be a proper digital disc jockey. DJ "skillz" not included.
Geek Seat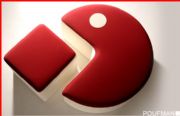 You know, I don't even need to go deep into this one: Poufman is an Italian-made seat that might look familiar…it'll come to you. If not, I'm revoking your nerd card.
Dork O'Clock
I have a thing for odd tech watches. No, I'm not talking about watching video on my wrist or having a USB thumb drive hidden in a timepiece. I mean, a watch that any nerd will nod at. Check out any of the watches sold by TokyoFlash. For years, these guys have made crazy watches that are harder to read than the fine print on your lease–but once you figure out how to read 'em, you never look at a watch the same way again. Want to kick it a little more old school? I was turned on to one ticker that resembles a cassette tape.
Mother Nature Approved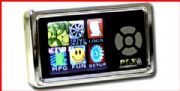 I love going green. Firebox.com sells biodegradable gear, including a full picnic set. Granted, your time is running out for picnic weather, but isn't it nice to know that you can leave behind everything–from the plates and cups to the blanket–and say, "I'm not littering, I'm saving the planet!" (Okay, maybe not what the creators had in mind.) Speaking of planet-saving, PLX's Kiwi is a little device that you plug into your car (provided that you have a car made in 1996 or later). The mounted kit analyzes your driving behavior and scores you. The results teach you how to get better fuel economy with what you're doing. It can give you advanced trip summaries, covering the gas used, how much it costs you, and more. You a car tech geek? It also gives engine readouts.
Concert Tee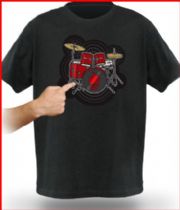 And then there's the Electronic Drum Kit T-Shirt. Say what? Yeah, I've always wanted to be in a band, but never felt like lugging around the gear. Good thing I found this battery-powered tee at ThinkGeek.com that lets me beat my chest to the beat. Take a look at this thing–it's an electric drum kit with seven different drums and cymbals to smack, and…well…you really need to see it in action to believe it. A word of warning, though: The built-in speaker and four AAA batteries weigh down these threads.
Until next time….
Senior Writer Darren Gladstone geeks out over gadgets, games, and odd uses for humdrum tech. In other words, he's a nerd–and he's okay with that.