Google has released its latest upgrade of iGoogle to all U.S. users called "full canvas views". What this means is that all those little widgets you see on your iGoogle can now be clicked on to expand across the entire page.
Not all widgets have this functionality yet, but most of them do. Some of my favorites include The New York Times, The Wall Street Journal, Google Calendar, Go Comics, TV Guide and Sudoku.
But there's also Flixster's movie gadget that lets you watch trailers, read reviews and synopses and Gmail of course. In addition to the widgets, the iGoogle tabs have been shuffled over to the left side of the page, which looks nice but seems to take up more space than necessary.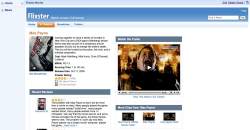 I have been using the new iGoogle for several weeks now as part of a test group and while there are some very frustrating downsides to the new iGoogle, the full canvas view does have its advantages. It may take a while to get used to how you navigate through the widgets: clicking on the widget title will launch the website it is connected to, but clicking on content or on the box in the right hand corner expands the widget into full canvas view. There are a few exceptions to this rule, but that is generally how you get around in the new iGoogle.
Most of these widgets work very well, Flixster is probably the most well developed that I've used with its functional video plugins and location-based showtime listings. The New York Times and the WSJ expand into a front-page style news digest; however, to read news items you are redirected to the paper's website.
While I like the functionality for a lot of the third-party widgets, I was surprised that Google's own widgets don't match up. The Gmail widget, for example, does not provide a satisfactory experience. Google admits that it's official widget is not fully functional, and since testing of canvas view started there have been improvements. You can read mail, compose, delete, archive and mark a message as read or unread, but amazingly all hyperlinks are dead within iGoogle.
This can be extremely annoying, especially if you get a newsletter or digest delivered to your inbox on a regular basis, and reading it requires you to get out of iGoogle. Why Google would not add this standard and simple functionality to their Gmail widget is beyond me, but hopefully they will fix that in time. Google Calendar also has its downside because you cannot add anything to it within iGoogle; however you can view everything you have scheduled in Google Calendar.
That being said, I do like the advantages that full canvas view provides to bring more content into one place. If you can get used to the navigation, the new iGoogle is a useful tool. The full canvas view is only available for U.S. users at the moment, but Google says it will roll out the new features to international users soon.