Choosing the best gaming laptop, especially in the $1,500 price range, isn't easy. It's quite the feat to sort through all the options in the midrange market and find a laptop with the features you need. Are you looking to conquer the latest AAA game releases with high frame rates and ray tracing? Or maybe you need an ultraportable that lets you work and play?
If you're unsure where to start, we're here to help. We've curated a list of excellent gaming machines that all come in under $1,500 to help take the stress out of shopping for your next laptop. We have extensive experience and hands-on testing with all of our recommendations. So without further ado, let us show you the best picks below.
To learn more about how we select our best gaming laptops, scroll below our picks to read all about our evaluation process. And for an even greater array of options check out our roundup of the best gaming laptops at any price point. Or check out the latest best laptop deals for savings on a new gaming rig.
Updated 08/17/2023: To include the Asus ROG Strix G16 as our new choice for best keyboard for gaming. Read our summary below to learn more about this stylish and functional new pick.
Lenovo Legion 5 Pro (2023) – Best overall
Pros
Handsome design
Excellent keyboard
Lots of connectivity
Strong CPU and GPU performance
Cons
Heavy and bulky
Mediocre display
Short battery life
Price When Reviewed:
$1,699.99
With its comfortable keyboard, diverse connectivity options, and strong graphics performance, the latest Lenovo Legion 5 Pro model is the total package as far as budget gaming laptops go. This rig comes equipped with an Intel Core i7-13700HX CPU, the new Nvidia RTX 4060 GPU, 16GB of DDR5 RAM, and 512GB of PCIe SSD storage. In our testing, the Legion 5 Pro churned out a screaming fast 130 frames-per-second when running the Shadow of the Tomb Raider benchmark, which far outpaces most other laptops in this price range. The keyboard, which manages to squeeze in a number pad on the right-hand side of the tray, is impressive as well. It provide plenty of key travel and a rewarding tactile snap as you type.
For gaming laptops connectivity features are very important. Many folks like hooking up to an external monitor, mouse, or other peripherals and you don't want to have to buy an expensive dock to be able to connect everything. Luckily, the Legion 5 Pro offers excellent connectivity. It's rocking a USB-C port with DisplayPort Alternate Mode and 140 watts of power, another USB-C port with DisplayPort but no power delivery, and three USB-A ports. That's a total of five USB ports—virtually unheard of among today's laptops. The ports are mostly rear-facing, which is perfect for cable management when the laptop is sitting on a work desk, too. You really can't get much better than that.
If you're on the hunt for a budget gaming laptop that can really deliver, the Legion 5 Pro is the one to pick.
Read our full
Lenovo Legion 5 Pro review
HP Victus 15 – Best budget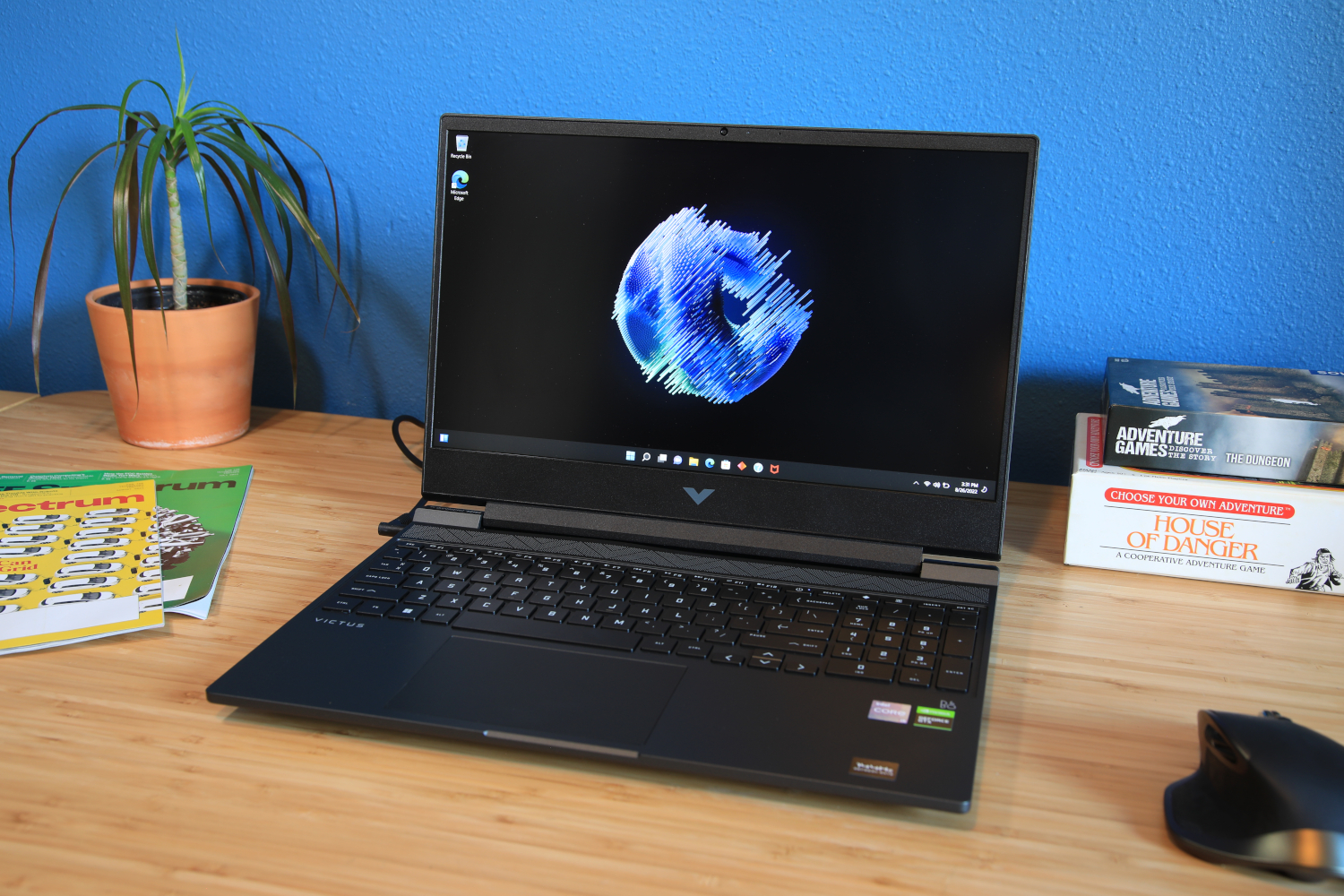 Pros
Excellent price
Good keyboard and touchpad
Respectable processor performance
Can handle most games at 30 FPS
Cons
Generic design
Disappointing build quality
Unattractive 144Hz display
60 FPS is often out of reach
Price When Reviewed:
$549.99
The HP Victus 15 is a phenomenal value for casual gamers. The price is more than reasonable and it's capable of running most games at 30 frames-per-second. The keyboard features an "edge-to-edge design," which really "makes maximum use of the laptop's interior." As for feel, key travel is long because of the deep chassis. Longer travel means less accidental keystrokes, which is what you want in a gaming laptop. A quick peek inside reveals an Intel Core i5-12450H CPU, an Nvidia GTX 1650 GPU, 8GB of RAM, and 512 of SSD storage. That's enough oomph for lightweight gaming. That said, given the specs, the Victus isn't going to hit 60 FPS in most games. If you can live with this limitation and are strapped for cash, then the HP VIctus 15 is a fantastic pick.
Read our full
HP Victus 15 review
Asus Vivobook Pro 15 OLED – Best display
Pros
Good productivity performance
Superb display
Rugged design
Great battery life
Cons
Boring aesthetics
Unimpressive 720p webcam
Unreliable fingerprint scanner
Poor port selection
Price When Reviewed:
$1099.99
For those who would prefer to buy a laptop and have money left over for awesome peripherals, the Asus VivoBook Pro 15 OLED is a great option. It comes in at a few hundred dollars cheaper than other picks on this list and it still has good overall performance. It has a Ryzen 7 5800H CPU and a GeForce RTX 3050, which is enough to achieve decent frame rates on your favorite games while accomplishing all of your productivity tasks. But the true highlight of this laptop is the stunning 1080p OLED display with exceptional color performance and accuracy. It might not be the most exciting laptop to look at, but to get this kind of performance and an OLED screen to boot makes the VivoBook Pro 15 a great value.
Read our full
ASUS VivoBook Pro 15 OLED Ultra Slim Laptop review
Asus ROG Strix G16 – Best keyboard for gaming
Pros
The cyberpunk styling looks very appealing
The laptop makes excellent use of its performance hardware
The display looks brilliant and handles motion well
Cons
A cluster of left side ports won't suit left handers
Battery life is middling
There's more plastic in the chassis than some rivals
Price When Reviewed:
1379.00
Like something out of a cyberpunk dream, the Asus ROG Strix G16 sports all of the futuristic punk aesthetics you could hope for in a gaming laptop. It also features our favorite keyboard for gaming on a laptop yet. The full-size keyboard and trackpad are ideal for competitive gaming due to a host of programmable hotkeys, a creatively hidden numpad within the trackpad, and springy keys with a generous 2mm of travel.
The Asus ROG Strix G16 backs up its style with performance, too. It combines the latest-gen Core i7-13650HX processor with a Nvidia RTX 4060 GPU to give you plenty of horsepower. We were also thoroughly impressed with the gorgeous 16-inch, 2560x1600p, 240Hz refresh rate display. Sure, the chassis has a bit more plastic than we'd like and the battery life isn't anything to write home about, but those quirks are soon forgotten when you boot up this neon-lit beauty.
Read our full
Asus ROG Strix G16 review
Dell G16 – Best for work and play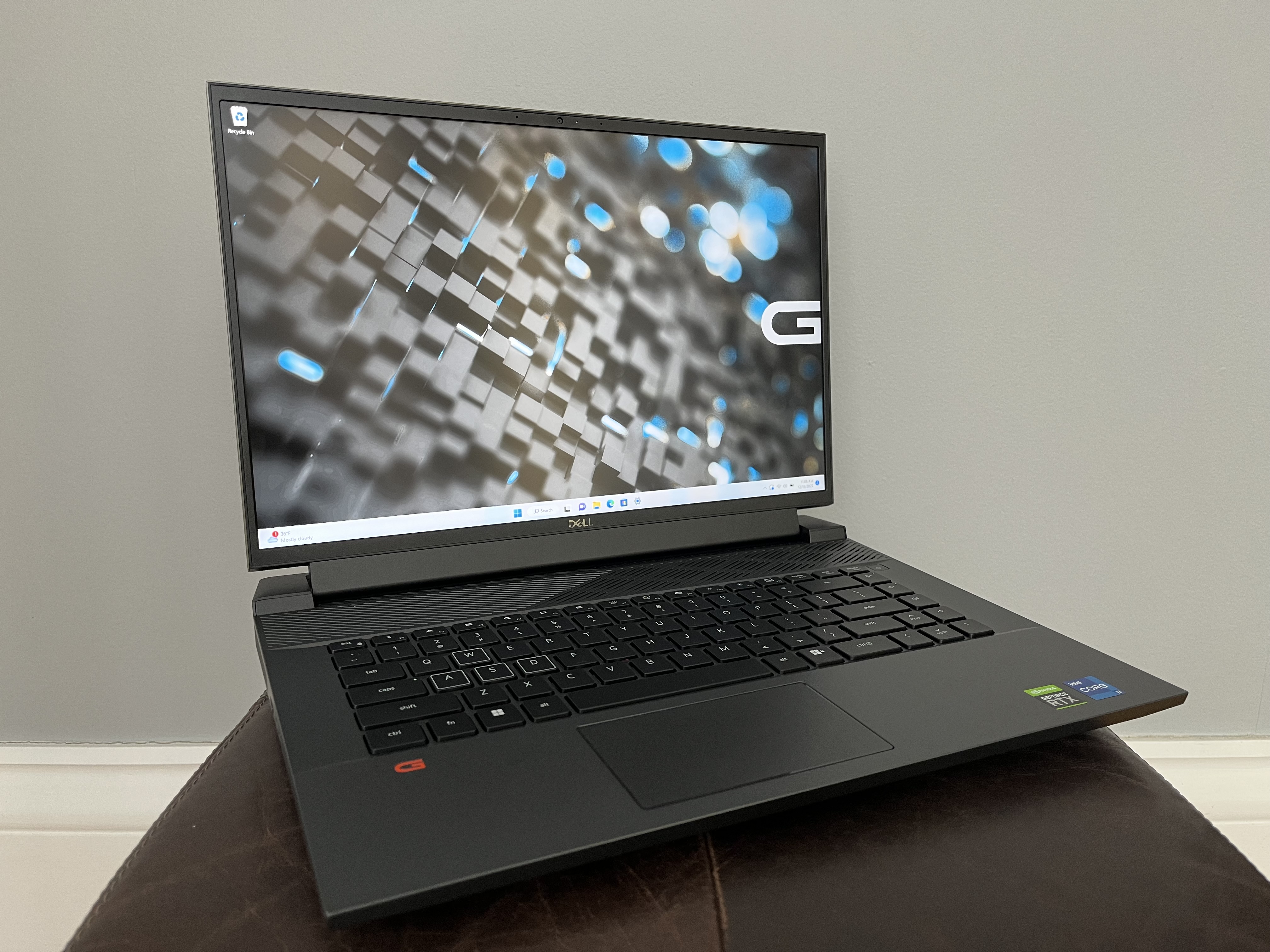 Pros
Strong performance for the price
Versatile and bright 16-inch 16:10 QHD display
Thunderbolt 4 on board
Cons
Bulky, boring design
Mushy keyboard, tiny touchpad
Grainy 720p webcam
Lots of fan noise
Price When Reviewed:
$1,499.99
The Dell G16 is a good option for both work and play. When it came to processor performance, it smashed the competition to smithereens. The Dell G16 nabbed the top spot in the PCMark 10 benchmark, which measures performance based on general use tasks like office productivity and video chatting. It also turned in 131 FPS when running the Rise of the Tomb Raider benchmark. You can thank the hardware for those numbers. It has an Intel Core i7-12700H CPU, an Nvidia GeForce RTX 3060 GPU, 16GB of RAM, and 512GB of PCIe NVMe SSD storage. The G16 isn't the sexiest-looking laptop we've ever reviewed, but it gets the essentials right and that's what really matters. According to our tester, it's "one of the most powerful RTX 3060-based laptops we've tested."
Read our full
Dell G16 review
Asus TUF Gaming A16 Advantage Edition – Best battery life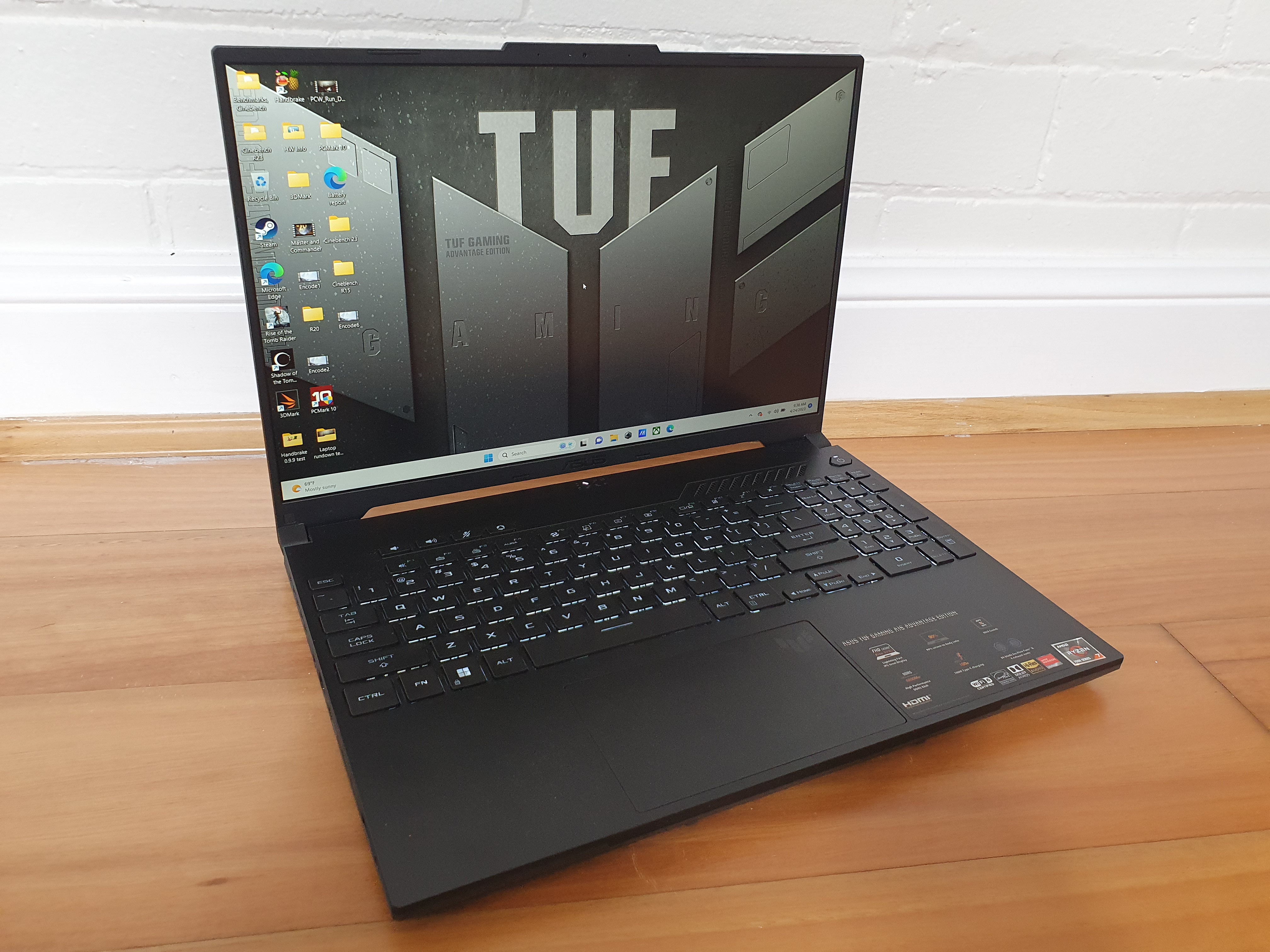 Pros
Outstanding all day battery life
Gorgeous and smooth FHD+ 16:10 display
Robust chassis with US military grade certification
Cons
Left-side port orientation won't suit left handers
Keys feel a bit soft and fatiguing
The 720p HD camera isn't the best
Price When Reviewed:
$1,099.99
Gaming laptops aren't known for having the best battery life due to their power-sucking components. However, that's not the case with the Asus TUF Gaming A16 Advantage Edition. This thing is packing a massive 90 watt-hour battery, which lasted an incredible 11 hours during our testing. Of course, intensive gaming will reduce this significantly, but you should still expect to get around seven hours of continuous 1080p gaming without having to plug into an AC outlet. That's way better than most of the competitors on this list. That's an amazing result considering most gaming laptops will only last between three and six hours. It also has a robust chassis and sturdy overall design, meaning you don't have to worry about the occasional bump or knock while out and about.
The Asus TUF Gaming A16 Advantage Edition is no slouch when it comes to performance either. It comes with respectable hardware including a Ryzen 7 processor, AMD Radeon RX 7600S graphics card, 16GB of RAM, and a 1TB SSD. It scored very well in our Shadow of the Tomb Raider game benchmark tests, outpacing many more expensive competitor laptops. All of this makes the A16 an excellent option for 1080p gamers—especially those who want to enjoy untethered gaming on the go.
Read our full
Asus TUF Gaming A16 Advantage Edition review
Lenovo IdeaPad 5 Gaming Chromebook – Best Chromebook for gaming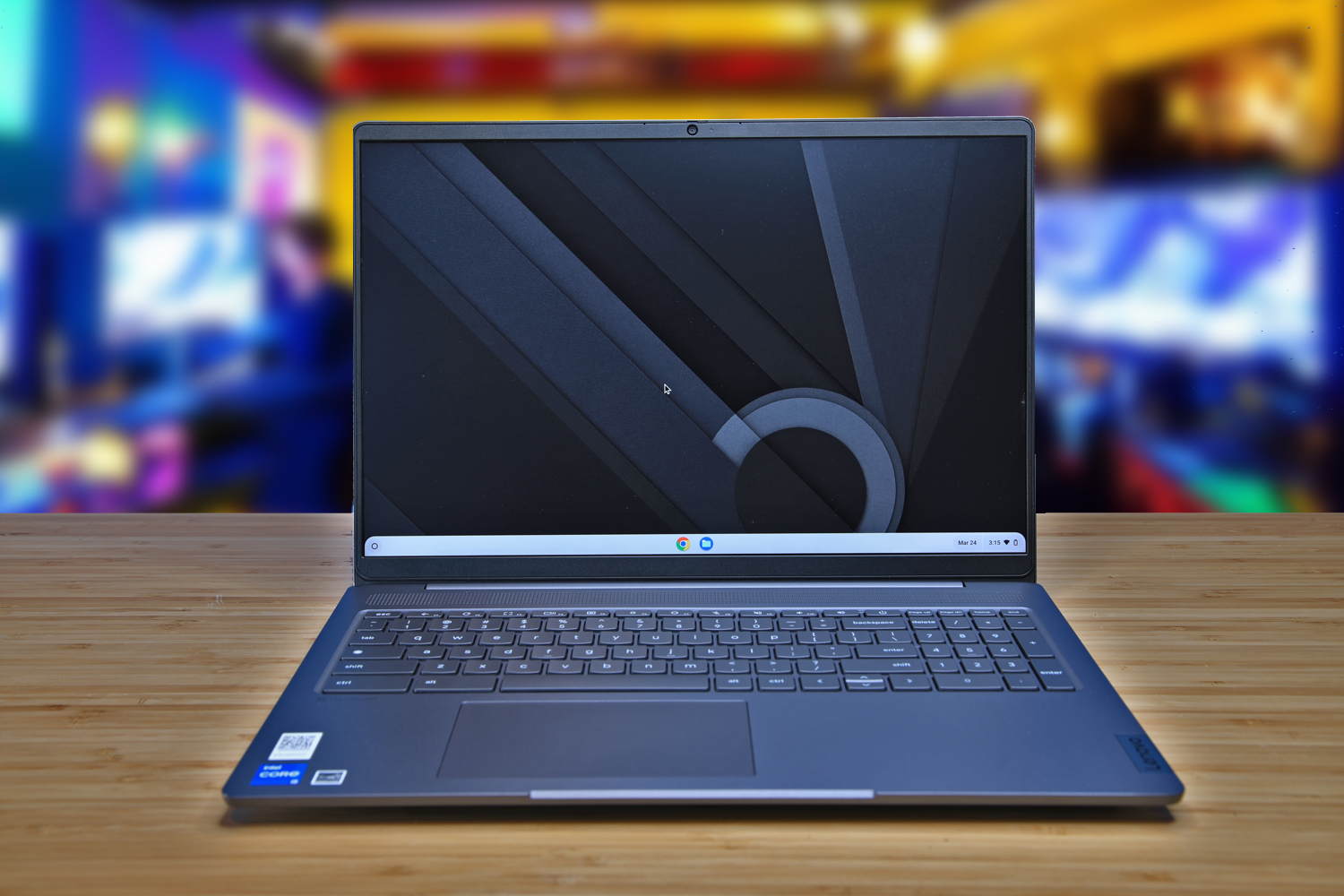 Pros
Large, bright 2560×1600 display
Ideal wireless and wired connectivity
Good display, strong speakers
Cons
Unimpressive design
Mediocre keyboard and touchpad
Lackluster webcam and microphone
Price When Reviewed:
$569.99
When you think of gaming laptops, Chromebooks might not be the first thing that comes to mind. But Lenovo has done a great job at making gaming accessible to Chromebook users with its IdeaPad 5 Gaming. It comes loaded with a Core i5 processor, 8GB of RAM, a 256GB SSD, and a bright 16-inch 2560×1600 display. Also, in a rarity for any type of laptop, the speakers are surprisingly strong.
If you want to game on a Chromebook, though, you'll need to do most, if not all, of your it through a cloud gaming service. This is because ChromeOS doesn't support most modern games. But for the monthly fee of a cloud gaming service, you're able to stream the very best modern games straight from the cloud to your Chromebook. In our tests we even found that we could stream AAA games at good resolutions and up to 120Hz on the Lenovo IdeaPad 5 Gaming Chromebook—that's not bad for a laptop that costs less then a third of what you'd pay for a stronger Windows gaming rig. See our roundup of the best cloud gaming services to learn about options.
Read our full
Lenovo IdeaPad 5 Gaming Chromebook review
How we tested
The PCWorld team puts each and every Windows laptop through a series of benchmarks that test GPU and CPU performance, battery life, and so on. The idea is to push the laptop to its limits and then compare it against others we've tested. Below, you'll find a breakdown of each test and the reasons why we run them.
Windows laptops
PCMark 10: PCMark 10 is how we determine how well the laptop handles lighter tasks like web browsing, word processing, spreadsheets, and so on.
HandBrake: HandBrake is more intensive than PCMark 10. It basically measures how long a laptop's CPU takes to encode a beefy 30GB file.
Cinebench: Cinebench is a brief stress test of the CPU cores. It does this by rendering a 2D scene over a short period of time.
3DMark: 3DMark checks if 3D performance remains consistent over time by running graphic-intensive clips.
Video rundown test: To gauge battery life, we loop a 4K video using Windows 10's Movies & TV app until the laptop dies.
What you should look for in a budget gaming laptop
When it comes to picking the right gaming laptop, it really depends on what you want to do with it. Do you plan on playing lightweight indie titles like Stardew Valley (no shade, I love this game) or something more visually demanding like Cyberpunk 2077? Are you going to use the machine for work as well as play? It's possible to get reliable performance out of a gaming laptop that costs under a grand, but you'll need to take a hard look at the individual components. You don't need a powerful GPU for something like Fortnite. The guts, my friends. That's what matters.
GPU: The thing about the GPU is that it can't be swapped out and upgraded later, so you need to be real choosy about which one you pick, as this component will determine how well your machine runs games. Luckily, you don't need the best of the best to get reliable gaming performance. The GTX 1650 is an entry-level GPU that's affordable and good enough for 1080p gaming with mid-to-high graphics settings. That said, expect lower frame rates on newer titles. If you're looking for a bit more power, we recommend opting for a GTX 1660 Ti or higher, or a more current RTX 30-series GPU.
CPU: Like the GPU, the processor can't be upgraded either, so you'll want to be selective. For Intel, we recommend an 11th-gen Intel Core i5 or i7 or newer (13th-gen is now available). For AMD, you'll want to spring for a Ryzen 4000 or 5000. A processor with at least four cores is good, but six cores or more is better.
RAM: You'll want at least 8GB of RAM. If you can afford 16GB of RAM, go for it. Memory is normally upgradable, so you can always swap it out and add more later on.
Storage: Storage impacts how many games and applications you can install on your laptop. Like RAM, storage is upgradable and can be swapped out later. However, you should aim for at least 512GB of SSD storage plus a hard drive, as AAA titles tend to eat up a lot of space. SSDs load games faster, as data is stored on chips rather than spinning disks.
Display: 1080p is what you can expect at this price range. Budget gaming laptops don't always have the best displays, as that's where manufacturers tend to cut corners to keep the cost low. If you've got a dim display, you can always pick up an external monitor to plug into.
Battery life: Generally speaking, gaming laptops are known for having poor battery life. That's because they use a ton of power. They also tend to be heavier than other laptops because they need more space for heatsinks and other cooling components. Depending on the use, most will last anywhere from four to six hours on a single charge. That said, there are a few exceptions. The HP Envy 14 (featured above), for example, hit the 15-hour mark during our battery test.
FAQ
---
1.
Are Chromebooks good gaming laptops?
It really depends on the type of gaming you intend to do, but most likely no. Chromebooks can handle web games and Android games just fine. But if you're looking to play the latest high-powered AAA games, a Chromebook won't cut it, because a) it doesn't run Windows, and b) it probably doesn't have sufficient graphics power.

With that said, Google is trying to bring cloud gaming to Chromebooks and it will likely be available in the future. Cloud gaming services use a remote PC or console to play games streamed through the cloud onto the Chromebook. Until that service is up and running though, Chromebooks will not be able to compete in the gaming arena.
2.
Can you game with integrated graphics?
Nowadays, the latest processors with integrated graphics can run quite a few modern PC games at reasonable settings. Intel's new Iris Xe line of processors with integrated graphics, for example, have been shown to run some of the latest games at 1080p and 30fps. Take note though, as not all integrated graphics are capable of the same things.
Intel and AMD's integrated graphics have made huge leaps in recent years with regard to gaming performance. If you're on a budget or looking for an ultra thin laptop with integrated graphics you can still enjoy some gaming as well. Check out our article about Intel's Core 12th-gen Iris Xe and AMD's brand new Ryzen 6000 RDNA 2 for more.
3.
What size laptop is best?
This really comes down to personal preference and intended use. If you plan to travel a lot with your laptop, then a small ultraportable size in the neighborhood of 13 to 14 inches is best. However, if gaming is all you want to do, then something in the 15- to 17-inch range would be ideal. Also, don't forget to check the weight of the laptop before you buy it. Ultra thin laptops can weigh a featherlight 2 pounds while beefy gaming computers top the scales at three or four times that.