At a glance
Expert's Rating
Pros
Options for ergonomic adjustment
Excellent gaming performance
240Hz refresh rate
Curved monitor
Our Verdict
The Samsung Odyssey G7 is a great choice for both amateur and professional gamers alike. At $549, the 1440p gaming monitor costs above the average, but given the quality, especially the excellent gaming performance, it's still one of the better options out there.

With a refresh rate of 240Hz, the monitor manages even the most intensive games, such as racing simulations, with ease. It's compatible with G-Sync and FreeSync and provides a variety of settings that are specifically tailored to gaming.
Price When Reviewed
549.99
Best Prices Today:
The Samsung Odyssey G7 display is the first to implement VA (vertical alignment) technology with a refresh rate of 240Hz; so far, only TN (twisted nematic) monitors have been able to do that. The deeply curved monitor has a radius of 39 inches and a diagonal length of 27 inches. One further highlight is that it boasts a resolution of 2560×1440 pixels.
Samsung Odyssey G7: Specs and features
The Samsung Odyssey has a 27-inch curved screen with a stunning radius of 1000R, which makes it exceptional for gaming. The native resolution of 2560×1440 might not be as good as the Dell U3223QE, but it delivers high-quality visuals with a fast refresh rate and DisplayHDR 600.
| | |
| --- | --- |
| Display size | 27 inches |
| Native resolution | 2560 x 1440 |
| Panel type | VA / 16:9 |
| Refresh rate | 240 Hz |
| Adaptive sync | Compatible with Nvidia's G-Sync |
| Ports | 2 Displayport, 1 HDMI, 2 USB, 1 audio socket analog |
| Stand adjustment | Height, tilt, swivel |
| VESA mount | Yes, 100x100mm |
| Speakers | No |
| HDR | Yes, VESA DisplayHDR 600 |
| Price | $599 |
When it comes to ports, you only have a few options. On the plus side is the cool light panel at the rear of the exterior where it connects to the stand. Something else to note is that the display does not come with any extras such as built-in speakers or webcams.
Samsung
Samsung Odyssey G7: Image quality
With its 1440p resolution, you can expect sharp and detailed images that are bright and rich in contrast. The QLED panel produces a neutral and lifelike color reproduction. However, we noticed that the light distribution isn't consistent across the entire screen.
Our gaming tests confirmed that the 1440p resolution is perfect for this type of 27-inch curved gaming monitor. The visuals are crystal clear in-game and you'll be able to easily make out every little aspect of any gameplay elements.
The Samsung Odyssey G7 VA panel is really fast—you won't find any input lag or image errors such as motion blur or image tearing, even during very fast-paced games, like first-person shooters. Because of its compatibility with Nvidia and AMD graphics cards, the gaming monitor also easily works with G-Sync or FreeSync. All in all, when it comes to refresh rate and speed, the Samsung Odyssey G7 delivers excellent gaming performance.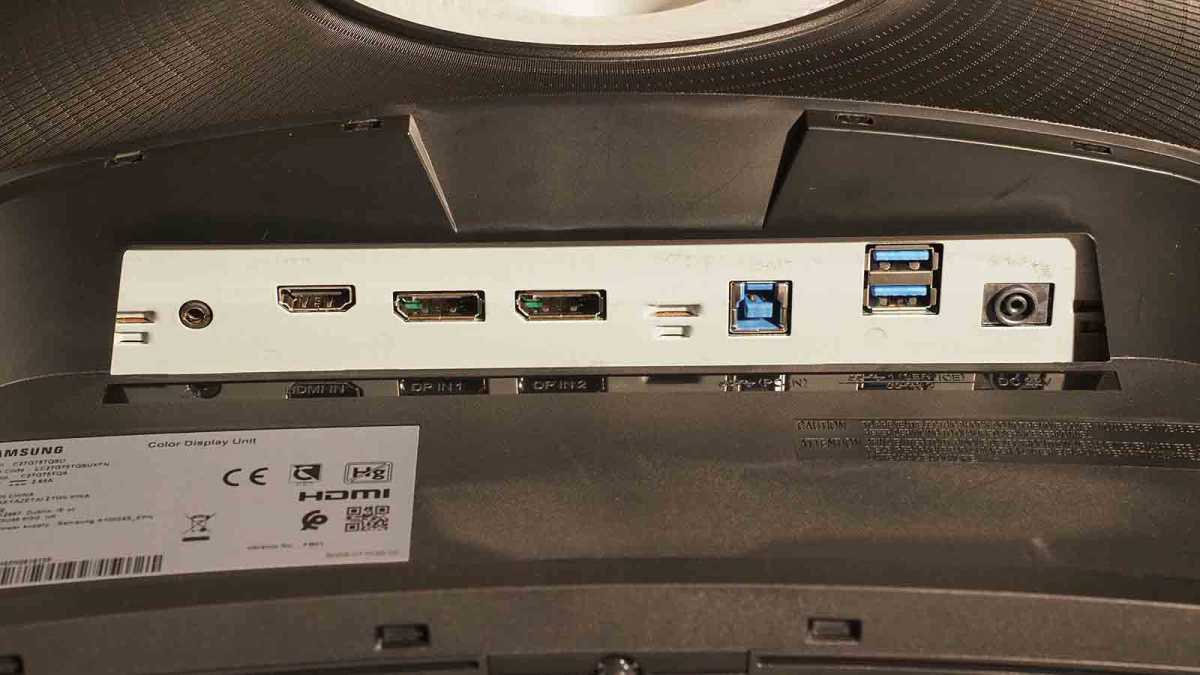 PC Welt
Samsung Odyssey G7: Features
The Samsung Odyssey G7 is equipped with all your typical options for connectivity, which are standard with current gaming monitors. At the back of the screen, you will find two HDMI ports and one DisplayPort, each in the latest version.
Furthermore, there are two USB 3.0 ports and one headphone output. However, you won't find speakers. Instead, a video cable and adapter for a VESA wall mount are included in your delivery.
Samsung Odyssey G7: Design
The Samsung Odyssey G7 offers all possible ergonomic settings to help you achieve the optimal position and orientation for your curved monitor. You can rotate it, tilt it, and adjust the height by almost 5 inches. While using the 27-inch monitor vertically is quite a sight, it doesn't really have any practical use due to its deep curvature.
The screen's menu is attractively designed and gives a good general overview. Besides the normal options such as brightness and contrast, there are game-specific configurations such as FPS, crosshair, flicker free, and the ability to increase the black value. The LED light around the panel's mount ensures the right gaming mood, and it can be adjusted through the menu.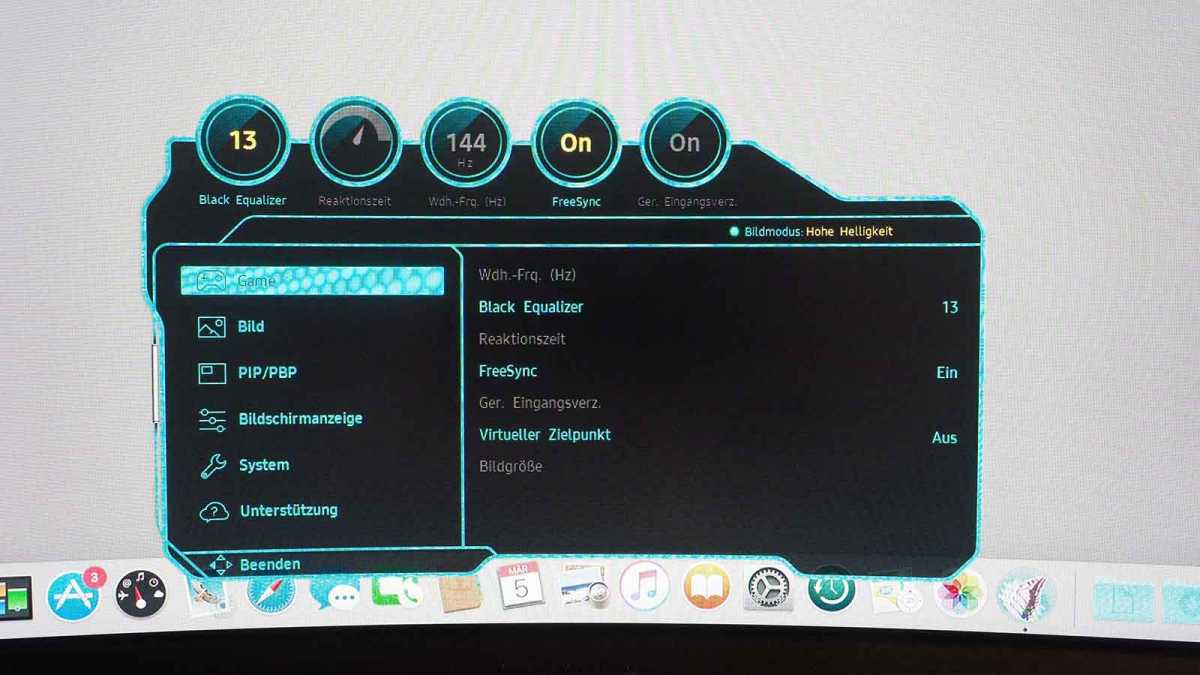 PC Welt
Samsung Odyssey G7: Power consumption
During use, the Samsung Odyssey G7 is a bit of a power hog. It consumes a whopping 55 watts of power thanks to its high maximum brightness. When in stand-by, the power consumption drops down to a much more moderate 0.5 watts. Interestingly enough, the gaming monitor even comes with its own real power switch integrated into the external power supply, allowing you the ability to disconnect the 27-inch monitor completely from the electricity—simultaneously saving your electricity bill and the environment.
Final thoughts
Overall, the Samsung Odyssey G7 is exceptional for gaming, especially if you're playing an MMORPG with vast open spaces and littered with colorful scenery. The refresh rate of 240Hz is also outstanding. Coupled with support for FreeSync and G-Sync, this monitor is a great option for gamers.
Video and image content creators will also find things to like about this display. It has excellent deep blacks, meaning you'll get more clarity and depth of detail. And as a bonus, it also kicks out a decent HDR that's powerful enough to display most color ranges and contrasts.
This review originally appeared on PC-Welt, PCWorld's German sister site.