At a glance
Expert's Rating
Pros
Excellent gaming performance
Great image quality
Ergonomic design
Easy handling
Cons
High power consumption
Expensive
Our Verdict
The Viewsonic XG270QG is a premium monitor equipped with the latest technology, designed specifically with gaming in mind. It boasts sky-high image quality and impressive gaming performance. Gamers won't notice any visual issues even when playing games that have intensive hardware requirements.

The monitor's ergonomic adjustments are also incredible—the easy configuration and special gaming features complete the impressive package. The only downfalls are the high power consumption and price. In stores, you'll have to invest at least $499 for this 1440p monitor.
Price When Reviewed
499.99
Best Prices Today: Viewsonic XG270QG
The Viewsonic XG270QG's screen delivers a resolution of 2560×1440 pixels, which corresponds to the WQHD specification of 1440 pixels. It's housed in a solid case with a frameless design. As a result, the 27-inch monitor is perfectly suited for gamers.
RGB LED light bars are integrated at the back and bottom of the screen, which you can configure according to your desired aesthetic. They can also be synchronized with other peripherals.
Note: This review is part of our best gaming monitors roundup. Go there to learn more about competing products, our testing methods, and what to look for in a gaming monitor.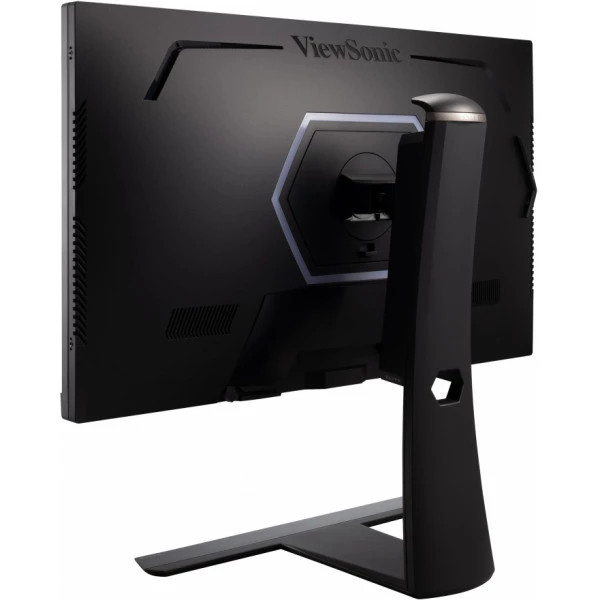 Viewsonic
Viewsonic XG270QG: The specs
The Viewsonic XG270QG carries an MSRP of $499, which is quite high for a 27-inch 1440p monitor. Premium features such as a high resolution and refresh rate help explain the high price tag.
| | |
| --- | --- |
| Display size | 27 inches |
| Native resolution | 2560×1440 |
| Panel type | Nano IPS / 16:9 |
| Refresh rate | 165Hz |
| Adaptive sync | Compatible with G-Sync |
| Ports | 1 DisplayPort, 1 HDMI, 3 USB, 1 analog audio socket |
| Stand adjustment | Height, tilt, swivel |
| VESA mount | Yes, 100x100mm |
| Speakers | No |
| HDR | Yes |
| Price | $499 |
Viewsonic XG270QG: Image quality
Viewsonic XG270QG's visual gaming performance is top-notch, handling fast-paced titles with ease. Games run smoothly and without any image errors or input lag, even with lower frame rates. However, be aware that to take advantage of the high resolution and fast frame rates with G-Sync requires a powerful Nvidia graphics card.
This monitor's Nano IPS panel ensures natural color reproduction and high brightness levels, as well as great contrast. Integrated electronics such as blue light filters, brightening of dark image areas, and flicker-free technology help deliver excellent performance.
Viewsonic XG270QG: Features and ports
Looking at compatibility and connectivity, the Viewsonic XG270QG is equipped with everything you need. It has all the ports you'd expect from an up-to-date gaming monitor: the latest versions of HDMI and DisplayPort, three USB 3.1 ports, and an audio socket. Two mouse anchors and a hook on the right side of the case for holding your headphones are a nice touch.
Two bundled side privacy panels, dubbed "sight shields," are there to help you minimize distractions for better gaming focus. Lastly, there are two integrated 2-watt speakers that, unfortunately, deliver a rather thin sound.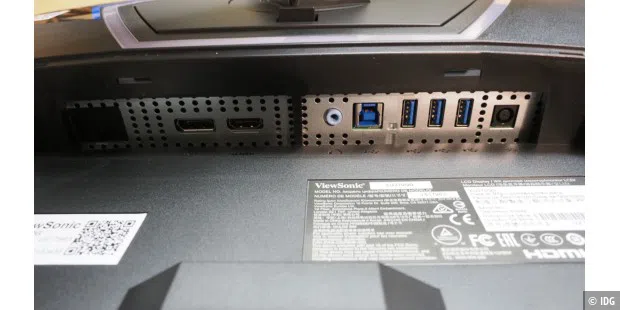 PC Welt
Viewsonic XG270QG: Design and menu
You can adjust the screen's height by 5 inches, tilt the monitor, and rotate it. It's easy to fit the screen perfectly to the desired position, making neck strain less likely. You can also use the Viewsonic XG270QG in the vertical portrait mode if you so wish.
The screen's menu is organized in tables and allows for easy and quick configuration. The easily-accessible, five-way joystick gives you extra comfort while browsing quickly through the onscreen display. Various gaming-specific settings are not only readily available, but actually beneficial. You can choose from presets based on different types of games: FPS, Crosshair, and two self-savable game configurations.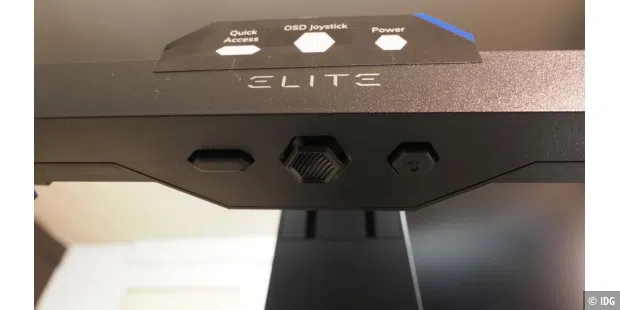 PC Welt
Viewsonic XG270QG: Power consumption
During use, the Viewsonic XG270QG needs quite a lot of power, more than 50 watts, whereas standby mode drops to a low of 0.5 watts. The assumption is that if you can afford to pay the price of this display, you can afford the higher utility bills that go along with it.
Final thoughts
In many ways, the Viewsonic XG270QG is a great 1440p gaming monitor. The image quality is outstanding and won't disappoint you, no matter which type of games you play. Thanks to the Nano IPS Panel, the colors feel natural and not overblown, allowing you to enjoy more realistic gameplay.
The only cons are the high power consumption and that the monitor is relatively costly. Beyond those two things, this is a great premium display for gamers who can afford it.
This review originally appeared on PC-Welt, PCWorld's German sister site.
Best Prices Today: Viewsonic XG270QG