At a glance
Expert's Rating
Pros
Great gaming performance
High frame rate
Curved monitor
FreeSync 2 technology
Our Verdict
The Gigabyte Aorus CV27Q is an impressive gaming monitor that delivers top performance even with demanding games. The image quality is incredible, there is no input lag, and the synchronization with FreeSync 2 technology works flawlessly even at high frame rates. Given the outstanding performance it offers, the current price of around $450 can only be regarded as a bargain.
Price When Reviewed
449.99
Even at first glance, it's clear the Gigabyte Aorus CV27Q is a monitor for gamers. The dead giveaway is the aggressively angular design of the two LED light strips on the back of the housing, which offer a wide array of changeable modes and colors. While the display has all of the outward signs of gamerdom, it also follows through with some impressive specs.
Gigabyte Aorus CV27Q: The specs
The Gigabyte Aorus CV27Q is a VA display with a relatively strong curve and a radius of 1,500 millimeters thus seeking to create "immersion" while you game. The monitor has a resolution of 2560×1440 pixels and supports FreeSync 2 HDR technology with up to 165Hz for synchronizing the frame rates perfectly with Radeon graphics cards. It's also compatible with all Nvidia GPUs GeForce GTX 10xx (Pascal) and 20xx (Turing).
| | |
| --- | --- |
| Display size | 27 inches |
| Native resolution | 2560 x 1440 pixels |
| Panel type | VA / 16:9 |
| Refresh rate | 165Hz |
| Adaptive sync | Compatible with Nvidia's G-Sync |
| Ports | 1 Displayport, 2 HDMI, 2 USB, 1 audio socket |
| Stand adjustment | Height, tilt, swivel |
| Speakers | No |
| HDCP | Yes |
| Price | $450 |
As an added bonus, Gigabyte grants a separate one-year guarantee on faulty bright pixels on this curved monitor in case anything goes awry after your purchase.
Gigabyte Aorus CV27Q: Image quality
According to the manufacturer, the WQHD monitor covers 90% of the DCI-P3 color range, which is reflected in the test's neutral and natural color representation. In addition, the Gigabyte Aorus CV27Q has high brightness and contrast.
This impressive image quality truly comes into its own when gaming. In the gaming test, the Gigabyte Aorus CV27Q delivered impeccably high performance without errors or dropouts, and HDR playback using FreeSync 2 also worked without a hitch.
The 165Hz frame rate ensures it is suitable for all types of games, and input delay (or input lag) is not noticeable even in the most demanding titles.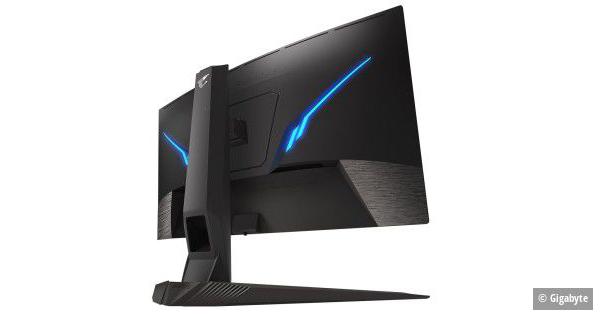 PC Welt
Gigabyte Aorus CV27Q: Features
The Gigabyte Aorus CV27Q comes with the three video inputs common in most modern gaming monitors: a DisplayPort interface and two HDMI ports. There are also two USB 3.0 inputs, an integrated microphone, and a headphone output. To sweeten the deal, Gigabyte includes HDMI, DisplayPort, and USB cables along with the monitor.
Gigabyte Aorus CV27Q: Design
The 1440p display can be adjusted in height by up to 130 millimeters (approximately 5 inches), rotated, and tilted on its stand, making it easy to adjust in-place. In addition to the usual monitor settings, the on-screen menu offers an extensive range of game-specific features, such as crosshairs, FPS, and presets.
The Gigabyte Aorus CV27Q can also be configured using Windows software if that's more your cup of tea. Settings are conveniently controlled via a 5-way joystick at the bottom center of the panel housing.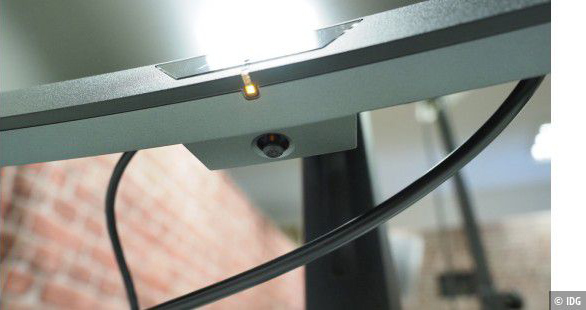 PC Welt
Gigabyte Aorus CV27Q: Power consumption
On average, the curved monitor consumes just over 40 watts while operating. If, on the other hand, you crank up the settings and fully exploit the technical capabilities of the Gigabyte Aorus CV27Q, the power requirement can increase to a substantial 80 watts. In standby mode however, consumption drops to a low 0.7 watts.
Final thoughts
With the Aorus CV27Q, Gigabyte wants to rule the booming market of gaming monitors—and in our opinion, the 1440p gaming monitor's chances, with its 27-inch, curved monitor, make it a strong contender. In all of our tests, the screen handled admirably and delivered consistently at a top performance.
No matter if you like fast-paced racing games or MMORPGs with vast open worlds and hundreds of other players, the Aorus CV27Q won't disappoint you.
With its wide color spectrum, high brightness, and strong contrast, the monitor's image quality is outstanding. Overall, the technical features are excellent; you won't have to contend with lag, dropouts, or other errors, so you can keep on gaming disruption-free to your heart's content.
This review originally appeared on PC-Welt, PCWorld's German sister site.