At a glance
Expert's Rating
Pros
Solid performance for the price
Massive, bright, colorful display
Offers four Thunderbolt 4 ports
Long battery life
Cons
Heavy and thick
Mediocre keyboard
Lacks USB-A, HDMI, or Ethernet
RTX 3060 is the quickest available GPU
Our Verdict
Dell's XPS 17 is a well-rounded workhorse that delivers battery life, build quality, and performance in equal measure.
Price When Reviewed
$2,799
Best Prices Today: Dell XPS 17 (2022)
Are you looking for a laptop that can do it all? Whether you're at your desk or traveling across the country? The Dell XPS 17 might be your next laptop. This massive laptop is a versatile machine that's enjoyable to use day-to-day and packs strong overall performance. The display is also beautiful and battery life is impressive. While the keyboard is nothing to write home about, we feel the pros far outweigh the cons. Read on to learn more.
Dell XPS 17 9720 (2022) specs and features
The base Dell XPS 17 has an Intel Core i5-12500H processor with integrated graphics, 8GB of RAM, 512GB of storage, and a 1920×1200 display. My review sample packs multiple upgrades, however, including an Intel Core i7-12700H processor, Nvidia RTX 3060 mobile graphics, and a 4K touchscreen.
CPU: Intel Core i7-12700H
Memory: 32GB
Graphics/GPU: Nvidia RTX 3060
Display: 3,840 x 2,400 IPS Touchscreen
Storage: 1TB SSD
Webcam: 720p with IR camera, dual-array microphone
Connectivity: 4x Thunderbolt 4 with DisplayPort Alt Mode and Power Delivery, 1x SDcard reader, 1x 3.5mm combo audio jack
Networking: Wi-Fi 6, Bluetooth 5.2
Biometrics: Fingerprint reader, IR camera
Battery capacity: 97 watt-hours
Dimensions: 14.74 x 9.76 x .77 inches
Weight: 5.34
MSRP: $1,649 base, $2,799 as tested
Dell's upgrade pricing is tame, as my review sample's substantially quicker hardware adds $1,000 to the price. A $2,799 laptop is hardly affordable, of course, but Dell's overall pricing feels competitive in the segment. A similarly equipped MacBook Pro 16 starts at $3,099, while a similar Razer Blade 17 retails for the same $2,799 (but has half as much RAM).
Design and build quality
IDG / Matthew Smith
This is a 17-inch laptop with a 16:10 display. It's a truly massive piece of glass that dominates the entire experience. Dell uses slim bezels to keep the laptop as small as possible given the display offered, and this effort is successful. The XPS 17 is more compact than the LG Gram 17 (though LG's laptop is lighter), Razer Blade 17, or HP Envy 17.
There's an old-school feel to the Dell XPS 17. Most of this is the laptop's sheer size – at nearly 15 inches wide and 10 inches deep, this beast is noticeably larger than laptops I'd normally consider large, such as the HP Spectre 16, Dell XPS 15 and MacBook Pro 16, feel significantly smaller than the XPS 17.
The XPS 17's size is easy to overlook when the laptop is closed on a table. Dell's XPS 13, 15, and 17 all share the same general portions and use similar materials, so they look similar at a distance. This helps the XPS 17 strike a slim, modern pose despite its size.
Build quality is excellent, as well. There's surprisingly little flex to be found in the display lid, chassis, and keyboard deck. This rigidity could make the XPS 17 a nice improvised weapon in the event of a zombie apocalypse.
Keyboard and touchpad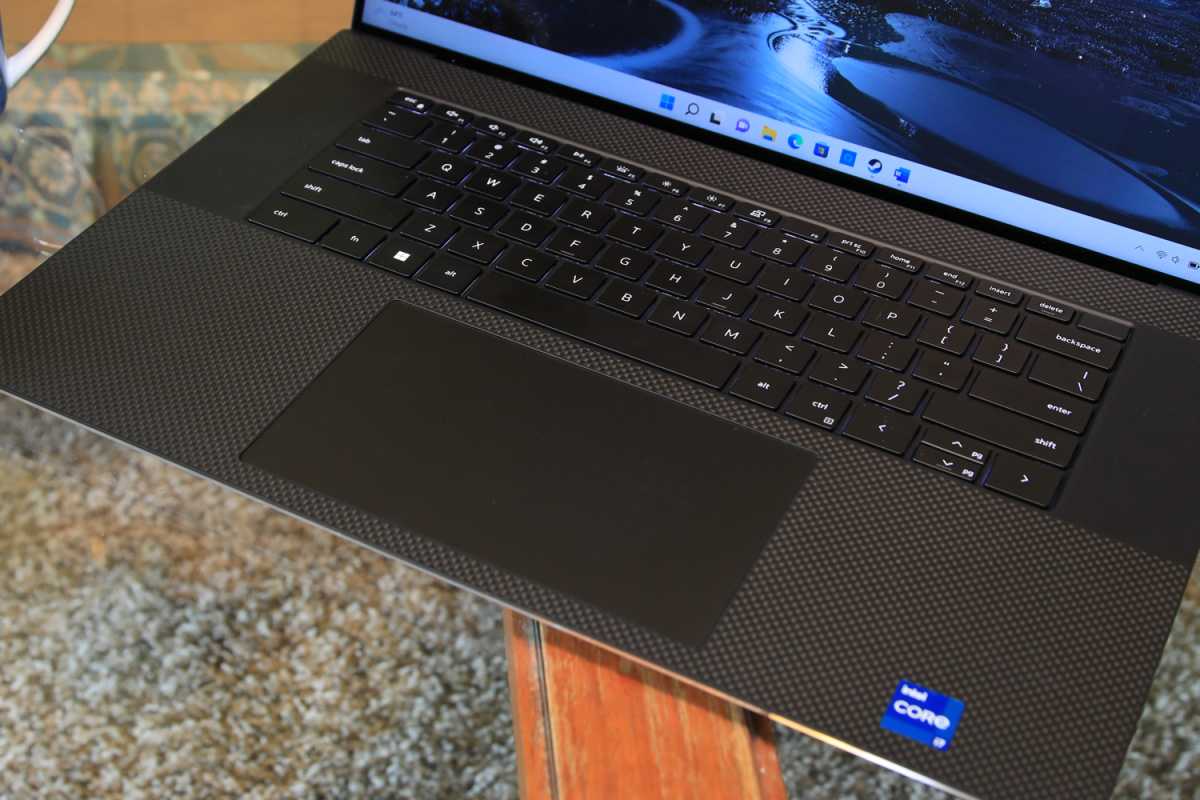 IDG / Matthew Smith
There's a more functional benefit to XPS 17's size: it has gobs of interior space. The laptop's huge palmrest provides ample space in all directions. Most owners will have no trouble finding a comfortable typing position.
Dell leans into this with a center-aligned keyboard that lacks a numpad. Choosing to ditch the numpad, which is common on many 17-inch laptops, keeps the keyboard centered on the laptop's surface and above the touchpad. It's an extremely comfortable layout.
The keyboard itself is less impressive. Key feel is shallow and ends with a vague, spongy bottoming action. This is countered by quality keycap materials and smooth key travel. It averages out to a passable experience that falls behind alternatives like the LG Gram 16 and MacBook Pro 16. Even the Acer Swift 3 16-inch, a much less expensive laptop, is a bit more pleasant.
Touchpad quality, on the other hand, is top notch. The touchpad surface is massive, measuring six inches wide and almost four inches deep, by far the largest touchpad I've used on a Windows machine this year. It feels responsive and offers plenty of space for using WIndows' multi-touch gestures. My palms often land on the edges of the touchpad, due to its size, but unintended inputs aren't an issue.
Display, audio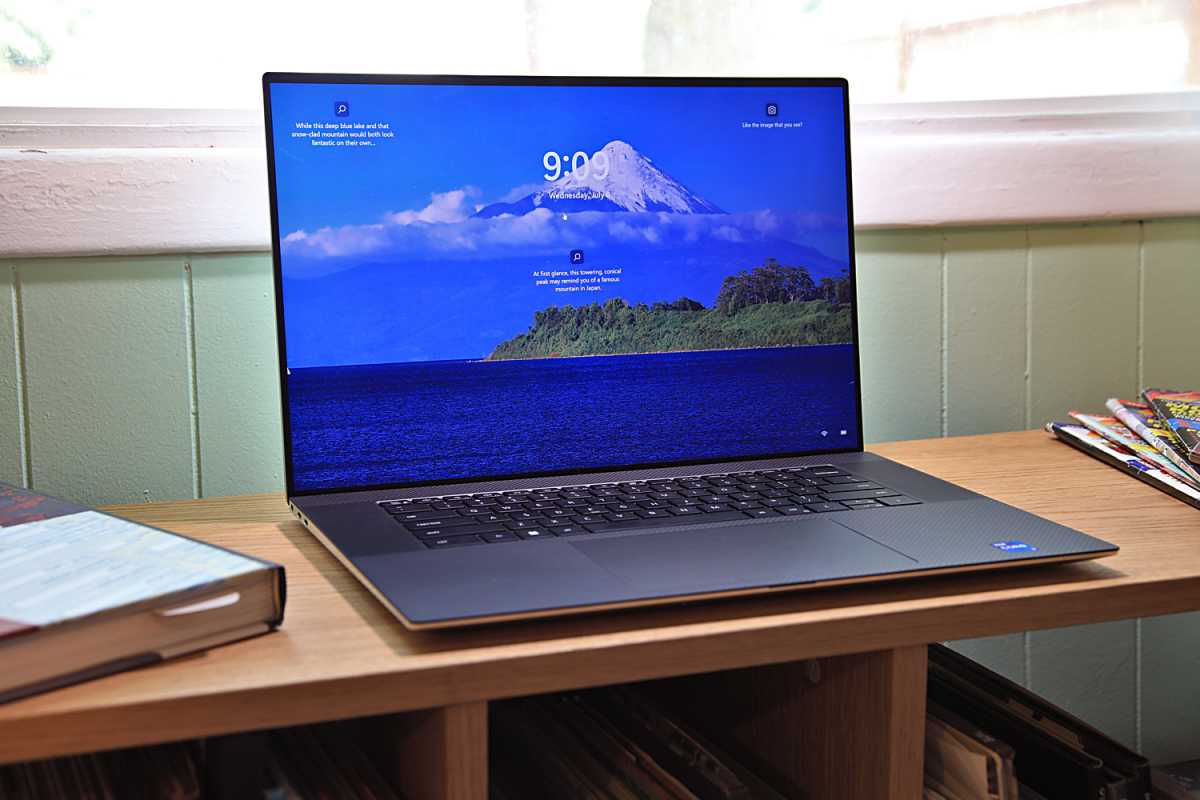 IDG / Matthew Smith
The base Dell XPS 17 has a 17-inch 1,920 x 1,200 IPS non-touch display, but my review sample was upgraded to the 3,840 x 2,400 IPS touchscreen. It can't quite match Apple's Liquid Retina XDR, or OLED, but certainly has strengths.
Maximum brightness is extremely high at up to 550 nits, higher than the 500 nits promised by Dell. This is so high that outdoor use becomes possible despite the display's extremely glossy coat. High brightness comes with elevated black levels, however, so movies and streaming shows can look washed-out in dark scenes.
Color performance is superb. I measured 100 percent coverage of the sRGB and Adobe RGB color gamuts, as well as 98 percent of DCI-P3. Put simply, the XPS 17 can display a wide range of color – as wide as you'll find on any laptop sold today. Color accuracy is outstanding, as well, so content looks as its creator intended.
Sharpness is truly top-tier. A resolution of 3,840 x 2,400 on a 17-inch display translates to 266 pixels per inch, which is as good as it gets on a laptop of this size. The extreme pixel density provides clarity in 3D games, wonderful clarity in 4K streaming content, and crisp edges around fine text.
Gamers should note the XPS 17 lacks Nvidia G-Sync and the display has a maximum refresh rate of 60Hz. These sacrifices are made to enable switchable graphics, a decision that improves battery life.
While the XPS 17's display is excellent, its speakers fall short. Maximum volume is high but the audio has a harsh, sparkling quality that's unpleasant when the volume is turned up. Dialogue comes through clearly, as do quick bass beats, but complex tracks can sound muddled. Still, the speakers are acceptable for video calls and podcasts.
Webcam, microphone, biometrics
Work-from-home professionals will be disappointed by the Dell XPS 17's webcam. It's a basic 720p camera that offers merely passable video quality and struggles with low-light situations. It's fine for most video calls but won't pass muster if you're hoping to impress in a virtual meeting or call in for an interview.
The same can be said of the dual-microphone array. Most modern dual-mic arrays are passable, and the XPS 17's is no exception, it doesn't stand out. Audio quality is usable but has a distant, hollow quality.
There's some good news in biometrics, at least. The XPS 17 has a fingerprint reader built into the keyboard and supports Windows Hello facial recognition login through the IR camera. Both features are standard and work well, though I find facial recognition quicker and more reliable than a fingerprint reader.
Connectivity
IDG / Matthew Smith
The Dell XPS 17 embraces Thunderbolt 4 in a big, warm, fuzzy bear hug. We're talking four Thunderbolt 4 ports, all of which support DisplayPort Alternate Mode and Power Delivery. All four Thunderbolt 4 are also compatible with USB4. This impressive selection means you can charge the laptop using any available port and attach multiple DisplayPort monitors.
A quick word of warning, however: the Dell XPS 17 configuration I reviewed can consume over 100 watts at load, which is more than the maximum wattage of most chargers and peripherals that can provide power over Thunderbolt 4 or USB4. Owners will want to use the charger that comes with the laptop.
While the XPS 17 is friendly with Thunderbolt 4, it gives other ports the cold shoulder. There's no USB Type-A, no HDMI, no standard DisplayPort, and no Ethernet. You'll need to pack an adapter to use these connections. A 3.5mm combo audio jack is present, however.
There is one uncommon connectivity option available: a full-sized SDcard reader. Photographers and videographers will appreciate its inclusion.
Wireless connectivity includes Wi-Fi 6 and Bluetooth 5.2. It's a small disappointment to see Wi-Fi 6E, the latest wireless standard, is unsupported. A Dell representative says this is due to the antenna design. Despite this, I measured wireless speeds equivalent to Gigabit Ethernet over short distances – fast enough that I didn't miss the physical Ethernet port.
Performance
The Dell XPS 17 I tested had an Intel Core i7-12700H processor with a total of fourteen cores: six performance cores and eight efficient cores. This was paired with 32GB of RAM and a 1TB PCIe NVMe solid state drive.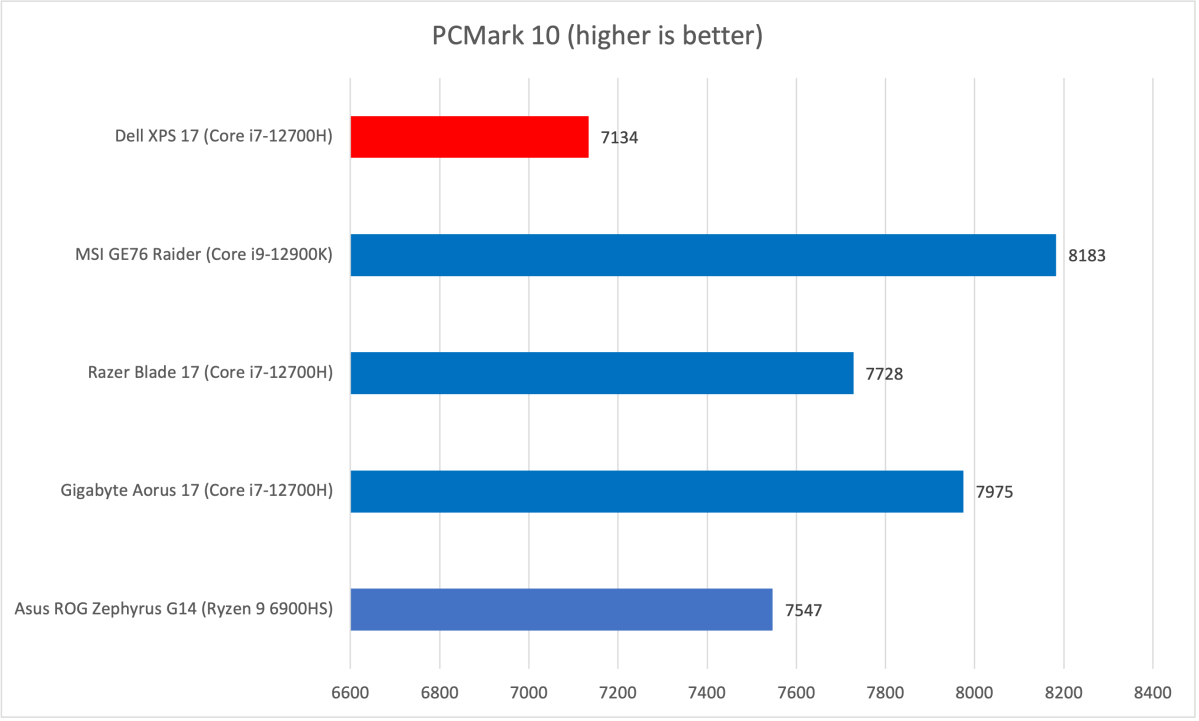 IDG / Matthew Smith
I'll lead with PCMark 10, a full system benchmark that leans heavily on processor performance. It reaches a score of 7,134 on the Dell XPS 17, which is behind the other laptops in this competitive set. The difference is slim, however, and perhaps to be expected given the XPS 17 is a tad smaller than most 17-inch laptops.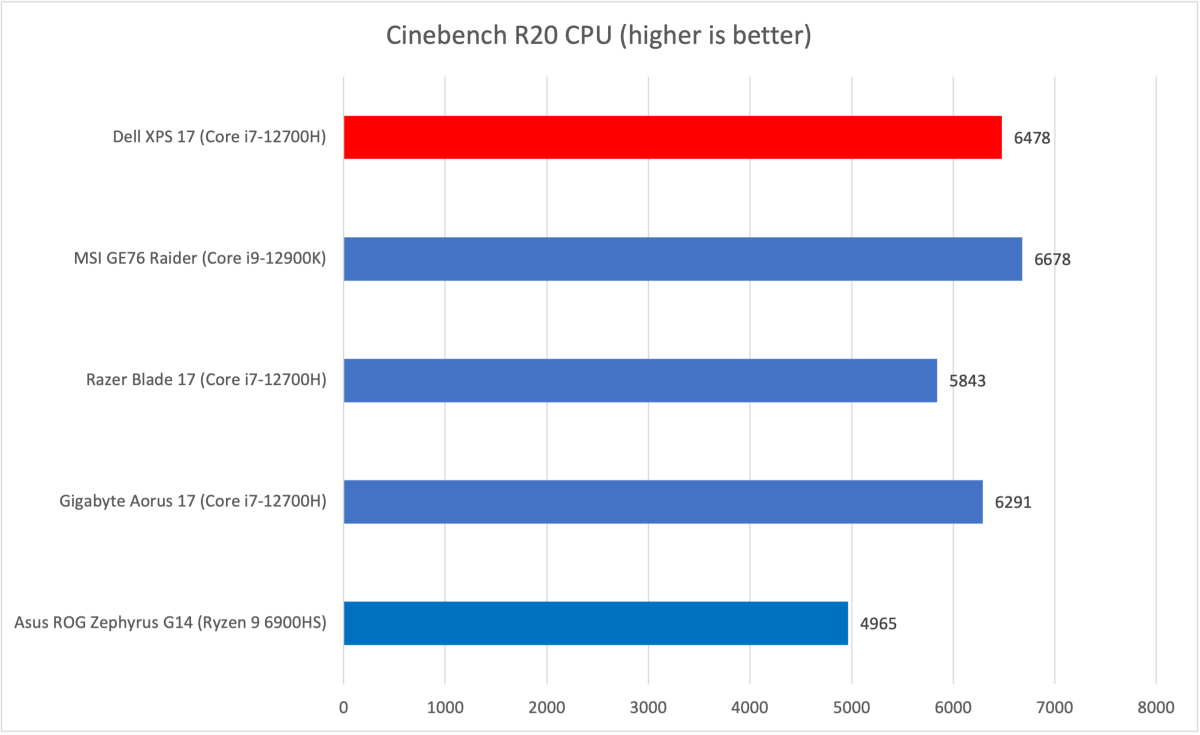 IDG / Matthew Smith
Cinebench R20 provides a stronger result for the Dell XPS 17. It eeks in a minor victory over the Gigabyte Aorus 17 and Razer Blade 17. The Ryzen-powered Asus ROG Zephyrus G14 falls noticeably behind in this test though, to be fair, that could be due to its small size (we've yet to test Ryzen 6900HS in a 17-inch laptop).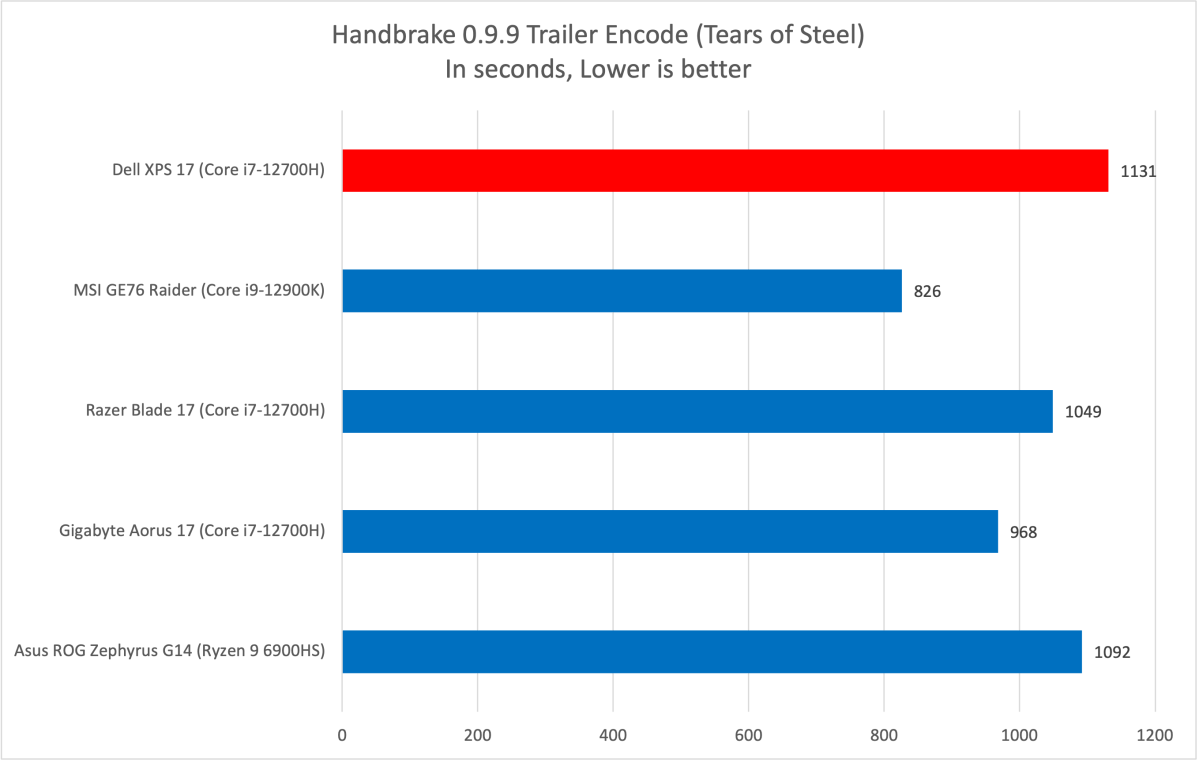 IDG / Matthew Smith
The Dell XPS 17 once again falls slightly behind the pack in the Handbrake video encode test. This is a lengthy test, requiring more than 13 minutes on even the quickest machine, so it highlights differences in thermal performance. It's clear the XPS 17 struggles to maintain processor performance over time, at least when compared to other 17-inch powerhouses.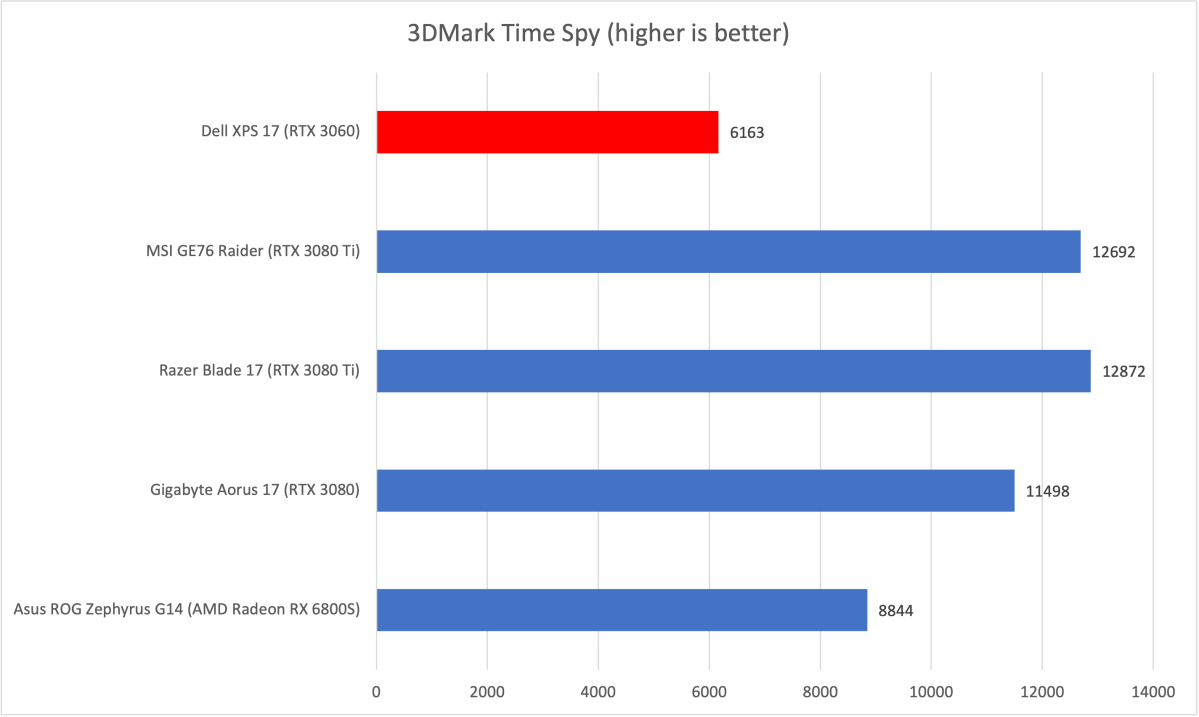 IDG / Matthew Smith
We now switch to graphics, where the Dell XPS 17 finds itself at a disadvantage against the competitive set. Dell doesn't offer a graphics option quicker than the RTX 3060, while competitors go up to the RTX 3080 Ti. Predictably, the XPS 17 can't keep up in the 3DMark Time Spy benchmark.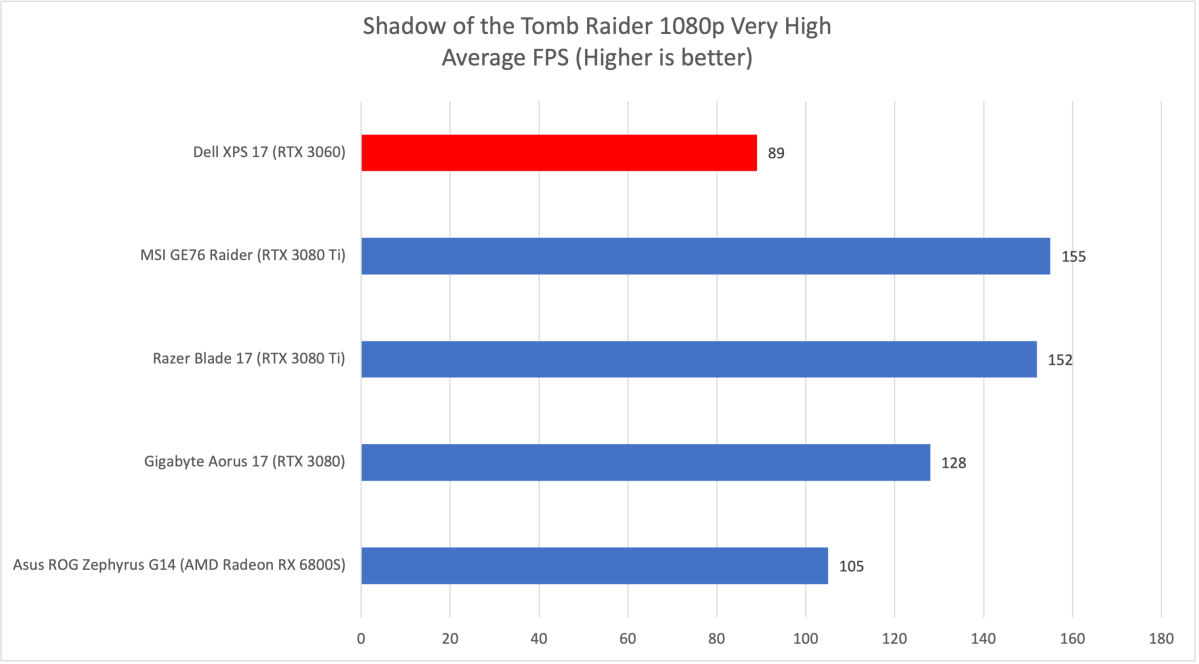 IDG / Matthew Smith
Shadow of the Tomb Raider once again shows the XPS 17 behind – although, in practical terms, this is not a bad result. The XPS 17 maintains a framerate well above 60 FPS in this game despite its less powerful GPU.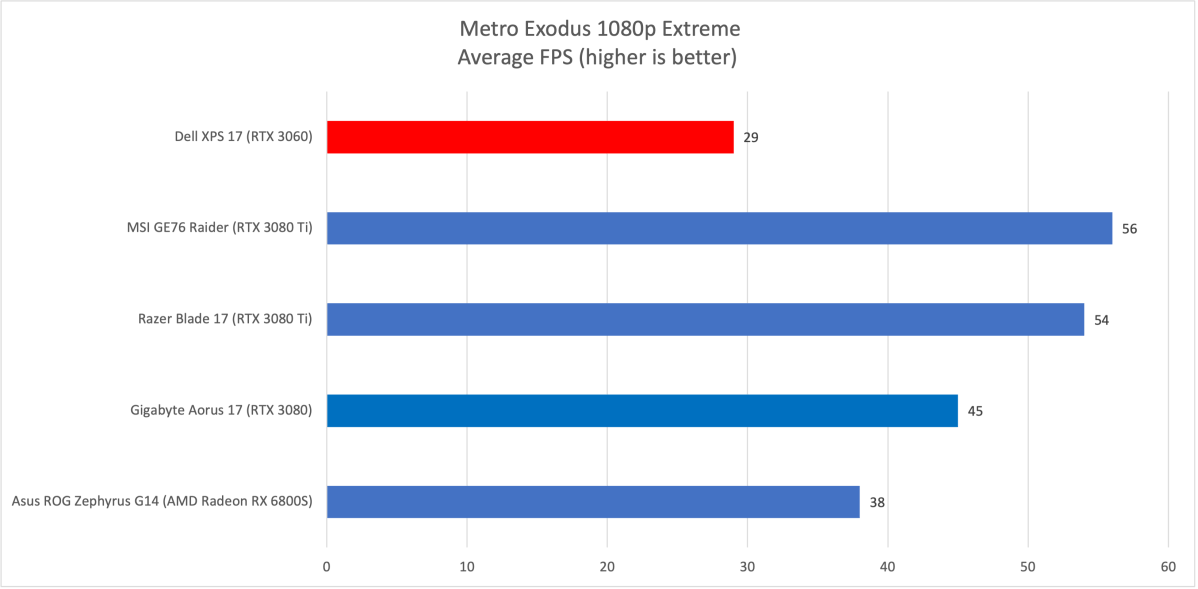 IDG / Matthew Smith
The much more demanding Metro Exodus benchmark puts the Dell XPS 17 just shy of 30 frames per second. This once again shows the limits of an RTX 3060, but I think it's a fine result for the XPS 17. The laptop is capable of solid 30 FPS gameplay at the more reasonable Ultra performance setting.
Shoppers should remember the XPS 17's less capable graphics hardware comes with a lower price tag. A Razer Blade 17 or Gigabyte Aorus 17 can beat the XPS 17 when configured with faster hardware, but the Razer Blade 17 we reviewed had an as-tested price of $3,999 while the Gigabyte Aorus 17 was tested at $3,299. You pay for what you get.
Dell's XPS 17 delivers respectable performance across the board. The question shoppers should ask is this: is the XPS 17 – and its graphics specifically – quick enough for me? The answer, for most people, will be "yes." However, gamers and professionals who use apps with GPU compute support should look to alternatives that offer faster graphics hardware.
Battery life
The Dell XPS 17's size makes it a difficult travel companion. It will fit in most bags designed to accommodate a 15-inch laptop, but not all, and the laptop's five-pound weight is not easy to ignore.
A portion of that weight is due to the gigantic 97 watt-hour battery. This is close to the 99 watt-hour size limit imposed by FAA regulations for devices passengers can bring on flights (anything larger is prohibited).
Dell uses switchable graphics to turn off the Nvidia graphics hardware (if equipped) when it's not required. The integrated Intel graphics hardware is used instead. This provides surprisingly good battery life in basic day-to-day tasks.
IDG / Matthew Smith
The Dell XPS 17 lasts longer than some smaller laptops that configure more power-hungry features, such as an OLED display, and easily blows past any alternative that has discrete graphics but lacks switchable graphics.
There is a catch. This benchmark did not engage the Nvidia discrete graphics hardware and is standardized to a brightness level of 200 nits. Firing up a 3D rendering application or 3D game will drastically slash battery life.
Still, the XPS 17's battery life is a best-case scenario for a large Windows laptop. The laptop can handle a packed eight-hour day of writing, editing, and video calls.
Conclusion
There's one word that best describes the Dell XPS 17: balanced.
Dell's well-rounded workhorse doesn't set records in any particular area but delivers solid results across the board. It offers forward-looking connectivity, a massive screen, strong CPU and GPU performance, and good battery life. And it does all this at a reasonable price. This makes the Dell XPS 17 a good fit if you want a single do-it-all machine and don't mind lugging around a large backpack when you travel. The XPS 17 can handle any task you'll throw at it, at home or on the go.
Best Prices Today: Dell XPS 17 (2022)