At a glance
Expert's Rating
Pros
360Hz refresh rate
Very good gaming performance
Ergonomic adjustment options
Comfortable operation
Our Verdict
The Asus ROG Swift 360Hz PG259QN is an impressive 1080p gaming monitor for professional and casual gamers who want the best graphics and performance when playing AAA games. The 24.5-inch monitor also works flawlessly at the maximum frame rate of 360Hz and offers a bit more responsiveness than screens with lower frame rates, especially in very fast games. We can't guarantee that you'll be a better gamer with this monitor, but you will have a leg up on the competition.
Price When Reviewed
489
Best Prices Today: Asus ROG Swift
Asus designed the ROG Swift 360Hz PG259QN monitor with professional gamers in mind. Of course, casual gamers can also benefit from the gaming monitor's top features. The 24.5-inch model has a fast IPS panel design with a response time of 1 millisecond and Full HD resolution of 1920x1080p, but the super-fast frame rate is truly the highlight.
Note: This review is part of our ongoing roundup of the best gaming monitors. Go there to learn more about competing products, what to look for in a gaming monitor, and buying recommendations.
Asus ROG Swift 360Hz PG259QN: The specs
The Asus ROG Swift 360Hz PG259QN has a fast refresh rate of 360Hz and resolution of 1080p. The monitor can be ergonomically adjusted to fit your preferred desk setup and it has a convenient on-screen menu with numerous gaming features. This top of the line gaming performance comes at a price though—the Asus ROG Swift 360Hz PG259QN costs around $489 at the time of this writing and will suck up a fair amount of power during use.
| | |
| --- | --- |
| Display size | 24.5-inch |
| Native resolution | 1920×1080 |
| Panel type | Fast-IPS / 16:9 |
| Refresh rate | 360Hz |
| Adaptive sync | Compatible with Nvidia's G-Sync |
| Ports | 1 DisplayPort, 1 HDMI, 2 USB, 1 analog audio jack |
| Stand adjustment | Height, tilt, swivel, pivot |
| VESA mount | Yes, 100x100mm |
| Speakers | No |
| HDR | Yes, HDR 10 |
| Price | $489 |
The integrated Nvidia G-Sync processor not only supports fast synchronization and refresh rates, but also ULMB technology (Ultra Low Motion Blur) to reduce motion blur in high-performance game scenes. Another important feature is the large integrated cooler, which keeps temperatures within a reasonable range even during long gaming sessions. Keep in mind that the Asus ROG Swift 360Hz PG259QN is already pricey, but you will also need a powerful, expensive graphics card to get the most out it.
Asus ROG Swift 360Hz PG259QN: Image quality
As expected, the Asus ROG Swift 360Hz PG259QN is a top gaming monitor. During testing, it met all expectations and delivered error-free and strong performance. There were even frame rates beyond the 300 mark, which is ideal for high-performance games. The 1080p monitor also creates an incredible gaming experience with smooth playback void of any noticeable input lag, tearing, or other image errors, even at significantly lower frame rates.
You might be wondering if these extreme frame rates and the 360Hz refresh rate are necessary? Ultimately it comes down to what is important to you. Professional gamers who compete online would say that it is, as the extremely high frame rates can make a small but crucial difference in competitive FPS games. Those who play slower-paced games or don't want to spend the big bucks for a slight advantage will probably see a better value elsewhere.
The 24.5-incher also supports robust gaming performance with various electronic features, such as flicker-free technology, black value increase, blue-light reduction, as well as with a generally good image quality with high brightness, natural color reproduction, and excellent contrast. Additionally, the Asus ROG Swift 360Hz PG259QN also supports HDR10, which, depending on the game, sometimes adds to the gaming experience.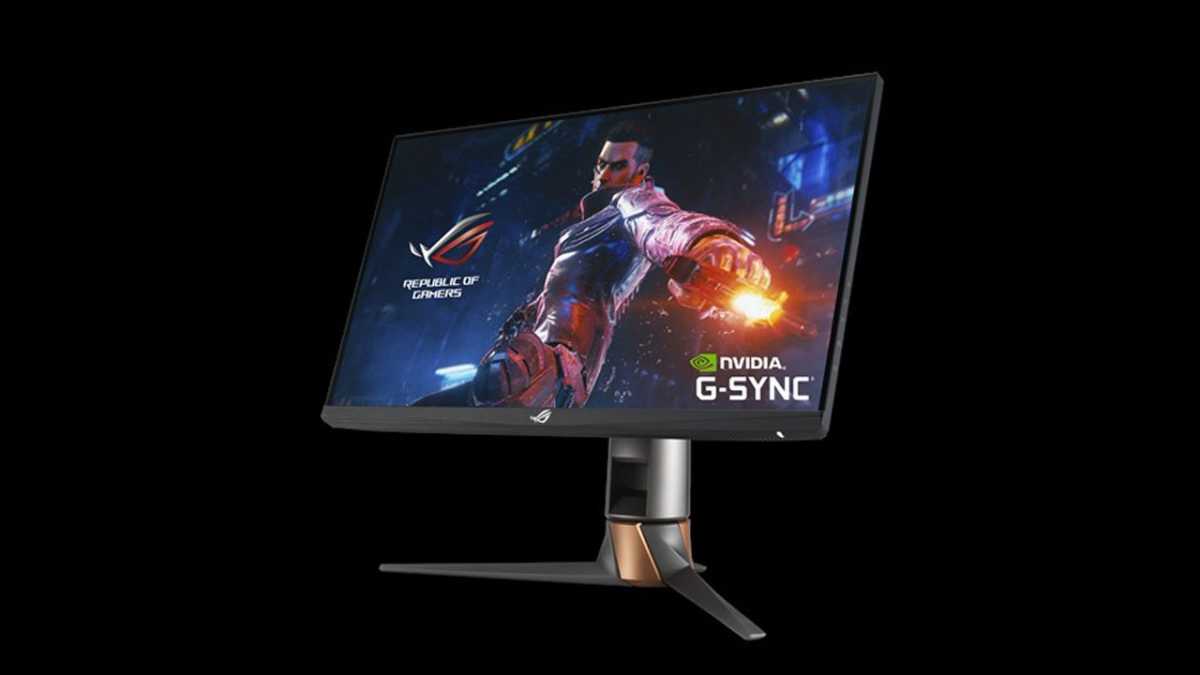 PC Welt
Asus ROG Swift 360Hz PG259QN: Ports
The monitor comes with one HDMI and one DisplayPort interface and it also has two USB 3.0 ports for external peripheral devices and a headphone connection. Unfortunately, if you're hoping for built-in speakers you will be sorely disappointed, as none are available.
PC Welt
Asus ROG Swift 360Hz PG259QN: Features and menu
You can adjust the Asus ROG Swift 360Hz PG259QN monitor height by over five inches, and you can play with the rotation and tilt to suit the designated location. It also offers a pivot function to change the display from landscape to portrait, making it vertical if you so choose. As for lighting, the Full HD model delivers Asus's own Aura Sync light management system with LED light strips on the back wall and in the base of the monitor.
The on-screen menu is well organized and offers ample settings for gaming such as presets, crosshairs, and FPS counter. A hotkey called "Gameplus" allows direct, quick access to these features. The OSD is controlled by a five-way joystick, which you can use to browse through the on-screen menu quickly and easily.
PC Welt
Asus ROG Swift 360Hz PG259QN: Power consumption
The gaming monitor consumes around 33 watts at maximum brightness when at peak performance—quite a lot considering this is only a 24.5-inch display, thus the Asus ROG Swift 360Hz PG259QN only achieves a "B" on the energy label. In standby mode, the power requirement drops to a lower 0.6 watts.
Should you buy the Asus ROG Swift 360Hz PG259QN?
It's easy to recommend the Asus ROG Swift 360Hz PG259QN model for the ultimate gaming experience. You can observe the stunning skies in The Elder Scrolls Online, or gape in wonder when you confront a monstrous boss in Elder Ring. With an exceptional refresh rate, the only reason you'd experience performance lag would be a slow internet connection or an issue with other PC hardware.
Really, for anyone who takes their gaming or competitive e-sports seriously, this display is hard to top. It doesn't offer much outside the realm of gaming that other monitors in the same price range can't beat, but the super-fast 360Hz refresh rate offers an advantage that few other monitors currently provide.
This review originally appeared on PC-Welt, PCWorld's German sister site.
Best Prices Today: Asus ROG Swift