At a glance
Expert's Rating
Pros
Gaming monitor for mobile use
240Hz refresh rate
Independent operation
Complete equipment included
Cons
High power consumption
Expensive
Our Verdict
The Asus ROG Strix XG17AHPE is an incredible gaming monitor for mobile use. It offers everything that the larger desktop gaming displays do: fast frame rates of up to 240Hz, adaptive sync for synchronization, smooth and fast gaming performance, smart installation options—and all the components you need are included in the box. Yet, the power consumption is quite high for a 17-inch device. As is the price—the entire Asus ROG Strix XG17AHPE package costs around $700. The Asus ROG Strix XG17AHPE without the height-adjustable tripod costs about $140 less, which is still quite expensive.
Price When Reviewed
$700
Best Prices Today: Asus ROG Strix XG17AHPE
Fast and portable: The Asus ROG Strix XG17AHPE is an unusual 1080p gaming monitor. Its 17-inch screen and 240Hz refresh rate are designed for mobile gaming.
Note: This review is part of our ongoing roundup of the best gaming monitors. Go there to learn more about competing products, what to look for in a gaming monitor, and buying recommendations.
Asus ROG Strix XG17AHPE: The specs
If you don't want to do without a high-end gaming display while on vacation or on the go, the Asus ROG Strix XG17AHPE is a great option. The 17.3-inch monitor features an IPS panel and 1080p resolution, achieves impressively high frame rates of up to 240Hz, synchronizes with your PC's graphics card via adaptive sync, weighs only around 2.3 pounds, and is packaged within a case that's only one centimeter deep.
| | |
| --- | --- |
| Display size | 17.3-inch |
| Native resolution | 1920×1080 |
| Panel type | IPS 16:9 |
| Refresh rate | 240Hz |
| Adaptive sync | Yes |
| Ports | 1 HDMI, 2 USB, 1 analog audio jack |
| Stand adjustment | Height, tilt, pivot |
| VESA mount | No, but can use a standard 1/4-inch camera mount |
| Speakers | Yes |
| HDR | No |
| Price | $700 |
In addition, the Asus ROG Strix XG17AHPE operates for up to 3.5 hours without a power cable via the integrated 7800mAh battery. It connects to mobile devices, consoles, and laptops via a USB-C interface and a micro-HDMI port. The package includes a smart cover similar to those found on tablets, which serves as a base when folded back. A three-legged tripod is also included as a more stable stand that also allows you to adjust the height.
Asus ROG Strix XG17AHPE: Image quality
Overall, the Asus ROG Strix XG17AHPE delivers excellent picture quality. The color representation looks rich and natural, as the gaming monitor covers 100 percent of the sRGB color space, which is important for gaming. In addition, the display is incredibly sharp and while the brightness distribution is balanced over the entire screen, it could be higher—it has a maximum setting of around 200 cd/m2.
The Asus ROG Strix XG17AHPE didn't show any weaknesses in the gaming test. The screen also easily displays fast gaming experiences, such as shooters, racing simulations, and real-time strategy games. Even fast-reacting image changes run smoothly. Various settings and features, such as Shadow Boost and Low Frame Compensation, increase gaming quality.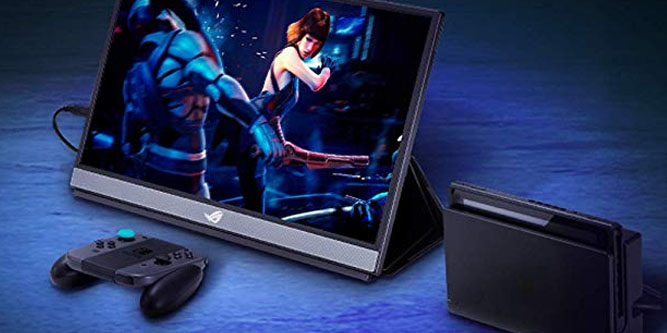 PC Welt
Asus ROG Strix XG17AHPE: Ports
One of the USB-C interfaces supports Power Delivery and Quick Charge 3.0 technology, which allows you to charge the battery of the Asus ROG Strix XG17AHPE in just one hour, for up to 120 minutes of offline gaming. Loudspeakers are integrated into the slim case, and produce clear highs, but don't offer any real bass due to the lack of volume.
Using the integrated headphone jack with a good pair of earphones is much better. Fortunately, included in the box is everything you need to get up and running. In addition to the installation options, there is a USB-C cable plus a USB-A adapter, a micro-HDMI cable, and a sturdy carry case.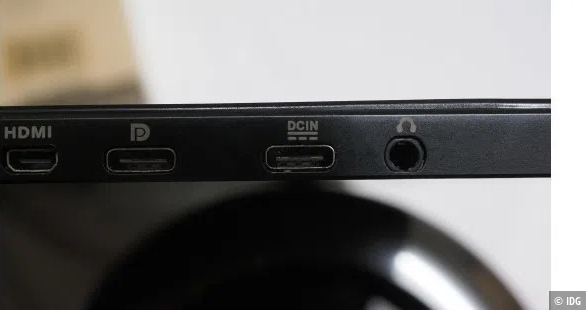 PC Welt
Asus ROG Strix XG17AHPE: Features and menu
With medium brightness, the battery power lasts for 3.5 hours when not using the power cables for the gaming test, even with a maximum frame rate of 240Hz. However, since the brightness of the Asus ROG Strix XG17AHPE is not particularly high, you will most likely need to turn it up, and the battery life will decrease accordingly.
The Asus ROG Strix XG17AHPE's on-screen menu is the same as that of Asus' stationary gaming monitors. Accordingly, the OSB offers many performance features tailored to gaming. It's conveniently controlled via four buttons, placed on the narrow left side of the case with the interfaces.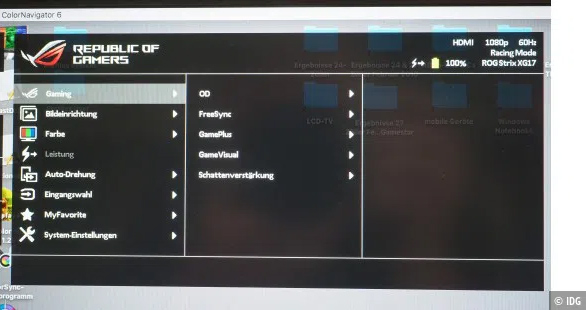 PC Welt
Asus ROG Strix XG17AHPE: Power consumption
The Asus ROG Strix XG17AHPE consumes around 25 watts at maximum brightness, which is quite high for a small, 17-inch monitor. In standby mode, the power requirement drops to a low 0.5 watts.
Should you buy the Asus ROG Strix XG17AHPE?
The Asus ROG Strix XG17AHPE is an incredible mobile monitor for when you need to hit the road and take your entertainment with you. In many ways, it stands and functions like a tablet, but you'll also have the performance of a decent stationary gaming display. The refresh rate is impressive, but watch out for that power consumption.
Ultimately, it will appeal the most to gamers who travel a lot and don't want to deal with the inconvenience of bringing a cumbersome full-size monitor on the road. Admittedly, that's a pretty niche market, but those who need it will find great value.
This review originally appeared on PC-Welt, PCWorld's German sister site.