At a glance
Expert's Rating
Pros
Good gaming performance
Fast IPS panel
Ergonomic adjustment options
Quite affordable
Cons
Average power consumption
Our Verdict
The BenQ Mobiuz EX2710 is a good gaming monitor for passionate gamers on a budget. It handles fast games smoothly without errors. The on-screen menu offers numerous settings for gaming, and the ergonomic setting options support fatigue-free gaming even over marathon sessions. It might not be top of the line, but for only $399, it is still great value for the quality offered.
Price When Reviewed
399
Best Prices Today: Benq Mobiuz EX2710
The BenQ Mobiuz EX2710 gaming monitor is a fairly inexpensive 1080p for passionate hobby gamers. With specs—albeit relatively modest—catered to gaming, this display represents great value and is a solid option for gamers on a budget.
Note: This review is part of our ongoing roundup of the best gaming monitors. Go there to learn about competing products, what to look for in a gaming monitor, and buying recommendations.
Benq Mobiuz EX2710: The specs
The BenQ Mobiuz EX2710 is based on an IPS panel with a fast response time of just 1 millisecond. It achieves a maximum frame rate of 144Hz, synchronizing with AMD graphics cards using FreeSync Premium technology.
The 27-inch panel has a Full HD resolution of 1920×1080 pixels and thus can also work with inexpensive or entry-level graphics cards. Visually, the BenQ Mobiuz EX2710 is based on the design of other modern gaming monitors and has an angular housing with contrasting red contours on the base.
| | |
| --- | --- |
| Display size | 27-inch |
| Native resolution | 1920×1080 |
| Panel type | IPS / 16:9 |
| Refresh rate | 144Hz |
| Adaptive sync | FreeSync |
| Ports | 1 DisplayPort, 2 HDMI |
| Stand adjustment | Height, swivel |
| VESA mount | Yes, 100x100mm |
| Speakers | Yes |
| HDR | Yes, HDR 10 |
| Price | $399 |
BenQ also advertises a particularly realistic sound from the two integrated stereo speakers for the gaming monitor, developed by Trevolo's in-house developers. The 27-inch display actually delivers good sound compared to other monitor speakers, but unfortunately still can't beat the quality of external speakers.
BenQ Mobiuz EX2710: Image quality
The BenQ Mobiuz EX2710 has good image quality with incredible brightness, decent contrast, and natural color reproduction. The even and balanced brightness distribution over the entire screen is particularly good. This image quality had a noticeably positive effect on gaming performance during out testing.
Up to the maximum frame rate of 144Hz, all games, including fast and demanding ones, run smoothly and without errors. Numerous setting options increase gaming enjoyment, such as the light tuner, which allows 20 different game color settings, black value-boosting, and flicker-free technology.
PC Welt
BenQ Mobiuz EX2710: Ports
In addition to the integrated speakers, the BenQ Mobiuz EX2710 offers the standard interfaces of current gaming monitors: one DisplayPort and two HDMI ports. The package includes video cables for both interfaces.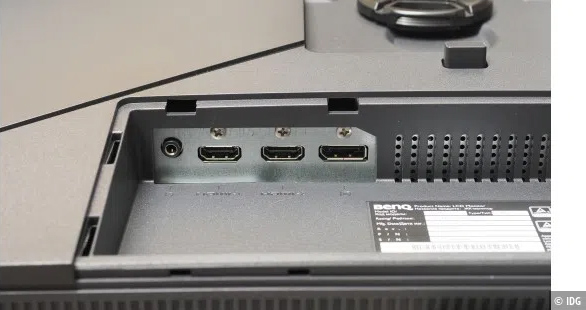 PC Welt
BenQ Mobiuz EX2710: Features and menu
The on-screen menu offers numerous setting options for gaming, including presets, which can be configured for the respective interface. The OSD is also clearly structured and can be controlled quickly and conveniently using a five-way joystick on the right rear of the case. The BenQ Mobiuz EX2710 can be easily adjusted in height by over 5 inches, and can be rotated and tilted to suit the location.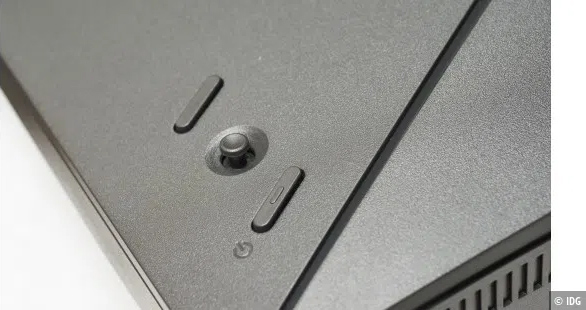 PC Welt
BenQ Mobiuz EX2710: Power consumption
At maximum brightness, the BenQ Mobiuz EX2710 consumes almost 30 watts, which is about average for a monitor with these specs. In standby mode, the energy requirement is a low 0.5 watts.
Should you buy the BenQ Mobiuz EX2710?
The BenQ Mobiuz EX2710 delivers decent performance with plenty of options for both casual and hardcore gamers. You shouldn't expect to experience any lag while playing some of today's most popular games. Additionally, with balanced brightness, little will distract you while racing or shooting in online arenas.
The Mobiuz EX2710 is clearly a budget option, but it packs enough of everything you need, that you can rest assured you are getting a great value. You could obviously spend more money and get a better feature set with better resolution and a faster refresh rate, but it would cost you a lot more and provide rather minimal upgrades. In the end, there aren't many budget gaming monitors that provide more than what BenQ is offering with this excellent display.
This review originally appeared on PC-Welt, PCWorld's German sister site.