At a glance
Expert's Rating
Pros
Incredible gaming performance
KVM hot-swap switch
USB-C interface
Height adjustable by 130 millimeters
Cons
Above-average power consumption
Our Verdict
The Gigabyte M27F is an inexpensive 1080p gaming monitor designed for passionate gamers. With its fast IPS panel and 144Hz refresh rate, the 27-inch display also plays fast games smoothly with minimal errors. In addition, the picture quality is above average. The on-screen menu offers numerous settings for gaming, and you can adjust the screen to suit your desktop location. At around $250 it represents great value for the quality offered.
Price When Reviewed
290
The Gigabyte M27F is a 1080p gaming monitor with a practical KVM switch and an innovative USB-C interface. It also has a range of features that make it ideal for gaming. Also as one of the few gaming monitors with a KVM switch, the Gigabyte M27F offers the unexpectedly nice feature of being able to hot swap between two computers, such as a PC and notebook.
Gigabyte M27F: The specs
| | |
| --- | --- |
| Display size | 27-inch |
| Native resolution | 1920×1080 |
| Panel type | IPS / 16:9 |
| Refresh rate | 144Hz |
| Adaptive sync | Compatible with FreeSync |
| Ports | 1 DisplayPort, 2 HDMI, 3 USB, 1 analog audio jack, USB-C |
| Stand adjustment | Height |
| VESA mount | Yes, 100x100mm |
| Speakers | No |
| HDR | HDR Ready |
| Price | $250 |
The 27-inch monitor is based on an IPS panel with a fast response time of 1 millisecond, 1920×1080 pixels (1080p), and support for FreeSync Premium synchronization technology up to a maximum frame rate of 144Hz. Gigabyte is able to include all of these features by cutting back on some premium design elements such as LED lighting in order to keep the price reasonable.
Note: This review is part of our ongoing roundup of the best gaming monitors. Go there to learn about competing products, what to look for in a gaming monitor, and buying recommendations.
Gigabyte M27F: Image quality
The Gigabyte M27F supports 95 percent of the DCI-P3 and 130 percent of the sRGB color range, which is essential for gaming. The general image quality is correspondingly good with rich and natural color reproduction. The very even and balanced brightness distribution over the entire screen is particularly noteworthy, while the maximum brightness is only on an average level.
In the gaming test, the Gigabyte M27F is impressive considering how inexpensive it is. In addition, it delivers error-free and smooth performance up to the maximum frame rate of 144Hz and, thanks to the fast IPS panel, is also suitable for very responsive racing and shooter games. Electronic features, such as black value enhancement, blue light filter, and flicker-free technology allow fatigue-free gaming even during long game sessions.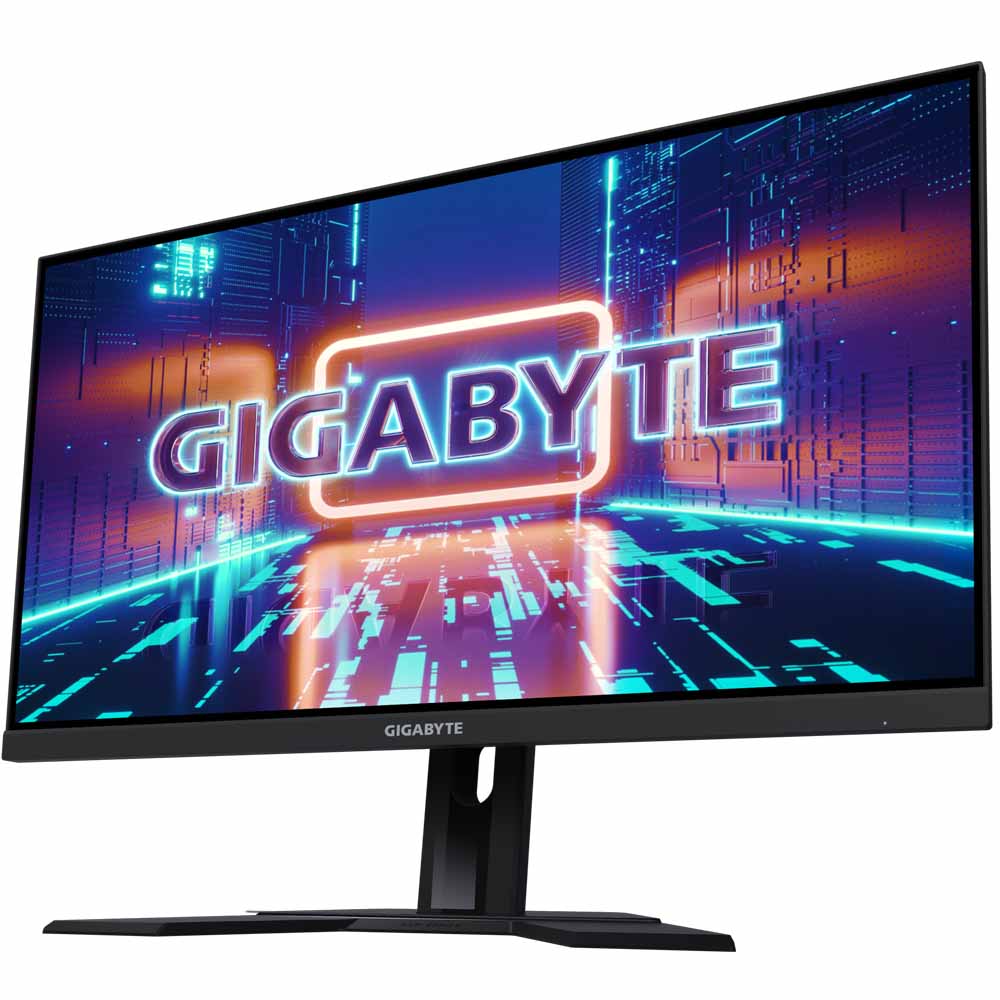 PC Welt
Gigabyte M27F: Ports
The Gigabyte M27F comes with the standard interface equipment of modern gaming monitors: two HDMI ports, a DisplayPort interface, two USB 3.0 outputs, and a headphone jack. In addition, the gaming monitor offers a USB-C interface with which, for example, a second computer can access the mouse and keyboard via the KVM switch. In the box you will find the corresponding HDMI, DisplayPort, and USB cables.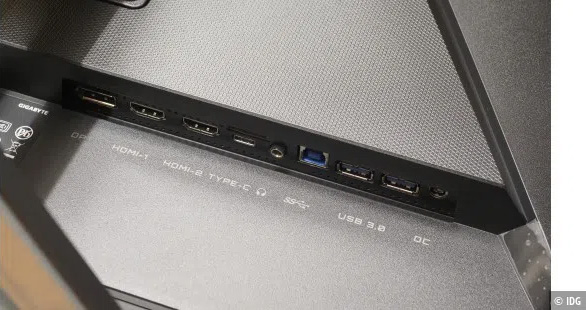 PC Welt
Gigabyte M27F: Features and menu
In addition to the usual settings such as brightness and contrast, the clear on-screen menu offers numerous features for gaming such as presets, crosshairs, and counters. The dashboard also provides useful information about the hardware, such as the CPU and GPU temperature, frequency, frame rate, and fan speed. The OSD is conveniently controlled via a five-way joystick.
As for ergonomic settings, the Gigabyte M27Q can be adjusted and tilted up to 5 inches in height to adapt the gaming monitor to the location, but the base is static, so it unfortunately can't be rotated.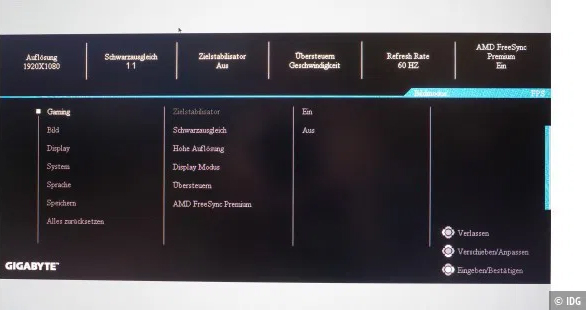 PC Welt
Gigabyte M27F: Power consumption
With around 29 watts at maximum brightness, the Gigabyte M27Q consumes more power than average for a monitor this size. The standby mode requires a low 0.5 watts.
Should you buy the Gigabyte M27F?
The Gigabyte M27F is an exceptional monitor for hobby gamers and weekend warriors, providing the performance needed for fast action games. The refresh rate is decent for the 27-inch display, although you'll probably wish for more if you want to have a competitive edge. The KVM switch is a welcome addition as well, and it helps this monitor stand out from other budget gaming displays currently available. You'll also love how many cables you receive at such a low cost, plus there are plenty of ports to use.
Unfortunately, the power consumption is quite high for a monitor such as this and the ergonomic adjustment options are minimal. But considering that it is a budget display with solid performance, it can be excused for lacking some of these features. Overall, the Gigabyte M27F is a great option if you're looking to save some money but still get solid gaming specs.
This review originally appeared on PC-Welt, PCWorld's German sister site.